Time for a getaway? We agree it's been a long haul these past two years. So now it's time to break free, preferably on U.S. shores.
Now the next decision is where to go. Is a place perfect for adults or, if a family getaway is in the cards, likely to entertain the younger set? Rather than overcrowded beach resorts, or cramped city hotels, there's Plum Guide, the luxe alternative to Airbnb for posh and private vacation homestays across the U.S. The British-based company is considered the Michelin Guide in home rentals, a premium answer to Airbnb and allows vacationers to book a safe, secure getaway at a private residence at the destination of their choice.
CALIFORNIA HERE WE COME
We opted for Palm Springs, California, thinking the desert climate would warm chilled bones. Instead, the two-bedroom mid-century bungalow dubbed Marilyn's Kiss was elegant yet functional, and most importantly, it had a pool!
We loved the kitchen, spacious enough for all four of us, including our two teenaged kids. Cooking was fun for all in this sleek space with granite worktops and white cupboards.
The dining room was glamourous; it didn't take much imagination to envision a movie star or two making an entrance, sitting elegantly on the emerald velvet chairs, and tapping pretty, painted toes on the vintage rugs. The tropical wallpaper in the master bedroom added a bright and playful touch to this already sunny '50s style home. We also loved the open, airy quality of the space. After a day of hiking desert trails (more than 100 to choose from), rock climbing in Joshua Tree, and swimming in the pool, a soak in the master bath's deep tub was welcome.
Styled like a retro retreat with its very own garden of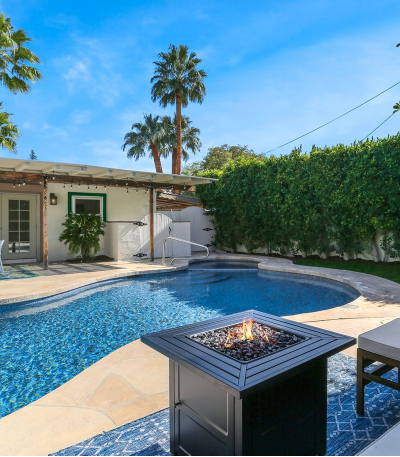 Eden, the unconventionally shaped pool surrounded by lush trees became our favorite enclave. We spent afternoons lounging on the day beds, cooling off with a dip in the deep end as we savored the shade in the heat of the day. Hurry sundown, we thought as we enjoyed cozy nights by the fire pit with the terrace's twinkling fairy lights transforming a casual vacation into a fantasy premiere.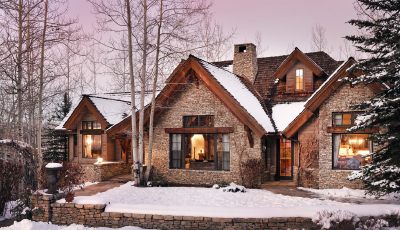 QUALITY CONTROL & MORE
Before we booked, we checked out Plum Guide thoroughly. Everyone we know who's tried it vouched for their quality control, the stringent testing process expertly conducted on each home. Only one in a hundred homes pass the 150 different criteria the company established to assure that every stay is smooth and successful. More than assuring you the place is clean; Plum Guide makes sure all amenities are in working order. Help us if the kids did not have speedy Wi-Fi.
Plum Guide vacation homestays are not limited to Palm Springs. Choose Aspen or Telluride if a ski vacation is the plan. In addition, there are plenty of place in between as well as the East Coast's Hamptons and Hudson River Valley.
Wherever and whenever we're looking forward to Plum Guide's hospitality again in the future.
For more information on Plum Guide, visit: plumguide.com