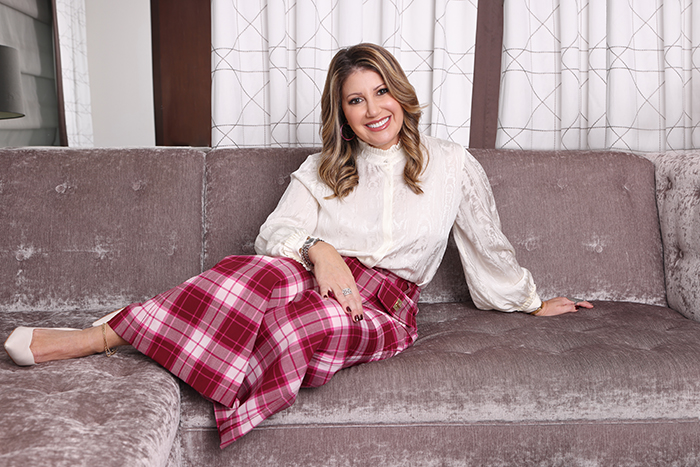 MINDIE BARNETT
Makes It Happen
How This NYC Power Girl Runs The Show
By Patricia Canole | Photography Neil Tandy
Photographed at: The Glamour Suite, Loews Regency New York Hotel
How does a strong woman navigate work, employee relationships, and life in a world that still feels uncomfortable with strong women? 
For Mindie Barnett, the keyword is boundaries. She has learned you don't need to always say yes to everyone and everything to be successful. Instead, the word "no" is part of her vocabulary, and she feels resting and recharging allow her to be at 100 percent instead of exhausted. 
Mindie Barnett is the CEO & Founder of MB and Associates Public Relations, a full-service public relations firm specializing in medical, law, hospitality, beauty, professional, lifestyle, home décor, and non-profit clients, among others. As a PR professional, Mindie focuses on helping businesses penetrate targeted markets and attain high visibility by garnering positive buzz and media attention. More importantly, however, she measures her success according to her impact on driving her clients' businesses forward. Mindie continues to lead and manage innovative communications strategies and crisis management. 
At the highest level, a trusted PR advisor, she's led hundreds of successful media campaigns, developed strategic messaging, built relationships, and protected brands and reputations. Her keen sense of knowing the business directly results from her 10-year TV broadcast journalism career. It naturally led to increased opportunities to land excellent media coverage for many of her clients on Oprah, The Today Show, Good Morning America, Dr. Oz, and The Doctors. Additionally, her clients have appeared in national publications including In Touch Magazine, US Weekly, InStyle Magazine, USA Today, among numerous regional inclusions.
The mother of two, Mindie is also the author of You Don't Need To Be A Bitch To Be A Boss, and where she recounts her own work experiences. Here, she stresses how embracing her femininity and steering her PR team with a sense of warmth and compassion without losing her competitive edge has made her one of the most sought-after and respected publicists and keynote speakers.
New York Lifestyles sat down with this dynamic woman to learn more about her professional approach to winning every time.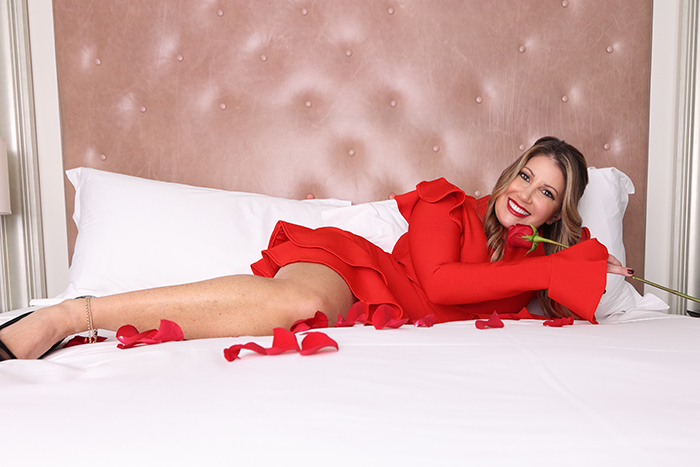 Before we dig in, our readers would like to get to know you a bit more. Can you tell us a bit about your childhood backstory?
I grew up in a suburb of Philadelphia, in the quaint town of Medford, New Jersey. I have one sibling, my sister, Carolyn, who is 4-years younger than me, and we are still close with my parents today. I grew up with solid role models from my parents and quickly learned the importance of setting goals and learning from mistakes.
I was always a fan of the stage and engaged in singing, dancing, acting, and modeling throughout my childhood and into high school. In addition, I was a cheerleader throughout high school and into college and competed in Miss America's preliminary pageants. 
Tell us what led you to this TV broadcast career path.
I've always loved the stage and was also an avid writer my entire life. I loved English, creative writing and had a passion for social studies and current events. So, I combined all three and turned it into a career!
Are there any memorable moments that happened to you during your broadcast career?
Too many to mention. I loved meeting the viewers, and I enjoyed being an intricate part of the communities. I covered
9/11 and was at Ground Zero on 9/12; while a reporter at News 12 New Jersey, I did an undercover story about the Bloods and the Crips, when they were coming to the forefront, with the Paterson, New Jersey police, and more. However, getting to know the subjects of the stories touched me the most. When the camera was off, it was just me and the subject. Being able to connect with them and impact their lives in some small way made me most proud—for instance, putting someone in touch with a resource who just lost her home in a fire or helping a mother who was distraught over a crime against her child.
After your broadcast career, you transitioned into public relations. How did it happen?
After spending ten years in television news, I decided I wanted more than just an amazing professional life. I also wanted to be closer to home and my parents, so I left the field and took a job working at a public relations firm in Philadelphia. Unfortunately, it was not a fit, and out of default and to make ends meet, I launched MB and Associates. It was supposed to be temporary, but now two office locations later and 18-plus years in the industry, we are one of the most sought-after media strategists in the country. We represent business leaders from various sectors, including technology, medicine, law, retail, beauty, authors, and more. We work with media all over the US with a presence in New York City and Philadelphia and Los Angeles on the horizon soon.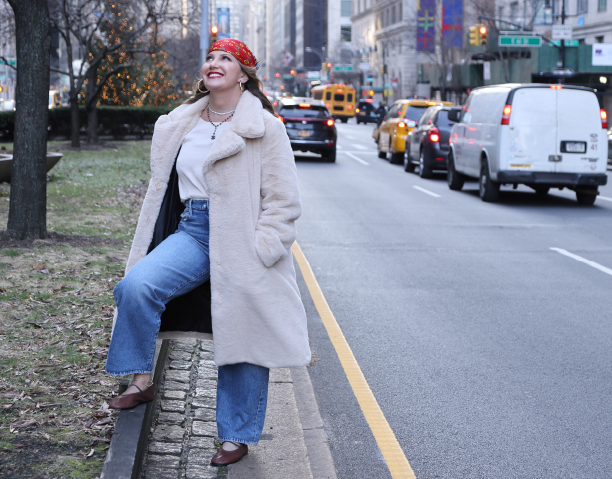 Which three traits do you think were most instrumental to your success? 
My ability to persevere, dedication, and drive are attributed to my career success, personal survival, and a new journey into graduate school while running a business, launching a book, and being a present and active single mom to two children. 
Let's now jump to the primary focus of our interview: Your new book, You Don't Need To Be A Bitch To Be A Boss, and how society still feels uncomfortable with strong women. Why do you think this is so?
I think much of society still feels women should remain in the background, and as a result, many women attempt to combat this issue by presenting to be a bitch. But that is not only unnecessary to get ahead; it's detrimental. Instead, women should embrace their femininity and (like men) lead with empathy and a sense of warmth and care.
That doesn't make us less-than nor weak. It makes us human. It makes us better respected in the boardroom. I believe that it's still an evolving phenomenon with women active in the workforce. But we are here to stay. So, we need to get used to putting our best face forward.
Share a story from your own experience that illustrates this idea? 
About four years ago, for assorted reasons, a New York City PR firm hired me to spearhead the consumer component of her client's public relations campaign. The client was a plastic surgeon from the Upper East Side, and aesthetic medicine is genuinely my specialty in the medical realm. As a result, I was able to secure a tremendous amount of press for this practice, and my colleague who hired me was pleased but always attempted to show her "muscles" whenever possible.
She made every shoot we executed difficult, continually tried to turn teamwork into a competition, and more. Again, I suspect because that was her methodology. However, I do not think she was solely acting in such a maladaptive way towards me. Instead, that was how she felt she needed to behave to earn respect among her peers and her clients, which was an unfortunate display and counterproductive.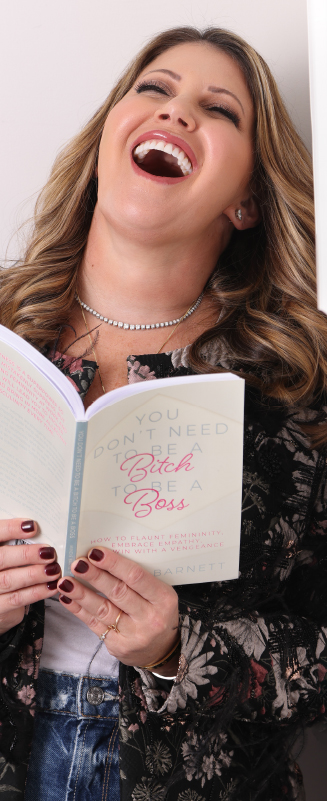 What should a powerful woman do when others feel uneasy around her?
Try and look at the picture from their point of view to best serve the situation. If you can look at a scene from another's perspective (by enacting empathy), you will be able to surpass most complexities. Of course, you can't change who you are, nor should you, but you can try and be open-minded to others' opinions and perspectives.
What do we need to do to change the unease around powerful women? 
We need to look at women as people. We need to look at other ethnicities in the same way. We are all human beings. We are all equal and different simultaneously, and that's what makes us all beautiful.
In your opinion, what are the biggest challenges faced by women leaders? 
The biggest challenge a woman faces in the workplace is another woman! Women are their own worst enemies, and that notion and ways to combat it is the premise of my book. One of the tips I share is to look at another as inspiration, not competition. The only person you should compete with is who you see in the mirror.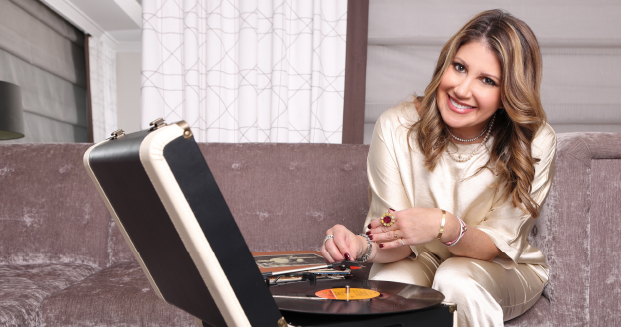 Let's now shift our discussion to a slightly different direction. This is a question that everyone with a job must contend with. Was it challenging to fit your personal and family life into your business and career?
It's a constant struggle! My kids are now 10 and 13, and while they're now self-sufficient and can be left alone at home on a snow day, while I head to the office, they have a host of other items on my to-do list now: sports schedules, social schedules, grueling schoolwork. So, I try to be the best mom, publicist, and entrepreneur I can be and give myself a break. Some days may mean leaning in more on the mom side. Other days may demand a more extended day at the office or on-site at a shoot. More recently, it has included fitting in a book tour. But in the end, it magically all seems to balance out.
What tipping point helped you achieve a greater balance or equilibrium between your work life and personal life? 
I honestly do not think I have one. My scale is presently much heavier on the work-life side of the scale. Running my business, authoring books, keynote speaking, appearing at book signings, and hosting my podcast The Race for the Ring eat up most of my time these days. Then maintaining a full-time graduate school course schedule at Pepperdine University (MS in clinical psychology in 2024) completes the picture. I don't have a lot of time for socializing. I do have amazing friends and, of course, my kids are at the top of the heap, but I'm anxious to reevaluate my daily calendar in a few years and make much more time for me.
How much of an emphasis do you place on your appearance? Do you see beauty as superficial, or is it something that has inherent value for a leader in a public context?
 Appearance and image are crucial in leadership and life. I don't believe a woman needs to be a super model but taking pride in one's appearance and presentation speaks volumes. This is such an appropriate question for me personally! I turned 48 on January 30th and have spent more time in the morning assessing my changing appearance. I've gotten a bit curvier than I used to be, and I can see that my
face has aged over the last five or so years when I look back at photos. I think it's a little sad to me as I have always had that pressure to look "good" in my TV career and throughout life. But my mind is more enriched from experiences, education, and life. I think while my face may not be as beautiful as it was when I was 28 or even 38, my mind is much more so and, in the end, that has more weight in my world. I'll always take care of myself, my skin, workout and more, but know that what's inside—my inner beauty—far outshines what I see in my reflection.
How is this similar or different for men?
 Most women think men don't get old, they become distinguished, but they get old! Representing plastic surgeons, I see many men in the waiting rooms! Men feel pressure to look young to maintain a competitive edge, especially in tech, where the younger folks are usually the ones in the corner offices. In that industry, especially, the younger you are, the smarter you are and the more sought after you become.
Lastly, what are the five things you need to thrive and succeed as a powerful woman? 
Sleep I cannot function or even pretend to be smart if I don't get at least 8 hours of sleep at night. 
Exercise Even if it's just taking a 30-minute walk, I need to move my body every day. I love to spin, do barre, and hot yoga and I need to work out for my health and mental sanity. It helps me focus on the day ahead. Sounding boards This could be a best friend (I am blessed to have many!), my mom or dad, or a colleague; I need to have dialogue to collaborate, to share insights, and to connect each day. 
Coffee I must have a steamy latte each morning when I rise and another on my way to the office, or I am an outright mess.
Affirmation I need to feel love every day. Some examples of this include the love I get from hugging my kids, squeezing my dogs, having an uplifting talk with a client or friend that's supportive and positive. I crave connection and cannot survive without it—even for a day.
For more information on Mindie Barnett and MB and Associates Public Relations, visit mbassociatespr.com. Follow Mindie on Instagram: @mindie.barnett. Purchase her latest book, You Don't Need To Be A Bitch To Be A Boss, on Amazon.com