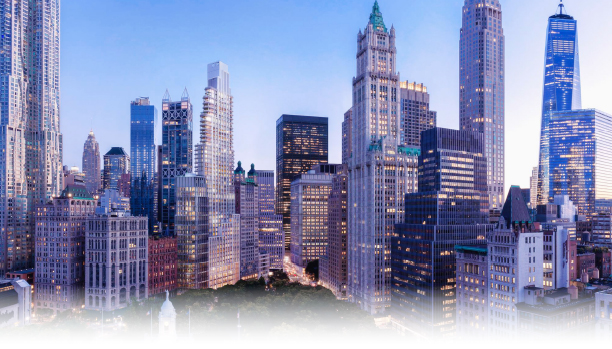 AROUND TOWN
The Financial District
The landscape of the Financial District (FiDi), where New York's history as a city all began has seen many changes. The skyscrapers and canyons of today's FiDi stand where the tiny Dutch settlement, and later the prime residential enclave of post-Revolutionary New York once flourished.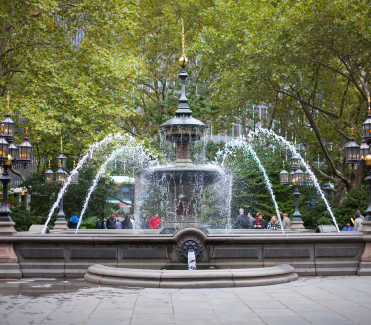 The narrow alleys of the area are a reminder of the scale of colonial America. However, except for a few fragments of old foundations, not a single building erected during the 40 years of Dutch rule remains. When the British Army withdrew in 1783 after seven years of occupation, the village of New York—which covered ten blocks north from what is now Battery Park—lay almost totally in ruins. But once New York City pulled itself together and began to push north, the city grew swiftly. Two blocks of low-rise commercial buildings from this early surge of development have survived: the Fraunces Tavern block and Schermerhorn Row.
Today, the entire area has been transformed from where cattle once grazed at Bowling Green Park. Now, FiDi features converted condos, bars, restaurants, parks, memorials, and new construction soaring into the sky. Take a closer look, and you will find improvements to parks, new restaurants, bars, and the mesmerizing new construction.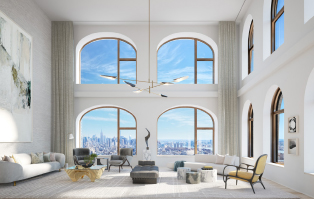 LIVING IN FiDi
Yes, people seem to be happy to call this neighborhood home. Let's explore a couple of new luxury buildings to call your own.
130 William Street 
Designed by British-Ghanaian architect Sir David Adjaye who is internationally renowned as one of contemporary architecture's most inventive leaders.  With a total 244 units, the 66 storied building reaches nearly 800 feet tall. Adjaye's first New York City high-rise tower is a new addition to the New York City skyline. 130 William's hand-cast concrete facade looks beautiful against the cityscape of Lower Manhattan.
It seems like there are endless amenities that are featured in this luxury residential building. Included are a full-time doorman, a spa, on-site residential manager, rooftop access, an IMAX theater, golf simulator, fitness center, children's activity center, and the list goes on.  Info: For availability visit 130william.com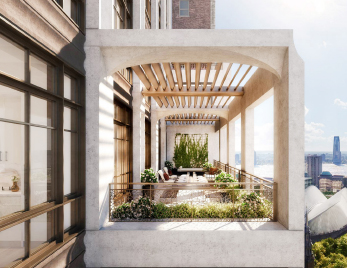 25 Park Row
Offering 110 residences, 25 Park Row is a 21st-century architectural icon at the center of the New Downtown, providing unmatched views from every residence over historic City Hall Park. COOKFOX Architects has created the quintessential downtown luxury condominium, reinterpreting the classic Art Deco skyscraper through an expressive series of cascading terraces, setbacks, and loggias.
Residents can exclusively enjoy The Park Row Club—a richly appointed amenity suite designed by Studio Mellone, featuring vast leisure spaces, soaring ceilings, and grandly scaled windows overlooking City Hall Park. The Club offers a library and screening room, a lounge, a billiards room, a bar, a dining room, a playroom, a golf simulator, and a fitness center with a yoga studio and a 65-foot swimming pool. The Park Row Club Garden and Dining Terrace offers over 7,000 square feet of outdoor space for entertainment, relaxation, and play—including lounge and living spaces, a grilling kitchen, a trellised dining area, and a naturalistic playscape and a lawn. On-site parking for purchase and a discrete Theatre Alley entrance offers privacy and convenience. Info: For availability visit 25parkrow.com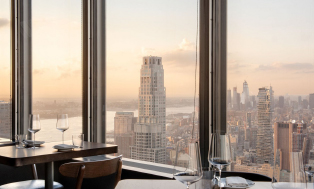 DINING OUT
With a boom in real estate comes an infusion of more new restaurants to go along with old favorites.
Joe's Pizza FiDi This outpost a block from the Fulton Street subway stop serves out-of-this-world New York-style pizza. It's a good option for an afternoon snack when you're sick of granola bars, or for a late-night bite. Info: joespizzanyc.com
Manhatta My other go-to restaurant is Mahatta. Endless views and delicious food—an absolute must located 60 floors up at 28 Liberty Street. One of Danny Meyer's shining stars offers down-to-earth hospitality along with Chef Jason Pfeifer seasonal and soulful menu.
Info: manhattarestaurant.com