PANAMA'S PARADISE
A Lush Private Island Escape
Winter is upon us and as the cold winds blow off the Hudson River and down the neck of your coat, consider the alternative. A Panamanian private island called Isla Palenque. In just about five hours from New York, you can be sitting on a warm beach, sipping a rum drink and soaking up the sunshine in seclusion.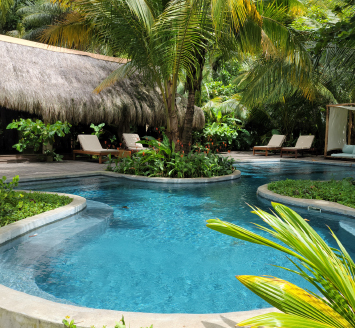 You'll fly in and out of Panama City, a vibrant place with much to see and do, so plan time on your trip there. We booked a city tour with Truly Panama on our way back from Isla Palenque and discovered a fantastic local eatery called La Tapa del Coco. That's where chef-owner Isaac Villaverde whips up his special Afro-Panamanian fare in a casual, welcoming setting. Try the shrimp curry or have a few empanadas, all washed down with Tiny Winey (their house craft beer) or a luscious coconut mojito. 
We loved visiting the Casco Viejo, one of the city's oldest neighborhoods going through a recent revitalization. It's full of old buildings (like the Iglesia de San Jose, built in the 1670s), many of which are renovated and housing incredible restaurants and beautiful galleries. Look for the Karavan Gallery, which is filled with spectacular works from local artists—check out the colorful toucans created in Jaqué; they are incredible! Finally, make time to head over to Panama Viejo and the UNESCO World Heritage archeological site. Founded in 1519, this is a fascinating place to learn about colonialism in the New World.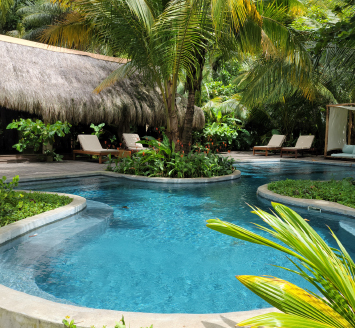 YOUR PRIVATE ISLAND
To get to Isla Palenque, you'll take a second quick flight to David (heading into the more rural part of Panama, heading west toward the Costa Rican border on the Pacific side). From there, the island's friendly crew will drive you to Boca Chica port, where a boat ride across the Gulf of Chiriqui delivers you to the tropical paradise that is Isla Palenque Resort
With just eight secluded beachfront bungalows, a villa estate (bring the whole family and have a completely private experience) and assorted deserted beaches to claim as your own for a day, this exclusive island truly is the ultimate escape. Think of a welcoming but never intrusive staff, delicious meals, and lots of activities (or none) to fill your days and nights. 
You won't see migrating whales in the winter months, but humpbacks, orcas, and pilot whales are in the nearby protected waters of Chiriqui National Marine Park from May to November, which is a quick boat trip from the island. Dolphins frolic in the waves, too, and you might see a sea turtle meander by as well. In addition, there are unique snorkeling spots to visit and kayaks or stand-up boards to paddle out into the all-year-round warm waters.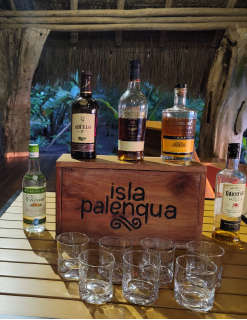 ANCIENT CIVILIZATIONS & MORE
Isla Palenque is a sustainable resort, so expect to find all-organic food and products as well as ecologically sound construction techniques used in all the structures. It all adds up to a place that feels integrated into the rainforest that surrounds it; slip down the palm-lined path from your bungalow to the ocean, and you'll understand what we mean.
Don't miss getting into the island's rainforest, where remnants of ancient civilizations remain. Follow Jose Chiavarria, the resort's experience coordinator, into the jungle, where he'll point out everything from archeological digs to termite mounds and regale you with tales of long-ago times. Or learn to forage for local fruits and herbs and take a fishing lesson and bring in a catch for dinner. 
Evenings bring salsa dance classes, rum tasting interludes, and leisurely dining either at your villa, on the beach, or in the lovely communal palapa. Be sure to taste the little bread rolls that come with every meal. They are decadently delicious, and don't miss the daily ceviche and tiradito offerings, for you will never have fresher fish.
Whatever your pleasure, Isla Palenque aims to please—and usually succeeds. It's a magical place that reminds us of simpler times, especially when you slip into your outdoor bathtub, take a soak and watch a tiny lizard slither by, listen to the birds singing and laugh at the howler monkeys high in the treetops letting out their thunderous yells. Then, you'll know for sure that you're not in the big city anymore!
For more information on Panama, visit tourismpanama.com; for information on Isla Palenque,
visit islapalenque.com