PARIS, JE T'AIME
The City Of Enchantment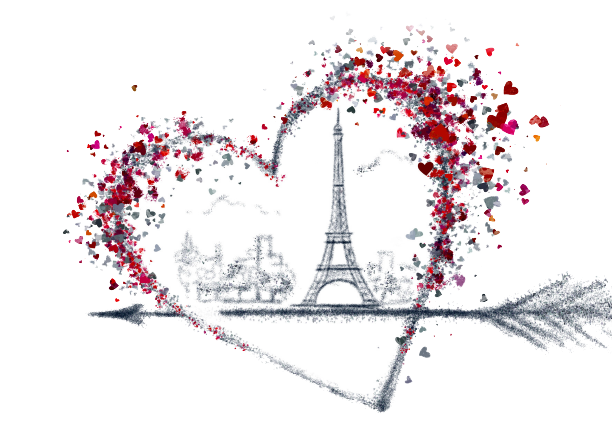 Whether it's your first trip or the umpteenth the lighted bridges and grand monuments delight; the elegant 19th-century Haussmann architecture endures; and the unique view of the glittering Eiffel Tower thrills. Last October 2021, we were among all the international visitors drawn to the allure of Paris, who flocked back after the COVID-closures.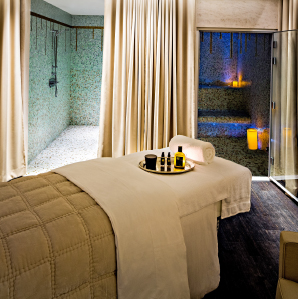 OUT AND ABOUT
Art-lovers gather at the Louvre, Musée d'Orsay, and the Pompidou for their collections, tasty food, and even spectacular views. There are exciting temporary exhibits at top art institutions, too; these are on view into 2022: the Frank Gehry designed Fondation Louis Vuitton, which features the marvelous Morozov Collection (Matisse plus), until February; the Musée des Arts Décoratifs showcases the impressive Cartier collection of Islamic jewelry, until February, the exotic Thierry Mugler show until April, and the Design for All: from Prisunic to Monoprix, exhibit, until May. At l'Orangerie—home to the memorable Monet waterlilies—the Chaim Soutine/Willem de Kooning exhibit launches in January, and David Hockney begins in February.
ROMANCE IS IN THE AIR
STAY
We stayed at excellent new and newly-renovated five-star hotels in various visitor-friendly neighborhoods. The Prince de Galles, a Luxury Collection Hotel Located on posh Avenue George V, near the Champs Elysées, the hotel features neo-Art Deco curvilinear interiors, Makassar ebony, and mosaics. Framed fashion photography lines corridors leading to the 116 rooms and 43 suites, including the newly-launched Lalique Suite. There's a cognac bar, restaurant Akira (by Michelin-starred chef Akira Back), and the Olivier Lecocq Wellness Suite.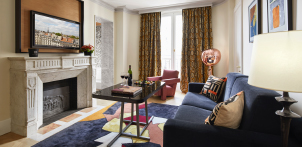 Hotel Montalembert This chic B. Signature hotel is located off Boulevard Saint Germain and a leisurely walk to galleries and the Musée d'Orsay. Its cozy restaurant boasts dark woods, white marble adjacent to the fireplace, and contemporary furnishings in the Bar Lounge. Our suite was decorated with precious woods, aged brass, leather, and silk and had a fireplace in the living room.
The Saint James Paris This member of Relais & Chateaux was once a private chateau until 1920; its neoclassic architecture boasts lofty ceilings, an impressive curvilinear staircase, and coffered ceilings in the library (bar), and landscaped gardens. The just-completed Laura Gonzales design incorporates classic and contemporary fabric-covered walls, hand-crafted furnishings, and fine accessories. The 5000-square foot Spa Guerlain includes an indoor swimming pool.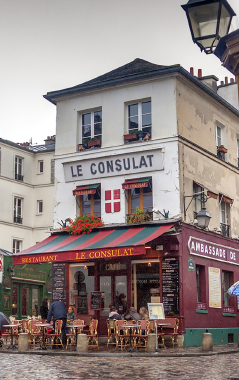 DINE 
We ate at classic, trendy, Michelin-star restaurants, bistros, brasseries, and museum cafés. We recommend the following:
Aux Lyonnais Alain Ducasse—who heads 19 Michelin-star restaurants upgrades the traditional Bouchon, famed for silk worker-lunches in Lyon. Along with a famous "workers-priced" meal, there are unique specialties: escar
Ducasse-sur-Seine This is a super-special, dress-up dinner (or lunch) with paired wines onboard an exclusive yacht that cruises the Seine for 2.5 hours; there's time between the five courses to photograph the lighted cityscape from the deck. 
L'Écrin The exquisite Hôtel de Crillon houses a tiny, 24-seat restaurant in a jewel box-like salon. First, the Maitre d' asks guests about food preferences; then, Michelin-starred Chef Christopher Hache prepares the magnificent multi-course meal with paired wines, accordingly.
Le Gabriel This memorable multi-course lunch takes place within La Reserve, a small, elite hotel. Its gastronomic restaurant, within an embossed leather-lined salon (chairs have shelves that slide out to perch a purse!) is where two-star Michelin chef Jérôme Banctel serves his best!
Le Tout-Paris We scored a table at 10 pm on a Sunday at the oh-so-popular, all-day brasserie on the 7th floor at the new Cheval Blanc Hotel. After appetizers, early evening, we shared an excellent—generously-sized—steak and Pont Neuf fries and admired views over the Seine, from Notre Dame to the Eiffel Tower.
Museum Cafés Parisian museums offer casual, albeit destination, dining where we ate onion soup, pozza or pasta and really enjoyed Loulou, a chic Mediterranean café inside Musée des Arts Décoratifs, and the brasserie, Café Campana, at the Musée d'Orsay. (Here the Le Restaurant du Musée d'Orsay is beyond gorgeous!)
For more information on Paris, visit atout-france.fr