MJ The Musical at the Neil Simon Theatre is not only the great music that Michael Jackson wrote and performed, but it also goes deeper than that in many ways. Lynn Nottage (Clyde's, Intimate Apparel), who wrote the book for the show, brings forth how the man was a perfectionist: how he saw the notes segue into music and tell his musicians just how to improve upon the melodies being played. And like Prince and James Brown, Jackson was very demanding of his musicians and backup dancers.
Yet, he was never forceful nor dismissive. Growing up with eight siblings in Gary, Indiana, his father, Joe (played by Quentin Earl Darrington, who also doubled as Jackson's stage manager), was a tough man. The senior Jackson made his sons practice, leaving very little personal time for each of the then Jackson Five. But, as Nottage points out, Michael, a compassionate boy, would carry many of these memories well into adulthood.
THE MANY FACES OF MJ
In MJ, we get to meet three Michaels. The oldest is the excellent Myles Frost. Frost has Jackson's moves, voice, and cadence down pat. When he sings, his movements and energy are first-rate; conversely, he is subdued when not performing. Here, too, Lynn Nottage deftly brings out the soft side of Jackson.
Tavon Olds-Sample plays the teen Michael, and Christian Wilson plays the young Michael. Under both the direction and choreography of Christopher Wheeldon, all three are superb in their roles. With 37 songs throughout the show, Wheeldon directs the three actors masterfully and the high-energy backup singers and dancers. MJ is a first-rate, non-stop whirlwind of great songs and insightful storytelling of Michael Jackson, his family, and the very secretive performer for the two and a half hours.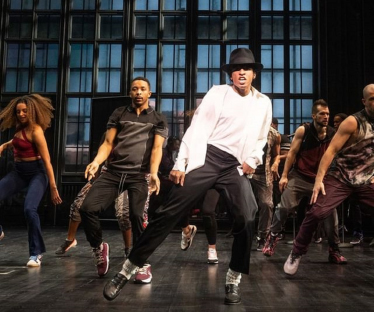 DEALING WITH THE WORLD
The show starts with the Dangerous Tour in 1992, and when MTV chooses to do a documentary on Jackson. Not sure how this will play out, MTV sends Rachel (Whitney Bashor) to interview the star. Jackson is stand-offish as he does not trust the media. Rumors at this point are swirling on so many levels, some are true, and others are false, yet Jackson never comments either way. 
We see painkillers Jackson devours due to being burned to do a Pepsi commercial and never fully recovering from that accident. As the musical alternates from when he was a child to his teens and then his later years, the audience puts together pieces of the puzzle about how Michael Jackson became the way he did. Jackson was a kind soul who continually wanted to grow and do so away from his family. Being a dutiful son, he reluctantly did a concert with his brothers rather than capitalize on his Thriller album. Even knowing that Don King promoting the tour would hurt both him and his family financially, he still did it—in excruciating pain.
In MJ The Musical, the audience is treated to most of his and The Jackson Five's best songs: songs like "Beat It," "Billie Jean," "I'll Be There," "Rock with You," "Smooth Criminal" and "Thriller" all brought the house down. Derek McClane's scenic design, Natasha Katz's lighting, and Paul Tazewell's costumes were all right on the mark. The most prominent of McClane's set was to "Smooth Criminal." It gave a seedy feel to the song and yet had a jazzy feel to it at the same time. Tazewell gave the audience one great Jackson costume after another. Not to be upstaged, Katz gave us the proper in-the-moment lighting throughout the show.
For more information and tickets to MJ the Musical, visit mjthemusical.com