Suppose you love to golf with some style. In that case, we have the perfect place for you: Fox Run Golf Club, located in Ludlow, Vermont, which incorporates the best of the natural beauty from the Green Mountains and the Okemo Valley attracting visitors from near and far.
Each of the eighteen holes has complex, natural elements that highlight the breathtaking mountainside terrain. The greens are undulating and fast, putting all golfers' skills, talent, ability, and competence to the test. Fox Run's greens, tees, and fairways are all bent grass, and there are multiple tee areas. Fox Run also has a 9,200 square-foot clubhouse with locker rooms and a well-stocked pro shop stocked with fashionable and functional apparel as well as the most recent cutting-edge equipment.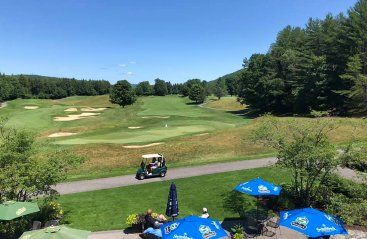 SOPHISTICATED PRACTICE
For beginners and seasoned golfers looking to improve their game, Fox Run has the best training facility in the region. Their pro, Mark Senecal, teaches small clinics and provides individual quality instruction. In addition, a four-hole practice course allows new golfers to get a feel for the game by playing shorter holes while allowing other players to work on various skills. 
The driving range is one of the most scenic and well-kept in New England. All six acres offer golfers the opportunity to practice on grass tees or mats. They have a putting green, a pitching area, and several manicured practice bunkers in their chipping area. During the winter and inclement weather, they have an indoor golf simulator and an indoor practice putting green where participants can virtually play more than twenty courses. The Golf Simulator is an excellent tool for practicing or playing golf. Stroke, skins, or match play for four teams of up to four players each. Bocce courts, horseshoe pits, and cornhole toss are part of their new Field of Games.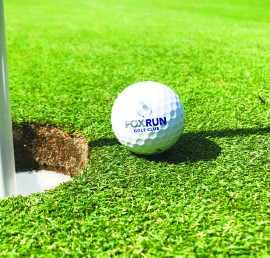 DINING WITH FINESSE
Businessman Troy Caruso bought the resort in April 2021. He immediately began improving the facilities, from new GPS-tracked golf carts to a total renovation of the restaurant Calcuttas, which includes a bar, full-service restaurant, and a patio. and a patio. Led by Culinary Director Chef Andrew Molen, he previously operated the kitchens at East Hampton's The Maidstone Inn. Andrew has also impacted as a leader at some of New York's finest restaurants, including Todd English Group
Fox Run opened the second of their two newly renovated restaurants: the Alta Tuscan Grille. Molen will also be at the helm of this modern Italian steakhouse and bar that offers a tasty selection of perfectly grilled meats, fresh fish, and al dente creative pasta dishes. In addition, a proposed renovated 60-room inn is scheduled for opening in 2023.
With meticulous attention to detail, their goal is to create a club that members will be proud of. Come to Fox Run Club and discover why it has been noticed as one of the best new courses and most scenic courses by Golf Week and Golf Digest
For more information on Fox Run Club, visit forungolf.org