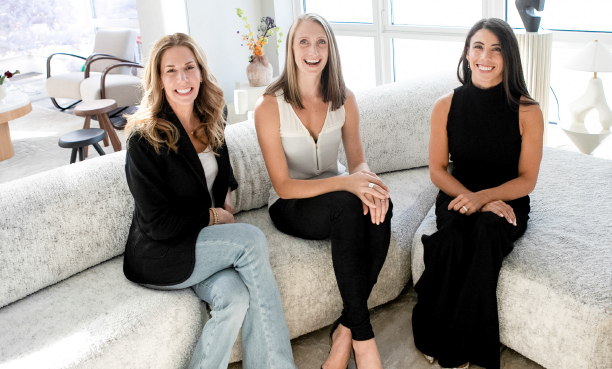 Wendy Wolfson, Danielle Devine-Baum, Kara Bocchi
SPINNNG WHEELS
Cycle Your Way To Fitness
The pandemic made fitness a uniquely new experience. Gyms suddenly closed and online classes proliferated across platforms, including stationary bikes. It was that phenomenon that connected America through screens across the country, making equipment like Peloton stars overnight.
Now, two years in and several variants behind, New Yorkers are once again coming outdoors, and three New York women know exactly where to bring them: sweatconnected, a new boutique studio opening on the Upper West Side. Nestled discreetly inside the Marlene Meyerson JCC Manhattan on Amsterdam Avenue, the cycling gym is the brainchild of Wendy Wolfson, Danielle Devine-Baum, and Kara Deych Bocchi, veteran fitness instructors who wanted to create a new experience based on community and empowerment.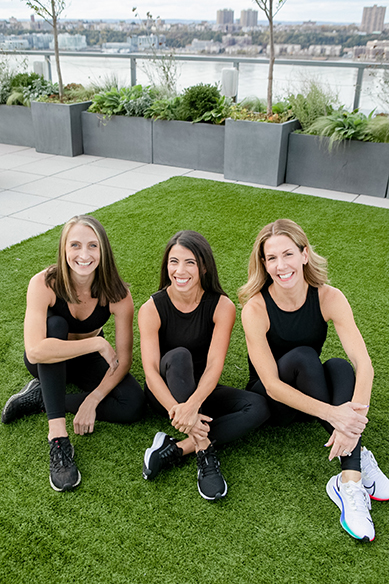 Wendy Wolfson, Danielle Devine-Baum, Kara Bocchi
PART OF A COMMUNITY  
"Our classes aren't just a workout; they are a place you come to feel like you're truly part of a group. We support each other," says Wolfson. She continued to explain "sweatconnected means community through fitness. Through all the ups and downs of life. We sweat through it together."

Echoes Devine-Baum: "Our mission is to help you feel your best. We believe in the power of group fitness to be transformative, not only physically but mentally. We believe that group fitness can bring people together, even if we are apart."
Bocchi sums it up perfectly by saying, "Whether you have been a group fitness participant for years, or are brand new to group fitness, you will be at home with us and our growing community. All levels, all ages, all sizes, all humans."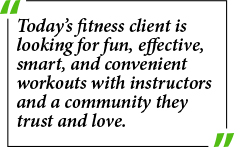 DIGITAL, TOO
With 29 bikes, sweatconnected offers its clients a staff of trainers who make the setting an affirmative experience. When the pandemic first hit, the women quickly pivoted online and found a digital fitness experience needn't be impersonal. The spirit that had been the hallmark of their brand could easily translate, and still give their clients a communal experience even when they were alone.
"Being in the boutique fitness world for so long, we knew we had to keep the love and camaraderie going," Wolfson said. "We took our craft to Zoom and from the very first class, we knew this was a place for not only our clients to find happiness, but our instructors as well. Now with the world opening, we want to hold on to that community and bring it back to where it all began—in-person classes."
All three women will instruct classes while also handling their brand. Wolfson will serve as direct of talent, while Devine-Baum focuses on business development and Bocchi as director of operations.
The cycling studio continues their popular online sessions, but the Upper West Side is about bringing people together again under one, brick and mortar roof.
"Fitness clients are looking for a stronger in-person community and connection that existed pre-pandemic," said Bocchi. "At the same time, they have created well-built and sustainable routines with virtual fitness with their favorite instructors that they'd like to hold onto and incorporate as a part of their wellness and health."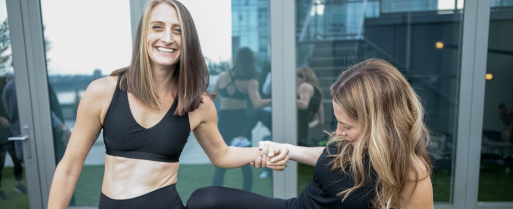 Danielle Devine-Baum and Wendy Wolfson
FRIENDS FIRST
At the heart of their brand is the friendship Wolfson, Devine-Baum, and Bocchi have created after years in fitness. The three women met while working a cycling studio that closed during the pandemic. In 2020, they created sweatconnected, using same shared vision and values that had brought them together.
"We come to this with over 30 years collectively in the fitness industry and have seen the value of the relationship between instructors and their students," said Wolfson. "Fitness is for everyone. So many boutique fitness studios are about exclusivity. We are about being welcoming, no matter where you are in your fitness journey."
In conclusion, Devine-Baum tells us, "Today's fitness client is looking for fun, effective, smart, and convenient workouts with instructors and a community they trust and love. We have built sweatconnected on all those principles."
For more information on sweatconnected, visit sweatconnected.com