ENTREPRENEUR'S CORNER
Dr. Ramon Tallaj: Founder of SOMOS Community Care
At the beginning of the COVID-19 crisis in New York, Dr. Ramon Tallaj was at work with New York's vulnerable Hispanic community—a group that he affectionately refers to as "his people."
"We raised the alarm at the beginning," says Dr. Tallaj, an immigrant from the Dominican Republic who founded SOMOS Community Care—a non-profit, physician-led network of over 3,000 health care providers serving over one million Medicaid beneficiaries in New York City. They are almost exclusively from vulnerable Hispanic, Asian, and African American populations. "Because our doctors are part of these communities because we are immigrants and speak the languages of our patients, we could listen to our community and see this coming. It meant that we were able to prepare."
Launched in 2015 by its Chairman, Dr. Ramon Tallaj, SOMOS Is the largest system participating in the New Yorkk State Delivery System Reform Incentive Payment Program (DSRIP). Recently, New York City Mayor Eric Adams chose Dr. Tallaj for his administration's COVID-19 Recovery Roundtable and Health Equity Task Force to advise long-term, comprehensive policies around health equity and health access. Dr. Tallaj will serve as co-chairman alongside forty leaders from a wide variety of sectors, recognizing that to be effective, the task force must include a wide range of voices whose sectors, taken together, are instrumental in a speedy, effective recovery. The task force will also build a healthier, stronger, and more equitable city for all New Yorkers.
 THE EARLY YEARS
Growing up as the oldest of six children in a mixed Lebanese and Dominican family in Santiago De Los Caballeros, he faced hardship. He studied by candlelight at his university in Santo Domingo, which was frequently without electricity. He was inspired to attend medical school by his uncle, a pediatrician arrested and tortured under the Trujillo dictatorship.
Nevertheless, he quickly became a prominent figure in his country. He became the Under Secretary of Public Health and Social Service, a member of the Dominican-Haitian Frontier Affairs Commission, and then the Medical Director of the Social Security and Welfare Institute. His work put him in close contact with politicians and foreign officials. When Cardinal John O'Connor, representing the Archdiocese of New York, asked him to serve in New York, he immediately accepted—turning down a position as the Dominican Republic's Minister of Health. Little did he know that he would advise the likes of President Barack Obama, Pope Francis, and city leaders on healthcare reform a few decades later.
THINKING OF THE YOUNG
Dr. Tallaj is enthusiastic about many causes. One that is dear to his heart and heritage is the Dr. Ramon Tallaj Foundation, which awards grants, scholarships to exceptional Hispanic students and develops studies in the United States in medicine, nursing, pharmacy, and other healthcare-related sciences worldwide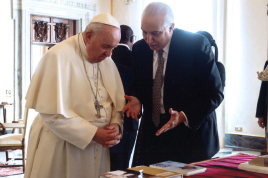 "It was a dream for me to come to New York," says Dr. Tallaj, who now enjoys painting and international horse racing and breeding. "It is the American dream, and I want others to have that opportunity.
SOMOS is value-based," Dr. Tallaj explains. "That means primary care providers are not paid a fee based on service but according to the longer-term health outcomes for patients. But, again, prevention is the key.
The network has been a top performer in the shared-savings program for several years, which he attributes to its focus on preventive care, physician-led operations, and technology to monitor patients' overall health and the course of their treatment. In 2020, SOMOS's ACO score was 97 percent, more than any ACO in New York City, generating nearly $38 million in total savings and more than $18.3 million in earned savings.
"We have done something unique in New York City," he says. "We establish genuine relationships with our patients and get to know their family circumstances, social lives, and the environmental factors that impact the health of the patient and their families."
BEYOND COVID
Dr. Tallaj recently joined Pope Francis and a scientific committee of researchers, medical experts, scientists, theologians, and bioethicists, in Vatican City to collect and make available fact-checked, unbiased information on the COVID vaccine for Catholic media in multiple languages. The Catholic fact-checking project is one of the many projects to receive funding from the Google News Initiative's "open fund" for projects promoting information about the pandemic and vaccines.
"We are serving the poor," Tallaj says. "We are feeding the hungry. We are caring for and curing the sick. It gives me such peace in my heart to know that at the right moment, we have done the right thing for the right people for the right reason."
For more information on SOMOS Community Care, visit somoscommunitycare.org