If you are looking to live off the beaten path in a low-key neighborhood, while still close enough to all of Manhattan's luxuries, then Murray Hill may be the place to be. Centrally located, stretching from 34th to 42nd Streets between Fifth Avenue and the East River, Murray Hill boasts a range of choices from co-ops and condos to brownstones. If you like to get away on weekends, the midtown tunnel and Grand Central Station are conveniently located in the neighborhood.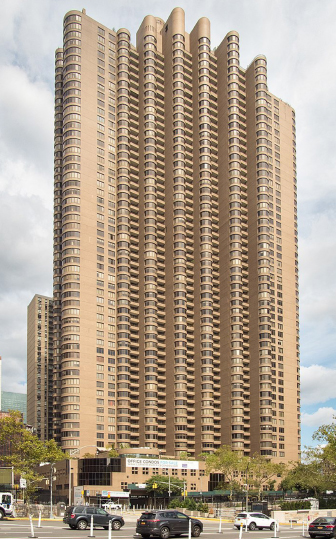 Murray Hill, is named for Robert Murray head of the mercantile family, who settled here in the 18th century. As years past, it remained a relatively isolated area. Then as the population moved north, Murray Hill became an upscale neighborhood during the 20th century. Today, it contains several cultural institutions, including the Morgan Library, as well as missions and consulates to the nearby United Nations headquarters.
LIVING IN MURRAY HILL
Here, some options to consider if Murray Hill is on your radar.
Manhattan Place The 35-story Manhattan Place located at 630 First Avenue was designed by renowned architect Costas Kondylis and offers dazzling views; it has 487 spacious, light-filled condominium apartments. Built-in 1985, many of the building's units have been renovated and feature state-of-the-art appliances, stone countertops, custom kitchen cabinets, and marble baths with deep soaking tubs. 
Great rooms anchor the building's larger homes with stately columns, dens, and office nooks. Amenities include a 24-hour doorman and concierge, a grand lobby with a waterfall, an enclosed rooftop pool, two sun decks, a roof deck, and a 360-degree rooftop running track and a fully-equipped fitness center with steam and sauna rooms. Residents also have access to a party room, a garage, a laundry room, a children's playroom, and bike and storage rooms. Nearby is a globe-spanning list of restaurants and excellent transportation. 
Info: City Realty at cityrealty.com
The Corinthian Located at 330 East 38th Street, The Corinthian is distinctive and occupies an entire block. Built on the former Eastern Airlines site and completed in 1988, it has a distinctive shape of bundled cylinders and offers city and river views.
The Corinthian contains 865 units on 54 residential floors that feature hardwood floors and such architectural details as large columns and curved walls. French doors open on to rooms that can be used as libraries or dens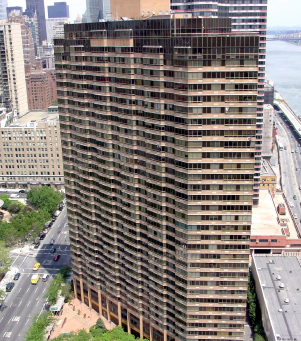 Kitchens have granite countertops, and units are equipped with walk-in closets, spacious galleries, washers and dryers, and many windows. All apartments (except for studios) feature a balcony: some larger residences have more than one. Many apartments have been updated to include state-of-the-art appliances.
The Corinthian is a full-service, pet-friendly building with 24-hour doorman and concierge, health club with a 56-foot lap pool and yoga studio, sauna, and steam room, landscaped outdoor space with running track, playroom, event room, golf simulator, valet, and garage. 
Info: The Corinthian at corinthiannyc.com
The Horizon The 44-story Horizon has 381 residences and is located at 415 East 37th Street. The building, which was built in 1987, has been updated to include state-of-the-art appliances and finishes. The layouts are flowing with spacious foyers, living rooms, dining areas, and large bedrooms. Residences have functional closet space, including walk-in closets, as well as hardwood floors, marble bathrooms, granite countertops, and dressing rooms.
The Horizon has amenities such as a full-time doorman and concierge, a fully equipped business center, a rooftop lounge, a party room, a children's playroom, and an attended garage. Its two health clubs occupy the entire fourth and top floors and are equipped with an enclosed rooftop pool, steam and sauna rooms, Jacuzzi and state-of-the-art fitness equipment. Info: The Horizon at horizonyc.com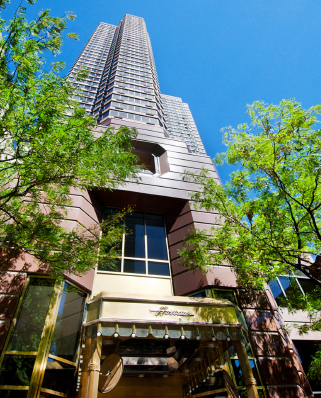 DINING OUT
Let's look at some favorite restaurants in the area that are musts. Villa Berulia This is a fantastic restaurant. With a Croatian-Italian menu, how could you go wrong? Located off the busy intersection of Park Avenue and 34th Street, the restaurant has hosted the likes of Hillary Clinton and legends, including Derek Jeter. Some menu favorites include Breast of Chicken sautéed with white wine and Buzra, a traditional Dalmatian seafood.
Info: villaberulia.com
Kajitsu Another favorite is the minimalist Japanese restaurant, Kajitsu. Shojin cuisine refers to a type of vegetarian cooking that originates in Zen Buddhism. Even though it does not use meat or fish, Shojin is regarded as the foundation of all Japanese cuisine, especially kaiseki, the Japanese version of haute cuisine.
In its present form, kaiseki is a multi-course meal in which fresh, seasonal ingredients are prepared in ways that enhance the flavor of each component, with the finished dishes beautifully arranged on plates. All these characteristics come from shojin cuisine, which is still prepared in Buddhist temples throughout Japan. Info: kajitsunyc.com