LIFE'S A BEACH
A Weekend Getaway To Cardozo South Beach Hotel
By AP Connolly | Photography by Neil J. Tandy
I suppose you thought Gloria and Emilio Estefan were just a power couple in the music industry. If so, you'll be surprised to discover they have also succeeded in the hospitality business. After success with Costa d'Este Beach Resort & Spa in Vero Beach, the couple also owns the historic Cardozo South Beach Hotel, regarded as an Ocean Drive hot spot.
Initially built in 1939, Cardozo Hotel was already an iconic retreat among the stars, featured in such blockbusters as There's Something About Mary and Any Given Sunday and Birdcage. After the Estefans took ownership in 1992, the hotel went under an extensive multi-year, $15-million renovation, making it Miami Beach's next hot spot. The hotel reopened in 2019 with a design that kept the Art Deco spirit but modernized it with a fresh white motif spanning the lobby and the forty-one guest rooms. And although the hotel lacks a pool and gym, there's plenty to do starting right across the street at Lummus Park and the glorious beach.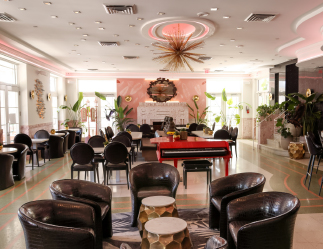 THE STAR TREATMENT
Both Gloria and Emilio grew up in Miami and embraced a deep passion for the city. Redesigning the hotel has, in a way, mirrored the evolution the city has experienced. They have maintained Cardozo's historic Art Deco exterior that initially captures you, as well as the completely redesigned interior.
Today, you'll find upon arrival modern elements with a mix of the property's original décor. The lobby may remind guests of an intimate, homey B&B instead of a multi-story hotel. Another beautiful touch seen throughout the public spaces is some of the couple's own décor items creating a relaxed, laid-back atmosphere. The Hotel Manager, Stephen, and his staff provide personalized service with a smile and always go the extra mile to make a stay more enjoyable.
Guest suites are clean comfortable and boast a contemporary design featuring mother-of-pearl headboards, matte white walls, and luxurious bath accents. The crisp bed linens make sleeping a joy. Those looking for a superstar experience can reserve the 1,500 square-foot penthouse suite that fills the hotel's top floor. The suite has two king-sized bedrooms, two master bathrooms with soaking tubs and double showers, a living/dining room, and a dressing area—custom furnishings complete this South Beach picture.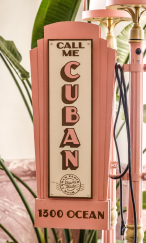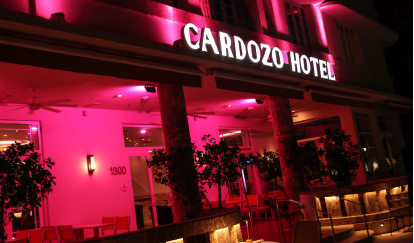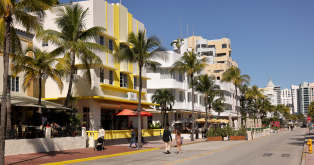 The Estefan's Cuban heritage carries over to the hotel's famous Call Me Cuban restaurant. Here, the James Beard award-winning team stirs up an excellent menu of fresh, vibrant flavors and cocktails. Quesadillas, empanadas, and tacos are the ingredients of a perfect brunch, lunch, or dinner.
Of course, Miami's beautiful beaches will always be the number one draw for visitors. But it's also the city's culture, architecture, nightlife, and people that continue to make it one of the most popular destinations in the world.
For more information on Cardozo South Beach, visit cardozohotel.com
EXPLORING SOUTH BEACH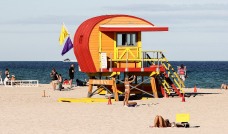 Glamour is part of everyday life in Miami—celebrities, mansions, and entertainment are the order of the day. Nowhere is this exhibited more than in South Beach. It can feel at times like a never-ending feast for the senses. From the classic swooping facades and meticulous neon of the city's signature deco designs to its nonstop beach life and vibrant party scenes, South Beach exemplifies a unique brand of Floridian oceanside chic.
COLOR YOUR WORLD
South Beach (SoBe to most) is best known for its sunny take on Art Deco architecture. However, only in South Beach does this smooth Modernist style take on a particular hybrid of pastel palettes and sleek curves, buttresses, and contours, meant to evoke early 20th-century train and ocean travel. Whether hotels, restaurants, or even mansions (The Versace estate is a good example), stop and take in the beauty of a bygone era.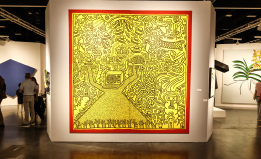 Any day along Ocean Drive and Collins Avenue, you'll find the elite crowd sipping cooling libations in hotel lounges and sidewalk cafés, bronzed cyclists zoom past palm trees, and visitors flocking to see the action. Well-tanned bikini-clad models and Lamborghinis will guarantee Instagram-worthy memories. But remarkably, the activity never ceases as crowds spill over onto sidewalks while open markets draw the masses. But, of course, soaking up the rays on the white sand beaches is always a must.
ARTS & CULTURE
In South Beach, art and culture can be found everywhere. Thanks to many sculptures, tapestries, acrylic and oil paintings, and every art imaginable created by local and international artists on display throughout hotels, restaurants, galleries, and public and private sites or venues year-round. Once a year, the art world comes alive during Art Basel, which embraces the world with exhibitions at museums and galleries across the city. At the same time, ambitious artworks and performances become part of the landscape at nearby beaches.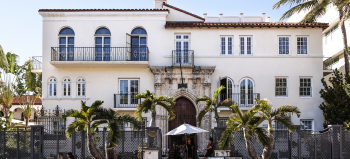 SHOPPING & ENTERTAINMENT
South Beach is a prime shopping and entertainment mecca, with an ever-changing number of places to spend one's time and money. The pedestrian-only, open-air Lincoln Road Mall features one-of-a-kind boutiques and name retailers with sidewalk cafes. In addition, a large variety of clothiers and fashion specialists call Collins Avenue home. When the sun sets on South Beach, daytime shoppers become nighttime club-hoppers at various nightspots (some exclusive). In South Beach, clubs can include dance clubs, lounges, and even restaurants pumping out the music until the next day. --APC