BORGATA HOTEL CASINO & SPA
Atlantic City's Destination For Glamour
By Bailey Beckett
After years of retreat, Atlantic City has been showing renewed vigor and swag, and nothing reflects the new 'tude better than Borgata, a glittering metropolis of its own stealing the skyline. Yet, its sleek glass façade hardly tells what awaits inside.
To wit: 2,000 rooms, in all shapes and sizes (including its signature Fiore and Opus suites). World-class dining (check out Iron Chef Michael Symon's Sicilian and Greek-infused Angeline). Swanky bars and lounges (get tipsy at the Gypsy and its 100 flavors of tequila). Luxurious spa (wake up with the Espresso Limòn Slimming Wrap). And yes, gambling galore. The Vegas of the East offers everything to tickle your fancy and take your wallet. But who cares anymore? It's about time there was something to blow your hard-earned money on (including dice).
WINNING ODDS
Rooms at Borgata are all upscale, tastefully decorated, and offer scenic views of the shore and AC skyline. Among the most luxe in Atlantic City, they come with all your essentials, but not too many: after all, they want you on the floor where the real action awaits.
Once you arrive on the casino floor, you'll notice the sweet din of exhilaration, especially after two years of COVID. The main floor bursts with jubilation, surprise, instant friends, and howls of winnings. Borgata's casino boasts 161,000 square feet of risky decadence, including 176 gaming tables, 2,775 slot machines, and a 50+ table poker room. It's far too easy to get lost in euphoria playing roulette, blackjack, baccarat, and many other games (who needs to pay rent?). As you throw the dice or get lost in the decks, servers offer a steady stream of cocktails, often on the house. And why wouldn't it be? After two years of social isolation and hiding your wine glass from Zoom, a good buzz is love.
WINE & DINE
Wrapped around the casino floor is a mall-like concourse of upscale restaurants and bars, offering any palate pleasure. The cuisine is surprisingly succulent and luxe, rivaling Vegas' fixation on Michelin-star obscene.
Borgata's American Bar & Grille offers sentimental favorites like Bigeye Tuna Crudo (topped with cucumbers, radish, green apple, and garlic chili ponzu); Wild Mushroom Pizza (sizzling with basil pesto, roasted garlic, and three kinds of cheese), a 16-ounce New York Strip Steak (served with Argentinian chimichurri;) and double-cut pork chop (drizzled with caramelized apples, Saba, and pomegranate), among other popular dishes.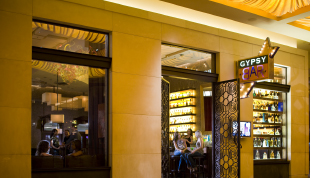 More exotic is Izakaya, which treats guests to Sake flights, as well as Wagyu Beef Sliders and Japanese Scallop Sashimi. A particular favorite at the Borgata is Angeline, blending the best Mediterranean and Greek flavors with entrees like a Formaggi e Salumi Tasting Board, Chicken Parmesan, and wood-fired dishes like swordfish branzino, and strip steak.
And, of course, no casino can deny a prime cut of steak. Old Homestead is the perfect place to blow your winnings. From prime rib to filet mignon, racks of lamb, and steakhouse burgers, the classic steakhouse re-interprets meat and potato flavors with authoritative sizzle.
Drinking enthusiasts will savor bars aplenty at Borgata from the Gypsy to the Level One Cocktail Bar & Lounge for big spenders. Long Bar is great for long nights, while B Bar offers live entertainment. But if you want a stage of your own, look no further than Premier Nightclub: the perfect place to shake your booty after a night of buoy.
Of course, after a night of wild, what better place to detox your mind, soul, and physique (hello, liver!) than a day of body indulgence. Spa Toccare offers facials, massages, and waxing, among other treatments.
Borgata is the rare respite to offer fun for adults and families alike. Your experiences need not stay in Atlantic City, but your heart (and maybe money) sure will.
For more information on Borgata Hotel Casino & Spa, visit borgata-mgmresorts.com