AMERICA'S SOUTHWEST

Desert Beauty In The Wild West
Desert Beauty In The Wild West
Text & Photos By Jenny Peters
As March rolls in like a lion on the East Coast, you might feel the lure of the warm desert calling to you. If so, this is a perfect time to jump on a plane and head to America's desert southwest, where astonishingly beautiful and otherworldly landscapes will warm your senses and intoxicate your imagination.
With a focus on visiting southwest national parks across the region, this trip necessitates an automobile or RV, as public transportation is virtually impossible. So, plan to fly to Phoenix or Las Vegas as your jumping-off point and head off on an epic trip, allowing seven to ten days to roam the Wild West. In every park on this adventurous road trip, you can make your experience as strenuous or relaxing as you choose.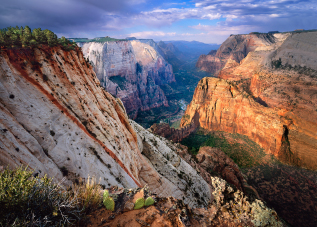 We suggest Las Vegas as the start/end of this trip with its usually inexpensive flights from New York, including a stay at the all-suite Venetian Resort, with dinner dates at the resort's sublime Estiatorio Milos, Brera Osteria, and Bouchon. From Vegas, start the trip by heading northeast into Utah to find some of the world's most astonishing places, beginning with Zion National Park.
UTAH
Zion National Park
The state's first national park is your introduction to the sandstone, making this region a visual cornucopia of colors and wacky shapes. First, take in Angel's Landing, the massive rock formation that rises above the park; climb it to see breathtaking vistas of the park below. Next, slip into The Narrows, the slot canyon that will surely get your boots wet in the Virgin River, along with the challenging hikes that reward you with spectacular moments along the way. Finally, don't miss the Emerald Pools Trail, where your hard hiking work is rewarded with three pools and numerous waterfalls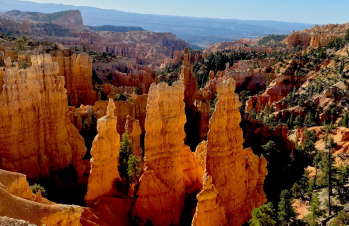 Bryce Canyon National Park
Next up is where hoodoos rule. Hoodoos are sandstone formations carved out by wind and water into fantastical shapes of widely varying sizes; you'll see hoodoos across Utah and Arizona, and they will make you marvel at their sheer audacity. Bryce Canyon feels a bit like you've jumped into a Dr. Seuss book, with wiggly spires, wacky natural bridges, and more to be seen at every lookout along the 18-mile drive to the top of the canyon. But, of course, you can hike down into the canyon, too. Stay at the Best Western Plus in nearby Bryce, where their comfortable rooms and hearty complimentary breakfast get you ready for a full day of adventure. And go into the park at night, where the dark sky opens a breathtaking Milky Way vista; it's open 24 hours a day.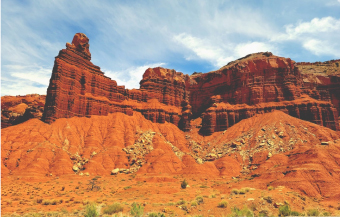 Capitol Reef National Park 
Here is the secret surprise of this trip, where vast cliffs of brilliantly hued sandstone loom high above the road, naturally decorated with bizarrely shaped hoodoos hanging in impossible angles. It's a must-see spot that's much less traveled than Arches National Park, found two more hours to the northeast in Moab. You'll have to wait to enter Arches, as it's one of America's most iconic places. See Delicate Arch, Double Arch, Balanced Rock, and Corona Arch, and climb in the sandstone for as long or as little as you like. It's worth the wait. Moab has plenty of hotels and restaurants to choose from, so stay there for the liveliest scene you'll find in this most remote and quiet part of the world.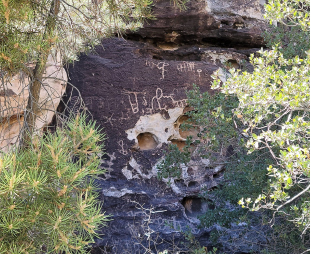 Monument Valley Navajo Tribal Park
Meander south down Route 191 from Moab, imagining how settlers negotiated these desert landscapes in covered wagons as outlaws roamed the traditionally Navajo territory region. As you get closer to Monument Valley, the iconic park that remains a part of the Navajo Nation, take a quick turn into Goosenecks State Park to see an astonishing example of how a river carves out sandstone as it flows.
Be ready to gasp a little as you crest the hill and Monument Valley reveals itself and be braced to avoid (or join in) with people posing in the middle of the road, recreating the Forrest Gump moment shot there. Roll on into the valley, where Goulding's Resort has welcomed visitors since the 1920s. Make one of their cottages your home base, and the view from your porch will be the same sandstone formations that evoke John Wayne's classic Westerns. Take a driving tour in the park with a Navajo guide for a real insight into this magical land.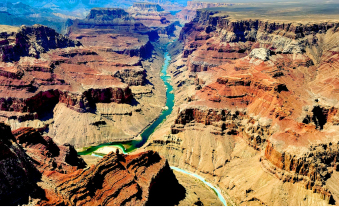 ARIZONA
Grand Canyon National Park 
Cross more desert landscapes as you head into Arizona toward the south rim of the Grand Canyon, the last major stop on this Wild West trip. One of the planet's great wonders, the canyon, is best seen from a helicopter, so plan to splurge on a ride with Grand Canyon Helicopters for an unforgettable experience. And later, see the sun set from a perch right on the rim of the canyon for a fitting grand finale to an epic road trip. (Vegas and Phoenix airports are about four hours away.)
For more information on all U.S. National Parks, visit nps.gov; for Monument Valley Navajo Tribal Park, visit navajonationpars.org/monument-valley