With the Kentucky Derby Festival (held in Louisville throughout this month) and the Derby (on May 7th), our thoughts turn to Kentucky bourbon. That uniquely American corn-based brown spirit invented in the 1700s is still made almost exclusively in Kentucky and is having its heyday right now.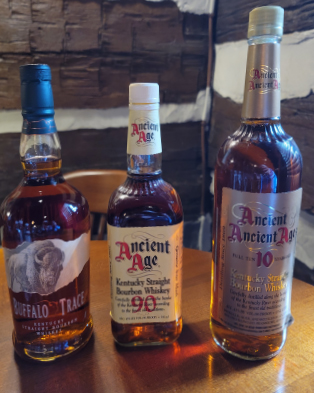 "There are many reasons that bourbon has exploded in popularity," explains Gathan Borden, a founding member of the Kentucky Black Bourbon Guild and vice president of marketing for VisitLEX (Lexington, Kentucky). "Don Draper in Mad Men was a bourbon guy, which helped get the idea into the cocktail culture. That's been on the rise, with mixologists in bars are doing all kinds of things with bourbon cocktails nowadays, so that's created an approachable way for people to enjoy bourbon."
With 95 percent of all bourbons produced being made in Kentucky, look no further than that state with the limestone water (the secret ingredient that makes the bourbon so good) for the best that money can buy. In addition, Kentucky bourbon is required to have a minimum of 51 percent corn to be designated as bourbon.
A RECIPE FOR SUCCESS
Often wheat, malted barley, and rye are also included in the "mash bill" (the mix of cooked and fermented grains) that begins making bourbon. Mash bill recipes are closely guarded secrets, and a master distiller chooses the combination. The grains go on through the distilling process, and the resulting alcohol goes into the required charred white oak barrels (to be called Kentucky bourbon). The bourbon must be aged for at least two years before it can be legally bottled, and many spend much more time in the barrel before release.
THE NOSE KNOWS
Choosing a favorite bourbon is a lot like choosing a favorite wine; in other words, it takes a lot of tasting to discover what your palate prefers. For example, the corn in bourbon makes the liquor taste sweeter, while adding wheat intensifies that sweet base and adds bread notes. Well-known bourbons that lean into the wheat include Buffalo Trace, Pappy Van Winkle, and Maker's Mark. Adding rye instead causes the bourbon to take on a spicy aspect and are often called "high-rye" bourbon when made with 18 percent or more rye; think Basil Hayden, Bulleit, Old Forester Classic, and Woodford Reserve.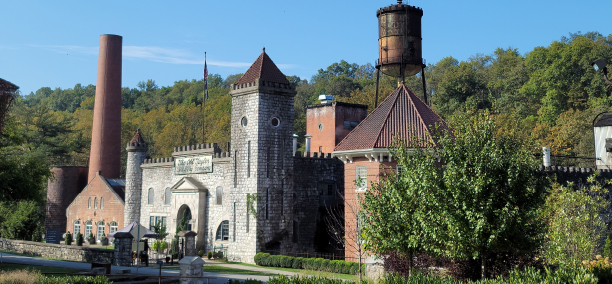 Sipping bourbon neat is one way to determine its flavor profile, including tastes of bread and yeast; earthy tones like grass, mushroom, or leather. Additionally, there are herbal tangs like tea, mint, dill, and tobacco; spices including pepper, nutmeg, cinnamon; fruity notes ranging from green apple to berries or raisins; and sweet flavors like chocolate, toffee, and butterscotch. And like wine, the nose of the bourbon will be different than its actual mouth taste
Drinking it with a large ice cube takes the edge off, but Kentucky bourbon is still a strong spirit, with an average proof of 80 to 100, which means around 45 to 50 percent alcohol. The main ingredient in the classic Mint Julep served on Derby Day is made with sugar or simple syrup, water, crushed ice, and mint leaves. And it's become a go-to spirit for mixologists all year round. It's a reality for Fresh Bourbon producers Sean and Tia Edwards believe is the key to bourbon's ever-rising popularity.
"Our bourbon is gently sweet and approachable," Tia Edwards explains, "and for new bourbon drinkers, it doesn't have what they call that 'Kentucky fire,' even though the alcohol content is still high. I love our bourbon in cocktails."
For more information on Kentucky Bourbon,
visit: kybourbon.com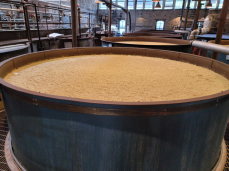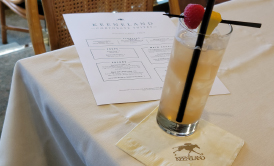 GIDDY-UP TO BOURBON COUNTRY
While the Kentucky Derby is held in Louisville, bourbon lovers will find visiting Lexington a sublime experience, beginning with the world-class bourbon distilleries and the incredible bluegrass landscapes and good dining experiences.
Make 21c Museum Hotel your home base, a comfortable boutique hotel that's peppered with beautiful artworks located right in the center of town. Then, get on the Kentucky Bourbon Trail and roll across the gorgeous horse farms to visit famed distilleries like the massive and ancient 200-year-old Buffalo Trace, famous Woodford Reserve, and the quirky and lovely Castle & Key (it is a castle). Then, back in Lexington, check out the Distillery District right in town.
Be sure to dine at the elegant Dudley's on Short to taste Chef Mark Richardson's inspired cooking (and don't miss the smoked trout Dudley eggs) and plan to go to as many of Chef Ouita Michel's eight restaurants as you can. We love Wallace Station's farm vibe and Honeywood's sleek sophistication, and this James Beard Award multiple nominee's food is just sublime.
Finally, take the time to hit Keeneland racecourse to see some of the horses you've noticed grazing on bluegrass farms run a few races. It's been one of the world's top thoroughbred racetracks since 1936 and (naturally) serves up bourbon cocktails and neat sips of Kentucky's homegrown spirit during every race day. --JP