The idea of a date night at a restaurant may seem amazingly foreign after two years of ordering takeout and binging Bridgerton or Emily in Paris to fan the flames of romance. It's time to get off the couch and take your sweetie to one of NYC's amazing restaurants that will remind you what date night is all about. New York City has some of the most exciting culinary experiences, from classic fine dining to trendy and new. Here are eight of my favorites.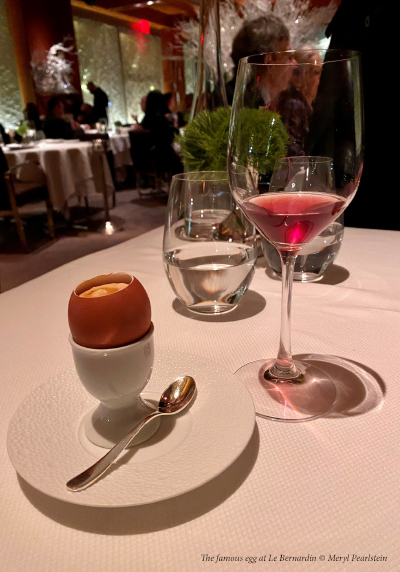 LE BERNARDIN 
Here's the kind of restaurant that inspires romantic proposals. Turning the concept of seafood dining on its head, Eric Ripert and Maguy Le Coze's revered restaurant is one of the most awarded restaurants on the New York dining scene, with some of the most difficult reservations in town.
The Michelin-starred Le Bernardin redid its hushed, elegant interior ten years ago. Still, other than the cosmetic uplift and the addition of a lounge, nothing has much changed since the restaurant opened in 1986. There's no reason to: this is culinary perfection and a superb choice for an all-important night out. Seafood, done up in Ripert's inimitable French style, stars here. Order a three- or four-course prix fixe tasting menu and choose from "almost raw" selections like scallop with black truffle slivers and a "barely touched" medley of shrimp, uni, razor clam, and langoustines in a dashi broth. I've always found that the Chef's tasting menu with a wine pairing shows off Le Bernardin at its finest, a hit parade of signature dishes like dreamy Osetra caviar on a "potato cloud" and poached lobster in miso-sake lobster broth. Master sommelier and wine director Aldo Sohm is equally famous, and his unusual wines are always breathtaking. The presentation and service are superb. Dress appropriately and splurge – you only live once, and you've been in hibernation too long. Plan ahead: Tables are tough to secure, for good reason.
For a more relaxed meal of the same caliber, Le Bernardin's lounge offers a small menu that samples the fine-dining experience with many signatures: the extensive bread service, small plates like hamachi tartare and Peruvian-style scallop ceviche, and Le Bernardin's caviar selection. Info: le-bernardin.com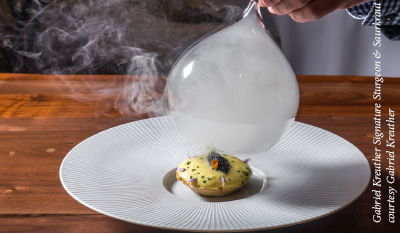 VESTRY
Here's a new player on the fine dining scene. And a remarkable one, too. Despite opening during a pandemic, Vestry earned a Michelin star in its first year. The latest restaurant from Australian chef Shaun Hergatt, the SoHo eatery is sexy and chic without feeling formal. There's whimsy, too, with sheepskin-covered seating and a retro music track that accompanies your dinner.
Hergatt has always had a penchant for mixing fun with elegance. His menus are as colorful as his accent, and here he infuses a Japanese sensibility into food and drink. "Bites" and "small plates" offer an exciting range of unusual ingredients, and Hergatt's signature gold-leaf finds its way into artfully constructed dishes. Don't expect the usual—big eye tuna is served over a fish-shaped potato crisp, and hamachi crudo is a gorgeous canvas of raw fish with pear, roe, and kalamansi. Instead, you might want to make a creative dinner mélange from so many delicious small-plate choices and leave the larger entrees for your return visit. 
Vestry's cocktail menu is equally tempting—try the all-white mezcal version of a Pisco sour, the Smoke & Fire, a pretty version that perfectly fits the Hergatt sensibility. The wine list is striking, with 600 labels. For a late-date evening, Vestry happily stays open until late. The restaurant is tucked into a corner of the Dominick Hotel in SoHo.
Info: vestrynyc.com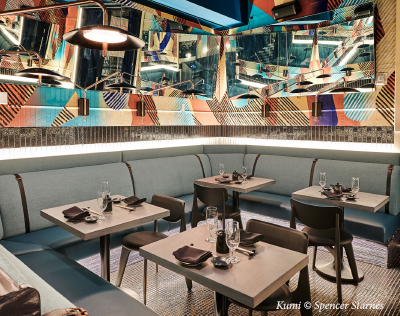 GABRIEL KREUTHER
Chef Gabriel Kreuther's eponymous fine-dining restaurant is an homage to his Alsatian upbringing and comes with panache and culinary fireworks. The gorgeous art-decorated dining room is filled with flowers, swans, and crystal storks overhead. Reclaimed wood beams reminiscent of timber homes in Alsace add a touch of homespun romance that melds seamlessly with the sophistication of the restaurant's cream-colored banquettes
Your meal is a symphony of dramatic plates presented with attention to detail. Get your video camera ready as a lifted cloche reveals applewood smoke enshrouding a sturgeon and sauerkraut tart. Caviar and truffles adorn many dishes on the seasonally changing prix fixe menus. Choose three courses, four courses, or the full-out Alsatian tasting menu.
Offering a less formal experience with both à la carte and prix fixe options, the outdoor patio and indoor lounge add traditional French and Alsatian menu dishes like country sausage, pâté, and tartes flambées. In addition, a full wine selection is available. Info: gknyc.com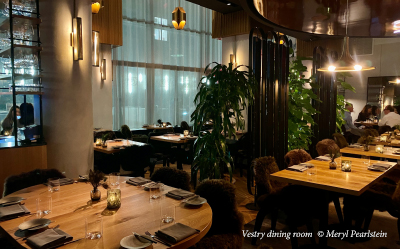 KUMI
A recent addition to Manhattan by way of Las Vegas, Kumi sits behind a speakeasy-like door next to the Meridien Hotel. The restaurant brings the flavors of Japan with a touch of Korean American in a romantic, colorful room. When you enter, you'll find yourself first in a fun lounge, perfect for pre-gaming, with comfortable seating and fun tunes as a backdrop.
Sushi rolls, unusual tacos, and Japanese street snacks create an extensive menu perfect for sampling and sharing. Chef Anastacia Song shows her playful side by pairing unique ingredients in distinctively named specialty rolls. For example, the Hot Mess is a must-order combining poke sashimi with avocado and wondrously named Screaming O Sauce; the Kumikaze is a spicy Cajun salmon roll topped with yuzu yogurt. Other Korean-inflected specialties include wagyu gyoza served with spicy pickled cabbage and black vinegar, BBQ pork belly bao with kimchi aioli, and the deliciously messy ginger-chili tempura lobster, a complete meal by itself.
Cocktails continue the Japanese theme using Japanese whiskey, Japanese rum (yes, rum!), sake, and a taste of Korea with potent shochu. An extensive sake menu and Japanese craft beers are featured as well. Ask to sit in the "nook" where lighting is edgy and colorful, and there's a feeling of privacy. Just down the block from Carnegie Hall and City Center, Kumi is a date-night, A-lister for pre-theater or a post-concert drink. Finally, take the elevator to LiFE and enjoy a cocktail overlooking Central Park from the rooftop lounge for a clubby finish to your evening.
Info: kumirestaurant.com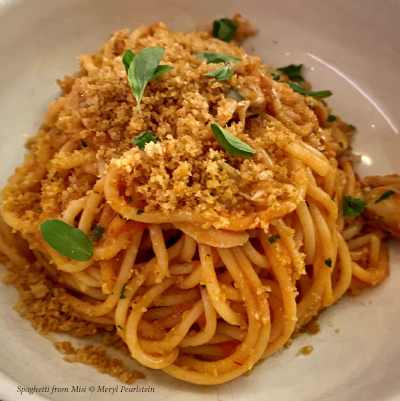 MISI
Missy Robbins of A Voce and Lilia fame is a genius when it comes to pasta and everything Italian. Her second Brooklyn restaurant is a triumph with veggies as well. Located in South Williamsburg, a block from the Brooklyn waterfront with extraordinary views of Manhattan, Misi encourages sharing small plates for an inventive menu of vegetable antipasti and handmade dishes of pasta.
This is the restaurant to take your date who doesn't eat meat or is gluten-free. You both have delicious choices like pasta with Spaghetti alla Chitarra with braised lamb, Tortelli filled with mascarpone spinach and ricotta salata, or gluten-free and fabulously delicious Chickpea Pappardelle with rosemary and garlic. Vegetables are truly exciting here, and they may leave you thinking about going meat-free. Be sure to order the marinated leeks with anchovy and pistachios and grilled Swiss chard with pine nuts. They're nothing like you've had before.
The European-focused wine list spans the Mediterranean and Adriatic, with unusual choices from Italy and Croatia plus selections from Austria and Hungary. Non-wine drinkers can choose from creative Italian-influenced cocktails and an extensive menu of aperitivi.
If you can't score a table—reservations are hard to come by—there are two bars with side-by-side stools that you can book. The décor is Brooklyn contemporary, a relatively unadorned stage for highlighting Robbins' beautiful dishes and focusing on your conversation and catching up. Info: misinewyork.com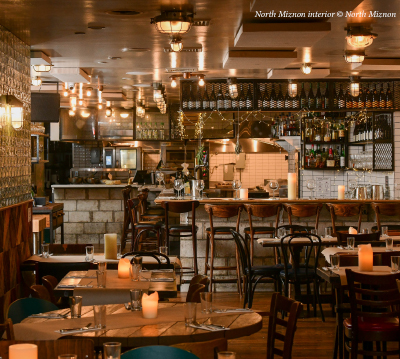 NORTH MIZNON
 Chef Eyal Shani has an enormous following from Israel to New York City. His sense of humor and way with Mediterranean cuisine has made his fast-casual Chelsea Market and Hudson Yards Miznon restaurants magnets for diners addicted to the whole roasted baby cauliflower and "folded" cheeseburger pitas served there.
We can now thank him for bringing Manhattan a sit-down, date-worthy restaurant with a more refined menu. North Miznon is dark and romantic, a two-level boîte on the Upper West Side. Here is where you'll savor dishes from categories like "vegetable creatures" (which can be made vegan if desired), "Grade A cow and lamb fed in flowered fields," or "wild fish and other creatures from the deep sea.
This is a fun place with seriously good food. You'll want to order the playfully named "7 ricotta clouds…. and not one more"—they're exceptional "pillows of deliciousness," as I heard one diner call them. Or grab the catch of the day, "the best branzino that I ever ate, the roasted one," and chuckle as your order it. Meat preparations are the real deal, too, and there's a wide range of steak and lamb preparations to choose from. Mediterranean notes spill over into tahini mousse for dessert and a tangy Tel Aviv mojito.
A second fine dining restaurant, HaSalon, takes North Miznon further up the fine dining ladder with prix fixe dining consisting of five "chapters." Info: northmiznon.com