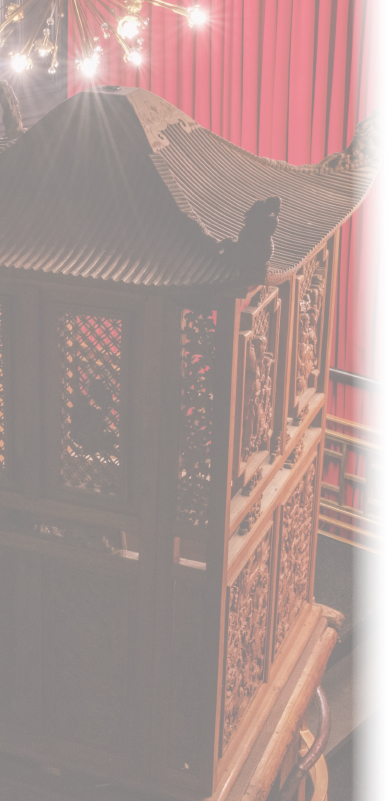 When you step past Sei Less' large pink and white neon sign, you will be greeted with a mysterious world of dark paneling, a curving staircase, leather banquettes, and an immensely long second-floor bar that seems to be teaming with beautiful people. Sei Less is truly a unique concept. Combine high-end Asian fusion cuisine and the sexy vibe of a speakeasy, and you get the kind of place people want to stop in again and again. There is a no-rush atmosphere, and service is friendly; many guests linger over their unique appetizers and exotic house cocktail offerings for hours
Sei Less is the brainchild of hospitality entrepreneur and co-owner Dara Mirjahangiry. Although he started in finance after graduating from Syracuse University, he soon transitioned to hospitality. So, it probably comes as no surprise that Mirjahangiry operated two of New York's most posh Asian restaurants for over 12 years—Philippe Chow and Jue Lan Club.
He is proud of Sei Less' mix of regular customers brought in by the intrigue of mixing Asian Fusion with a speakeasy: "What's beautiful about this concept is that it appeals to everyone, so our clientele is extensive," he told us. "On a nightly basis, we see everyone from celebrities, music executives, and notable athletes to friends celebrating a birthday or co-workers having drinks after work. We also get many patrons of Madison Square Garden coming for a bite to eat before/after a game or a show.
NEW ON THE SCENE
It's hard to believe, but Sei Less has only been open since the beginning of the year and has already become the "go-to" midtown hotspot for dinner and drinks. The affable co-owner told New York Lifestyles, "From my perspective the overwhelming support in our opening has been extraordinary. This business is all about people and creating an experience that they'll want to revisit again and again."
What's popular on the menu? Mirjahangiry told us, "The Chicken Satay with our famous Sei Less Peanut Sauce is a favorite. The Pastrami Spring Rolls and Beijing Chicken are also crowd-pleasers. These dishes are all pleasing to the palate." As for the mysterious atmosphere pulling people in, he states, "Sei Less is first and foremost an Asian Fusion restaurant, but we have a tremendous bar and a hidden entrance. Together it gives off a speakeasy vibe, which is a unique combination that we're proud of."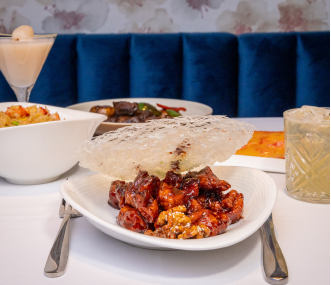 YES, TO ORANGE CHICKEN
It's saying a mouthful, but Sei Less might serve the best Orange Chicken in NYC—it's not too sweet (like most local Chinese restaurants) and has a slight tang. When you bite into the chunks of breast meat with perfect golden breading it's simply divine. You can get dumplings with many different fillings, including a vegetarian one, and they are served steamed or fried. Still, the Fried Pork Dumplings are indeed a taste sensation thanks to the unusually thick Hoisin-style brown sauce on the side and beautiful golden-brown sear marks around the edges. The Filet Mignon with Broccoli is unique because not only is the broccoli served nice and firm, but the filet is sliced and served medium rare (most Beef with Broccoli dishes have overcooked meat and tend to be made with cheaper cuts of beef). There are different types of Lo Mein available. We tried the Vegetable Lo Mein, which had a massive variety of vegetables beyond the usual broccoli, peppers, and onions and was very satisfying. A recommended side or app is the Scallion Pancakes on many tables surrounding us—these Shanghai classics are lightly fried until crispy but have a soft, moist center.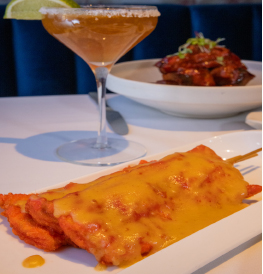 DESSERT, PLEASE!
Don't forget to have one of the sumptuous desserts. The Molten Lava Cake is served ultra-hot with a side of homemade vanilla ice cream topped with chocolate chips and sitting on a homemade crumble. The New York Cheesecake comes topped with white chocolate bark and is surrounded by an exciting strawberry rhubarb compote.
All portions at Sei Less are made large enough for two people to share, and you probably could get full on the dumplings alone! However, during your dinner, be sure to try the house cocktail, Lychee Martini, which combines lychee juice mixed with artisanal gin and coconut cream.
There are new additions to the Sei Less menu for spring, including Crispy Tuna Rice and more Filet Mignon-based dishes as new additions. Also look for Frosé on the cocktail list for the season."
After eating, take a stroll around and check out all the unique Asian art and furniture in the upstairs rooms. The fabulous sputnik-style gold chandeliers hanging over the staircase are spectacular as well. Sei Less is endlessly fascinating for its clubby, sexy vibe, and reliable food in large portions!
For more info on SEI LESS, go to seiless.com