CLASSIC MAINE
The Land Of Lobsters & Lighthouses
By Jeff & Stephanie Sylva
Travel to Maine's MidCoast and Islands offers an unforgettable coastal experience where classic New England villages meet the spectacular coastline of Maine. This is what lured us to Maine's most scenic rocky coast and many of its iconic lighthouses. Best of all, the lobster is fresh and abundantly available.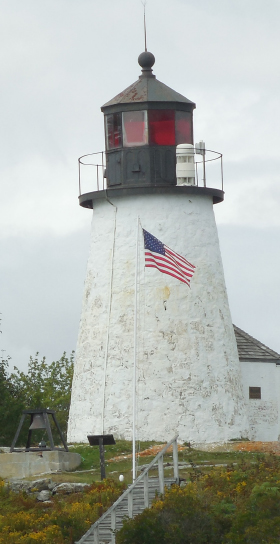 The MidCoast & Islands Region is sandwiched between two prevalent areas of the state: Ogunquit, Kennebunkport, and Portland to the south and Acadia and Bar Harbor to the north. But don't overlook the beauty and allure of this coastal region.
PLAY
Once you arrive, you'll find a wide variety of activities on land and water. First, stroll one of the area's picturesque beaches, hike some of the many Land Trust preserves trails, or enjoy a boat trip from one of the many harbor towns. Then, explore the beautiful rocky coast with numerous picturesque coves and iconic lighthouses.
One of our favorite lighthouses was Pemaquid Point in Bristol. The Lighthouse Tower and Fishermen's Museum should be on your list, with the nearby Lighthouse Park providing a great place to enjoy a picnic while admiring the scenic coast. Also, check out Owl's Head Light and Rockland Breakwater Light, which requires a pleasant 1-mile walk on the rocks of the breakwater to get to the lighthouse
Admiring Maine's beautiful coastal scenery from the water is easy. Take a sightseeing cruise or island ferry, paddle a kayak, or relax on a schooner sail. Be sure to book a two-hour sail of Boothbay Harbor aboard the schooner Eastwind for great views of and interesting facts about many of the harbor's islands, including Burnt Island and its lighthouse. Various whale-and-puffin watch cruises are also available at the docks and trips to other islands such as Monhegan. Lovers of all things nautical will enjoy the Maine Maritime Museum in nearby Bath with many indoor/outdoor exhibits.
While in the Boothbay area, you must experience the Coastal Maine Botanical Gardens. With nearly 300 acres of cultivated gardens, woodland walks, and shoreland trails, the Gardens have been ranked number 1 on Trip Advisor's "Top Ten Public Gardens in the U.S." A variety of themed garden attractions, including an imaginative Children's Garden, provide a beautiful retreat for people of all ages.
We tried to work off some calories with a few trail hikes in the Porter Preserve and Oven's Mouth Preserve of the Boothbay Region Land Trust. Both hikes offer some very scenic coastal views. MidCoast Maine has numerous hiking opportunities—for a growing list of trails and preserves open to the public. Info: travelmidcoast.com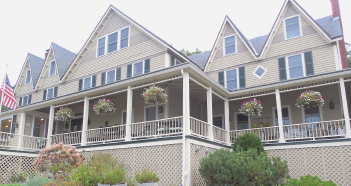 STAY
The Boothbay Harbor area is a great place to stay, with its central location to many of the attractions in the MidCoast region. Located in East Boothbay, just 3 miles from Boothbay Harbor, is Five Gables Inn, a beautifully restored 115-year-old Inn. Five Gables offers a perfect opportunity to relax and absorb a postcard-like vista of moored boats on sparkling Linekin Bay. A spacious wraparound porch and the welcoming common room also have beautiful views of the bay. Awaken to a delicious homemade breakfast every morning, including a daily smoothie. Each afternoon enjoys a refreshing beverage and delicious homemade pastry. In the evening, a selection of complimentary dessert wines awaits guests. Each of the Inn's 15 rooms is unique, all with the feel of a coastal cottage with picturesque views of Linekin Bay. Across the street is a dock perfect for access to swimming or for relaxing in the sun. Info: fivegablesinn.com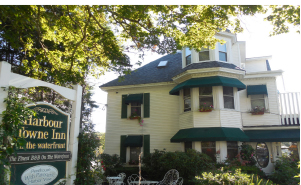 For accommodations closer to all that Boothbay Harbor has to offer, try Harbour Towne Inn on the Waterfront. The Inn's 12 Victorian-styled rooms with private decks and scenic harbor views are meticulously decorated with numerous romantic touches. A spectacular penthouse suite has two bedrooms, a full kitchen, dining area, living room, and a private deck with beautiful harbor views. Lush gardens and colorful flowers surround this gracious B&B Inn.
Info: harbourtowneinn.com
In the spirit of Down East hospitality, a bountiful breakfast is served each morning in the sunny sitting parlor. It can be enjoyed on the waterfront deck or front lawn under a towering elm tree on warm sunny days. Each afternoon fresh-baked cookies are put out for guests. A warming fire in the fireplace takes the chill out on crisp fall days.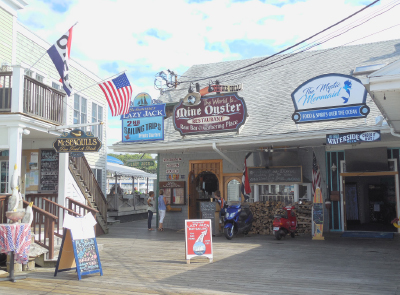 EAT
A primary objective for travelers to Maine is to indulge in the state's most sought-after staple—lobster. We suggest both local institutions are Robinson's Wharf in Southport and Shaw's Fish and Lobster Wharf in New Harbor. These restaurants present the authentic Maine dining experience—picnic tables overlooking the docks where customers watch the lobster boats offload their catch each day. These restaurants operate a wholesale lobster business, buying directly from the lobstermen. The lobster is cooked fresh off the boats and hand-picked each day.
Both restaurants' menus offer lobster in numerous ways—in the rough and different variations of rolls, pie, salads, stew, and, of course, bisque. Additionally, menus present broiled and fried seafood, grilled steaks, and authentic clam and fish chowders.
For more on Maine's MidCoast & Islands region, visit mainesmidcoast.com