THE GRANDEUR OF ICELAND
Experience Fire, Ice & Otherworldly Contentment
By Melanie Carden
Iceland sounds a bit intimidating. A continent named for ice, after all. But I assure you, this is the most magical and unexpectedly accessible land of adventure. Yes, Iceland is speckled with volcanoes spewing ruby-red lava, and you can casually walk amidst its diamond-like ice structures.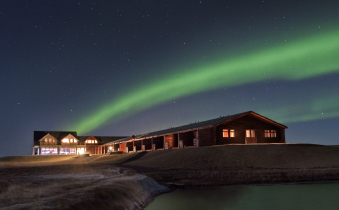 The grandeur of this place is not just what we see above ground but also its caves and geothermal activity below the surface. There are wonders so awe-inspiring that they will recalibrate your sense of possibility. And the best part? You don't need to be a weathered adventurer to experience the wonders of this continent. So, call Iceland Air, and pack your bags.
A HOTEL GEM
Hotel Rangá is the antidote for that unsettled feeling you have as you toggle between life's many pixel-powered screens. The hotel's creator, Friðrik Pálsson, and his staff have gone to extraordinary lengths to design a space steeped in a rare amalgam of hospitality, unassuming elegance, and uncompromising attention to detail. You'll likely chat with him during your stay, and he'll regale you with Viking lore and interior design alike. His hotel is 85 miles from Keflavik International Airport, ideally located for adventurous day trips, and offers 52 cozy, well-appointed rooms.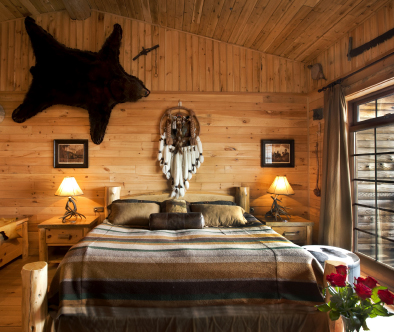 Just an hour from Reykjavik, the southern countryside hotel is a designated Small Luxury Hotels of the World property, offering a cozy respite at the base of the Hekla volcano. The hotel's land has long been chiseled to perfection by the elements. With that in mind, relax in their outdoor geothermal hot tubs or grab your morning coffee and walk along the East Ranga River, which cuts through the property with low-key flair.
But if you're looking to experience proper, over-the-top flair—book one of the property's otherworldly accommodationoptions. Hotel Rangá offers suites themed for each of the Earth's seven continents. Every subtle detail, artwork, and texture—has been lavishly designed. Case in point, the Icelandic continent-themed suite has a rotating floor. The circular floor rotates at the push of a button to allow guests to enjoy the expansive window views either from the dining nook or formal sitting area – depending on their whims.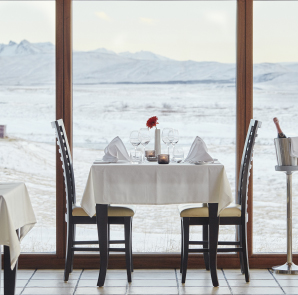 DIVINE DINING
Whether you're spending the day adventuring or reading a good vacation book, you'll be looking to indulge at mealtime. The on-property restaurant is a masterclass in breathtaking simplicity—its all-glass design gifts its guests with the landscape's splendor. As a result, you'll feel entirely immersed in nature while having one of the finest dining experiences Iceland has to offer. Be sure to try their famed mushroom soup, reindeer carpaccio, and—of course—the Icelandic cod. And don't worry, your host Friðrik always has chilled Champagne available at the breakfast buffet.
Are you heading out for a day of adventure? Be sure to set aside time to grab a bite at Vik's Black Beach Restaurant as well as the island's near-magical tomato-farm restaurant—Friðheimar. This fully-functioning restaurant is inside the farm's working greenhouse. I devoured multiple bowls of their intensely satisfying tomato soup, which tastes of sunbaked tomato, fresh-plucked basil, and velvety, fresh-churned Icelandic butter.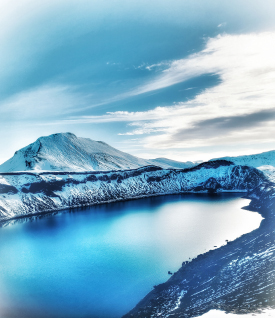 WHAT TO SEE & DO
From September through April, be on the lookout for the Northern Lights—an oft-elusive light show. Take advantage of Hotel Ranga's complimentary wake up calls which alert you to overnight sightings.
Of course, there's so much else to discover in Iceland! Within a 90-minute drive from the hotel, you can ride Icelandic horses at Skeiovellir Horse Farm, explore the caves of Hella, and visit breathtaking waterfalls such as Seljalandsfoss, Skógafoss, and the famed Gullfoss. Also, within that timeframe, you can rent off-roading adventure buggies or explore Reynisfjara Black Sand Beach and its silky smooth volcanic-material sand. It's noteworthy that many of these incredible experiences are all very accessible—drive up, park in the lot, and you're within a 5-minute walk of mind-blowing natural wonders.
If you're looking for longer day trips, Hotel Rangá can assist in coordinating local guides such as Southcoast Adventure Tours. The weather can change quickly, and some remote areas can be challenging to navigate, but it's nothing an experienced guide and a Super Jeep can't handle. A guided Super Jeep tour is also the best way to experience the beautiful yet unforgiving landscape of the Highlands. This rugged land is wild and glorious, and it just so happens that parts of The Game of Thrones were filmed there. If you're an adventurer, you'll enjoy the rewards of the colorful rhyolite mountains of Landmannalaugar, remarkable craters, and a relaxing soak in its geothermal pools. A genuinely unique wonderland, Iceland offers astonishing sights around every corner and for every level of adventure seeker.
For more information on Hotel Rangá, visit hotelranga.i