A FRENCH KISS
Sip, Stay & Spa In The Champagne Region
By Irvina Lew
There's a world of Champagne lovers who adore the famous bubbly without ever realizing that the region—where the grapes are grown, and the wine produced—is a bucket-list destination and a designated UNESCO World Heritage Site. Here's why.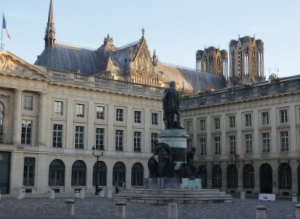 The region's capital, Reims, is only 45-minutes from Paris via the TGV high-speed train and can be toured on a day trip, including a cellar tour and a meal paired with Champagne. I recommend staying two or three nights, or more, if possible, to have time to visit small producers and grand Maisons, dine, and spa remarkably well and, perhaps, go ballooning, river cruising, hiking, golfing, or even zip-lining.
REIMS
In Reims, there's a Roman triumphal arch, a Romanesque 11th century Basilique St. Remi, and a Gothic 13th-century Cathédrale Notre Dame, the site where 25 kings have been crowned since 816. The Cathedral, tragically, was bombed daily from 1914-1918 during World War I; Americans, including Ford, Rockefeller, and Carnegie, funded its restoration and Marc Chagall designed its magnificent, biblically-themed, stained-glass windows. The tunnels under the church also date from Roman times. For centuries, these fantastic, vast, underground, multi-level crayères (chalk cellars) have stored wines from some of the city's major Champagne houses. 
Thomas Jefferson was a fan of Ruinart, the oldest Maison; it dates from 1729 when King Louis XV legalized bottles to transport Champagne and started serving it to his noble guests. On a cellar tour at Veuve Clicquot, visitors learn that Barbe Nicole Ponsardin became a Veuve (widow) of M. Clicquot at 27 (1805); she created the still-celebrated golden-orange-labeled brand at 30. The huge Pommery Maison is notable for typical regional architecture—with brick-trimmed doors—and an art-filled visitor center and exhibit space that attracts 130,000 annual visitors.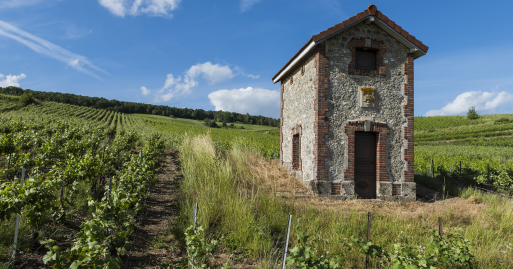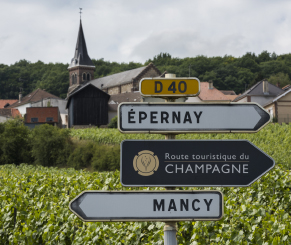 EPERNAY
A picturesque 18-mile drive from Reims to Epernay, the wine capital, follows vine-clad hillsides along The Champagne Trail, where you'll find small, multi-generational, family vignerons (winemakers) who welcome guests. I was impressed by the winemaker and wines at LaCourte-Godillon, and Champagne Bruno Michel, both organic vineyards; the 400-year old Grand Cru Champagne Penet-Chardonnet, and Champagne Philipponnat, an 18th-century vineyard producer of Clos des Goisses.
Epernay is a small, beautiful, walkable city with opulent 19th-century mansions located on Avenue de Champagne, said to be the world,s most affluent street because millions of valuable bottles are stored in more than 60 miles of underground cellars. In addition, there are tours and tastings at Moët & Chandon, the largest landowner in Champagne (2500 acres), producing 30 million bottles annually. Also worth visiting is the less-known winery de Vonage, founded in 1837 by a Swiss family and was the first to launch a Blanc de Noirs, Champagne made with dark grapes. At their visitor center, we drank de Vonage Princes at a simple lunch of baguettes, cheese, charcuterie, and grilled vegetables; then, we toured the Louis XV decorated villa and one of their four family-sized guest suites available to the public.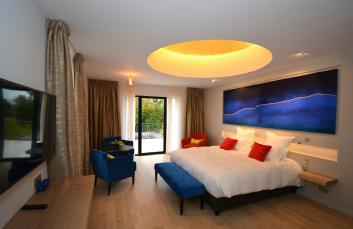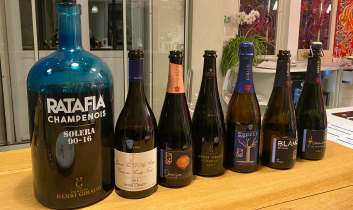 STAY
La Caserne Chanzy, Reims
A Marriott Autograph Collection newcomer opened in Reims in 2021; it's a new, modern, and well-located hotel built within a fire station building between 1926-1993. One fire truck, La Grande Georgette, nods to the Fire Captain's wife as the restaurant's name. Julie Fuillet designed the contemporary look—from the lobby to rooms and the Deep Nature Spa. With exceptional views of the Cathedral, it is also near the Opera, Tau Palace, Carnegie Library, restaurants, and shops.
Manoir Henri Giraud, Aÿ
This is a fantastic, art-filled, five-suite, five-star retreat in Aÿ, just outside Epernay. Claude Giraud, the 12th generation of a family that dates to 1625 and head of Champagne Henri Giraud, reconfigured a neighboring three-story, stone-fronted, traditional 19th-century manor house and added the spa's indoor, heated swimming pool inside a modern, wood-faced, window-walled addition. He welcomes guests to his Domaine with food, wine, and wellness experiences, including Forest Bathing, a walk through the oaks that source the barrels, and Craÿothérapie, a chalk wrap, a soak in a hydrotherapy tub, and body massage. Even day-trippers can reserve a private Table Experience dinner with paired wines or a cellar tour and tasting. 
Royal Champagne Hotel & Spa, Champillon 
A spacious, semi-circular, contemporary wood and stone structure houses Royal Champagne, an exquisite, modern, 49-room, ultra-luxe, tri-level hotel attached to the historic 19th century, Relais de Poste, Coach Stop inn. Terraces outside Bellevue, the all-day restaurant with its mural of Napoleon on horseback, all rooms, the expansive Biologique Recherche spa, and indoor and outdoor swimming pools overlook Moët & Chandon vineyards stretching towards Epernay. Sybille de Margerie, of the Taittinger Champagne family, designed the elegant interior spaces with tributes to Napoleon. The Le Royal is a gastronomic pleasure.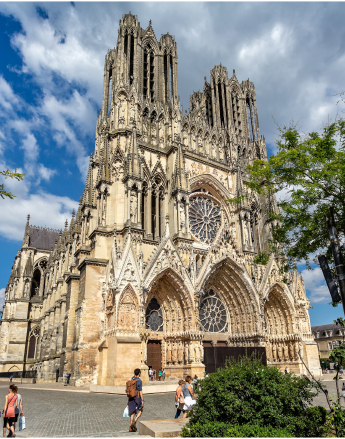 DINE
Le Réfectoire, Pommery Champagne
After a self-tour at The Pommery Champagne house in Reims and tasting in the vast, gray-couch studded reception room, which accommodates 130,000 annual visitors, we lunched at Le Refectoire. The spacious restaurant (and outdoor terrace) opened in July 2021 with an expansive, joyful décor, featuring a bright, patterned blue wall, a variety of table settings—each with different metal plates that looked like China—and whimsical glass musical instruments hanging like multicolored earrings. The excellent food, from Croque Monsieur and smoked salmon to duckling and dessert, was served impeccably.
Le Royal at Royal Champagne Hotel & Spa
Chef Jean-Denis Rieubland, a two-star Michelin Chef and Meilleur Ouvrier de France (Top Chef), 2007 at Negresco, earned one Michelin star at Le Royal in Nice, within his first six months. In October 2021, we experienced his multicourse Signature Menu in the formal dining room, decorated by images of Napoleon's wives. Wine pairings from different producers accompanied the meal included Saint Jacques Scallops and Duckling with Figs to Baba au Rhum. Chef also creates monthly, reservation-worthy gastronomic wine pairings with different producers. 
Table Experience at Manoir Henri Giraud
House Chef Ebby incorporates local and seasonal dishes to custom-curate a multi-course private dinner that complements Champagne Henri Giraud wines. We dined in the art-filled Champagne house and served Homage au Pinot Noir with roasted spice pumpkin; and Argonne-Smoked Scallops. Aÿ Rouge Grand Cru 2018 enhanced the magret duck breast and Ratafia with honey-caramelized apples.
Taking a trip through the Champagne region of France is a once-in-a-lifetime journey. Learning about history and tasting the different types of wines is just the beginning.
For more information on the Champagne region, visit us.atout-france.fr