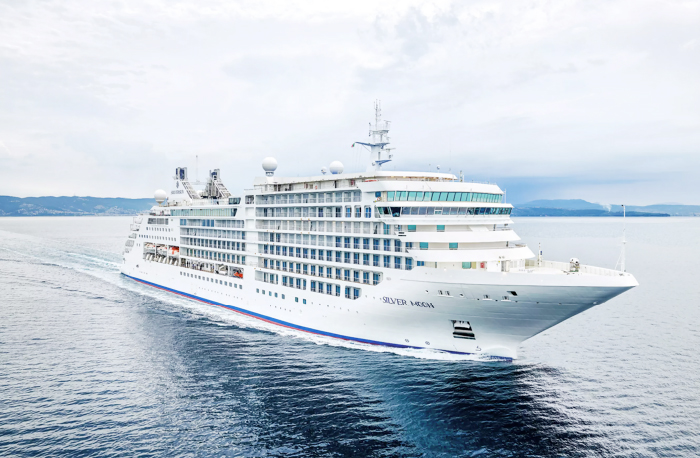 SILVERSEA'S SILVER MOON
A New World Of Travel
By Jill Feinstein
The birth of Silversea's newest luxury cruise ship, Silver Moon will transport you to unexpected and faraway worlds, awakening your senses with new sights, sounds, and tastes from all over our wondrous planet. 
A luxurious cruise can mean many different things to different people, but Silversea believes that their small ship cruises, like Silver Moon, exemplify the true meaning of comfort and intimacy. In addition, Silversea ships are small enough to visit exotic locations.
WELCOME ABOARD
With a capacity of 596 passengers, Silver Moon adheres to the Silversea tradition of small, intimate ships with larger-than-life experiences. Guests aboard Silver Moon enjoy all-inclusive dining and beverage packages for the duration of their trip. Starting this summer, Silversea guests will enjoy shore excursions at no extra cost. The pool area has one of the largest pools on a ship of this size.
With a staff-to-guest ratio of one-to-one, Silversea's service remains the crown jewel in the company. Discreet and experienced, these resolute men and women are the key to making your trip a memorable one. 
Silversea suites have the highest space-to-guest ratio of any luxury cruise accommodation. All suites have ocean views, and the majority have a private teak veranda. An attentive staff will pamper all guests.
All bars and lounges offer complimentary select wines, premium spirits, specialty coffees, bottled water, juices, and soft drinks. The mini-bar is continually replenished with your preferred beverages, including wines and spirits.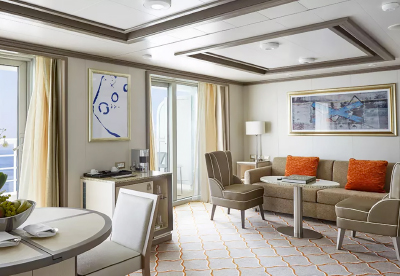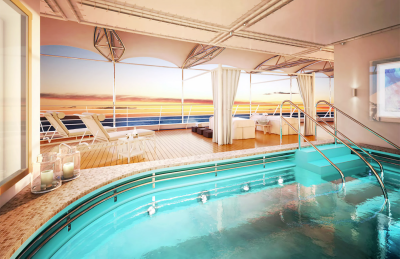 ULTIMATE TASTE
Silversea's one-of-a-kind Sea And Land Taste (S.A.L.T.) program will take you on a more profound journey that provides visitors with a rich gastronomic experience. Created in collaboration with Adam Sachs, former editor-in-chief of Saveur magazine, it focuses on reflecting your destination through taste by authentic sourcing ingredients prepared with respect for tradition. Silver Moon is the first in the Silversea fleet to be fully integrated with the cruise line's S.A.L.T. concept, designed to provide passengers with culture and connection through food.
Silver Moon's fantastic voyages will take guests through a journey of Northern Europe and the British Isles, with trips from Sweden to Denmark and from Denmark to the United Kingdom. A magical Mediterranean voyage awaits as well, departing from Portugal and arriving in Barbados.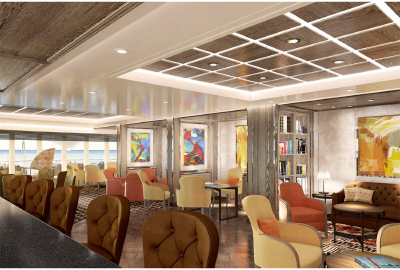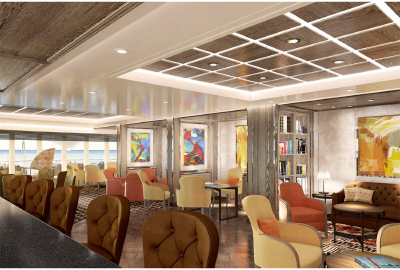 A LOOK TO THE FUTURE
Now part of the Royal Caribbean group, Silversea's cruises are the world's leading ultra-luxury and expedition cruise line, renowned for both its all-inclusive lifestyle offering and its global destination portfolio. The cruise line offers over nine hundred destinations on all seven continents, enjoying a curated selection of immersive experiences in the world's most unique locations.
Besides being a luxury leader, Silversea builds on its ongoing sustainability efforts. The cruise line will take delivery of two Evolution-class ships in 2023 and 2024, pushing the boundaries of sustainable cruise travel with pioneering technology that will reduce the ships' carbon footprints. The Project Evolution cruise ship will be the first to use fuel cells to provide 100 percent power while docked. It will run on a combination of power sources, including a fuel cell system, battery technology, and dual-fuel engines that run on liquefied natural gas.
So, for your romantic getaway, why not turn to Silversea Cruises for ultimate luxury.
For more information on Silversea Cruises, visit silversea.com