ON THE SMALL SCREEN
IT'S OUT OF THIS WORLD

THE ESSEX SERPENT
Apple TV+
Claire Danes and Tom Hiddleston help bring author Sarah Perry's best-selling Gothic novel to life in this six-part miniseries set in the late 1800s. She's a widow escaping her mundane London life; he's a vicar in Essex, where odd things have happened. When sightings of a mysterious serpent-like sea dragon are reported, the story takes some bizarre twists and turns.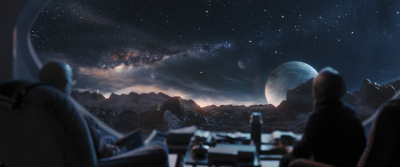 NIGHT SKY
Prime Video
Weirdness abounds in this time-and-space-travel series in a now-elderly couple's backyard. For decades, the Yorks (Oscar winners Sissy Spacek and J.K. Simmons) have had a portal that leads to another planet hidden outback; now, over eight episodes, the pair discovers what they have been harboring all these years.

OBI-WAN KENOBI
Disney+
The much-anticipated and often delayed Star Wars series about everyone's favorite Jedi master is finally here. Ewan McGregor returns to his cinematic role of Obi-Wan Kenobi, this time in a six-episode series set on Tatooine. There he watches over a very young Luke Skywalker and attempts to hold the line against Anakin Skywalker (Hayden Christensen), who has taken on the mantle of Lord Darth Vader. In addition, watch for newcomers to the ongoing saga, including Joel Edgerton, Kumail Nanjiani, and O'Shea Jackson Jr.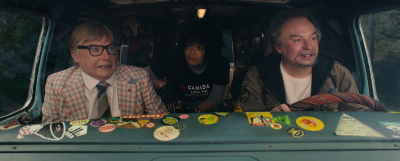 THE PENTAVERATE
Netflix
If you've been wondering what happened to Mike Myers, wonder no more. He's back with a vengeance, playing more roles than you can count in this story of a secret society influencing world events since 1347. Plus, the crazy Canadian comedian is the creator, executive producer, and scriptwriter (we're frankly shocked he didn't direct all six episodes, too). He enlisted many funny people to join him, including Jennifer Saunders, Keegan-Michael Key, Ken Jeong, and Debi Mazar.

STAR TREK: STRANGE NEW WORLDS
Paramount+
Exploring "strange new worlds" means Star Trek is back with yet another spinoff of the original 1966 series created by Gene Rodenberry. This new series follows Captain Christopher Pike (Anson Mount) as he navigates space and all its mysteries. Also, look for his crew members, including Science Officer Spock (Ethan Peck), Cadet Nyota Uhura (Celia Rose Gooding), and Number One (Rebecca Romijn).