Mothers should be commended for the demanding work they do organizing, supporting, creating and being there to unconditionally love and help. On mom's special day, thank her with a celebratory meal at these Manhattan restaurants.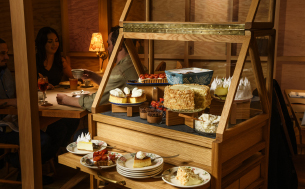 SKIRT STEAK
Straightforward in concept in a room that feels more like a barn than the product of a Michelin-starred chef, Laurent Tourondel's Skirt Steak will confirm your savvy in scoring one of the hottest tables in town. Make sure you have at least seven people in your party, so you can book online and avoid the line of hopeful diners that stretches around the block from the moment the restaurant opens.
The set-course menu is a great deal, and you'll feel like you should have spent more money than you did. If your mom waxes nostalgic about Paris's steak frites bistros like Le Relais de Venise L'Entrecôte, she will love the simplicity of Skirt Steak—she has only one decision to make: how she wants her meat cooked. Add Béarnaise sauce, unlimited French fries and lightly dressed field greens, and you have a flawless meal. If someone in your group hates steak, they can opt for cauliflower. For an additional charge, a small selection of red and white wines is available as are desserts from next-door L'Amico. Info: skirtsteaknyc.com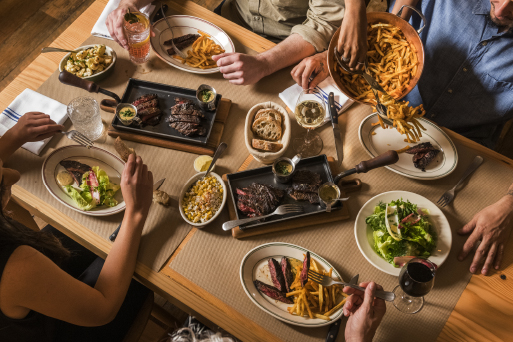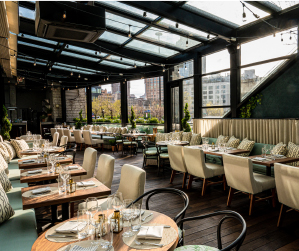 VERANDA
It feels like you're dining in a greenhouse at Veranda, a new restaurant perched on the second floor of ModernHaus Soho. Surrounded by plant-draped, multi-tiered terraces, Veranda sits under a fully retractable glass pergola.
Chef George Mendes showcases his distinctive mix of Mediterranean and Portuguese cuisine at Veranda's first Mother's Day brunch with taste combinations familiar from his Michelin-starred Aldea and Lupulo.
The garden-like setting is a lovely backdrop for Mendes's house-made sourdough bread service, a striking presentation of sesame-flaxseed, arbequina olive oil, Portuguese flor de sal and Cowbella creamery butter. Sweet and savory treats follow with Chef's decadent vanilla-laced French toast; Sonia's spiced apple buttermilk pancakes and whipped mascarpone; and scrambled eggs, smoked salmon and chives.
Toast mom with a Moët Mimosa or St. Germain Spritz from Veranda's new roving cocktail cart. Or choose from a wide range of vintages from the European-heavy wine list.
Mendes's sinful Portuguese egg tart (pasteis de nata) is a must-order dessert. If you fall in love with it—as I'm sure you will—you can request one to take home for breakfast the next day. Info: verandasoho.com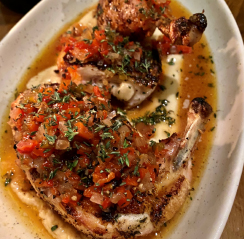 LINDENS
Lindens, in the Arlo SoHo, gives you three locations to share your love. The main dining room is sophisticated and comfortable. Opened for warmer weather dining, the patio has an intimate vibe in a surprising backyard courtyard. But the place to truly celebrate is in one of Lindens' two outdoor cabins. Guaranteed to surprise and delight mom, each cabin is decked out with comfort in mind for private, glamping-style dining.
On Mother's Day, Lindens offers a special brunch featuring many of the restaurant's popular modern American dishes. If your mother fancies sweets, order the buttermilk pancakes or the acai bowl with toasted coconut, spiced nuts, banana, and blood orange. A savory signature, carrot ravioli is enhanced with five-year aged Banyuls vinegar. For the vegetarian mom, Lindens' tongue-in-cheek "Sausage Egg & Cheese" has no meat or dairy in sight.
Linden's cocktails are all about the season. The pretty-in-lavender Lavender Daisy is a frothy combination of pisco, gin, lavender, grape jam and egg white. For something a bit stronger, "And Just Like That" goes springtime as a Rhubarb Cosmo concoction of vodka, rhubarb cordial, rhubarb juice and lime. The extensive wine list includes Lambrusco, a retro fave, that pairs perfectly with just-baked chocolate chip cookies for dessert. Info: lindensnyc.com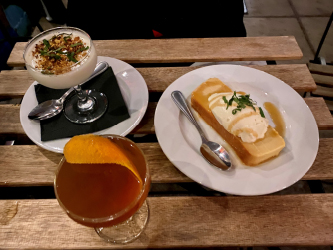 ARCHER & GOAT
Archer & Goat sets the new standard for upscale-yet-casual dining in Harlem. The product of a Sagittarian (Archer) and a Capricorn (Goat) with both Southeast Asian and Caribbean ties, the garden-level restaurant is colorful and theatrical with food to match.
Look up as you sip your Ilegal mezcal cocktail at the bar. It's not the potent ingredients that are making you see stars. The lights were created and arranged by a theater designer who also had a hand in designing the charming outdoor patio areas.
Small plates and mains offer a veritable fusion of cuisines. Be adventurous Try the chicken vindaloo arepas or roasted duck with onion curtido and pickled chiles. But be forewarned, some dishes are quite spicy.
For Mother's Day brunch, bottomless mimosas will keep everyone smiling as will spiced French toast with homemade orange marmalade and date-pistachio crumble or A&G's hot chicken sandwich piled with strawberries, maple aioli and turmeric pickles.
Archer and Goat is a family affair, with the chef, servers and barmasters sharing their enthusiasm and creativity. Only one person adds a touch of mystery: the pastry chef won't divulge what goes into her fluffy, textured tres leches cake. Info: archerandgoat.com