There's a lot to love about Vineapple Cafe, but the best thing is that it is full of surprises. Housed in an 1890s low-rise building typical for this legendarily Brooklyn Heights neighborhood, Vineapple Cafe looks more like a typical coffee house when you enter; however, walk past the slick glass display cases. You'll be pleasantly surprised with a fine dining establishment.
Yes, just like that, it becomes a romantic hot spot, complete with low lighting, exposed brick walls, and soaring ceilings with unique art deco detailing. There's also a long bar with a shabby chic look that serves artisanal drinks in pineapple-shaped stemware. The frozen Vodka Mint Lemonade served in a 16-ounce pineapple glass is one of the most satisfying frozen drinks we have ever had and highly recommend it for the upcoming warm weather!
IT's MAGIC
Aubrie Therrien—a five-year resident of Brooklyn Heights who co-owns Vineapple with her husband Zachary Rubin—states, "The cafe naturally fits upfront for grab and go service. We love the feeling of our restaurant being a discoverable hidden gem—a magical enoteca. There's so much more to get to know about us than what meets the eye!"
Vineapple Cafe has a hardworking and cordial young staff that is happy to customize most dishes and drinks. The weekend brunch is a staple for many Brooklyn Heights residents, and the staff seems to automatically knoww what regulars love to order automatically. Entrees are generously proportioned at Vineapple Cafe and are incredibly well-priced. We were amazed at the very tender Hanger Steak, which came in at about twelve ounces and was served with celery root puree and seasonal roast vegetables during our recent visit. Keep in mind that this plate is enough for two people to share and be comfortably full. We also tried the Brown Butter Chicken served with butternut squash puree and roasted mushrooms and fell in love. The terms "buttery" and "juicy" don't describe how satisfying this dish is.
Many guests come in for the quick but complete charcuterie boards, which Vineapple Cafe takes pride in doing bigger and better than anyone else in Brooklyn. There is an excellent variety of meats and cheeses, including 24-Month Aged Prosciutto Di Parma and Pistachio Pecorino. The gold standard is the mega charcuterie platter aptly titled The Big Board that four or five people can share. Pair this with a good bottle of wine and great conversation, and you've got the perfect evening out with friends.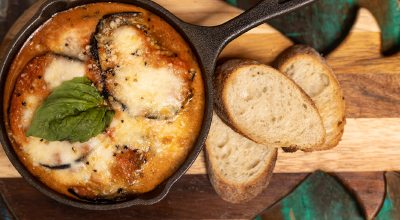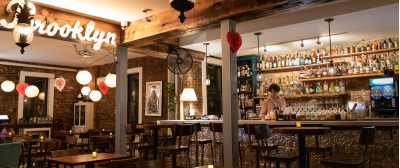 AMAZING VEGETARIAN OPTIONS
Vineapple Cafe has been publicized as being a "family Italian" restaurant. Still, to us, it is a melting pot of cuisines—with an incredible number of options for vegetarians that seem a mix of Modern American, Greek and Italian. Just for the record, Aubrie's family owned a restaurant in Little Italy for 75 years, so you know why traditional Southern Italian cooking is close to her heart.
The top two dinner options for vegetarians are the highly satisfying Warm Vegetable Farro Bowl, which features mixed greens, seasonal vegetables, nut-free pesto, and a tangy house-made vinaigrette. Just as satisfying is Baked Skillet Eggplant with zesty tomato sauce, aged Parmesan cheese, fresh mozzarella, and breadcrumbs.
The two-year-old Vineapple Cafe takes pride in its homemade pasta every night, including "classics" Cacio Pepe Mac N' Cheese with Prosciutto Di Parma, breadcrumbs, and fresh herbs. Or try Chef's Ragu, beef, and red wine ragu with grated Parmesan over homemade cavatelli.
VISITORS FROM FAR AND WIDE
Aubrie sums up the restaurant's crowd in her own words. She tells NYL, "We have a real blend of visitors in our charming neighborhood cafe! They range from students working on their school projects to longtime residents catching up with neighbors to curious visitors from other parts of the city and beyond. We get our fair share of tourists visiting the park and promenade."
Aubrie sums up the success of Vineapple Cafe and how it has become the centerpiece of Brooklyn Heights when she says Vineapple is always looking to expand its well-received drink and food offerings with new and exciting items not found anywhere. Sounds pretty darn good to us!
For more info on Vineapple Café,
visit: vineapple.cafe