SISTERS IN THE CITY
Dr. Robi Ludwig & Ramy Brook Sharp
Making Their Way To The Top
By Patricia Canole | Photography by Neil J. Tandy
Hair & Makeup for Robi Ludwig by Jade Voight
Hair Stylist for Ramy Brook Sharp by Adam Maclay
All fashions by Ramy Brook and available at the Madison Avenue flagship boutique or ramybrook.com
Fashion Stylist: Kelsey Randall
Assistants: Emily Platte and Ellie Franko
Sisters are a blessing, and nothing quite surpasses this special bond. The joys—and sometimes pain—are experienced worldwide. So, if you do have a sister, consider yourself very lucky.
Whether you've been the responsible sibling or the carefree sister, you possess many unforgettable memories—with the most important "friend" you'll ever have. She knows you inside out. She understands you even better than you know yourself. So who better than your sister to confide in your deepest secrets? As Marilyn Monroe once said, "Sisters make the best friends in the world."
We agree. We also found two dynamic sisters who love life and their families and possess an eternal optimistic spirit. Meet Dr. Robi Ludwig and Ramy Brook Sharp, both incredibly talented and who support each other, making them a joy to be around.
SELF-MADE SISTERS
Naturally, it takes a ton of motivation and perseverance to be a successful brand in the city, especially in such competitive industries as TV and fashion. But that never fazed these sisters who went after what they wanted—and got it!
You may recognize one of the sisters, Dr. Robi Ludwig, as a nationally renowned psychotherapist and award-winning reporter from her countless TV segments. Her sister is Ramy Brook Sharp, the creative genius behind the iconic fashion brand, who has taken the world by storm with her unique day-to-night chic fashions. These two beautiful siblings grew up in a modest background before arriving in New York City and making their way to the top in their glamorous careers.
As young, ambitious women coming to New York City, they were embarking on an adventurous journey that not even they realized existed for them. Robi went to school initially focusing on psychology/therapy, while Ramy began her career in New York City with a position at an advertising agency. Each, however, had passions that they skillfully incorporated into their lives while settling down with a career and family in NYC.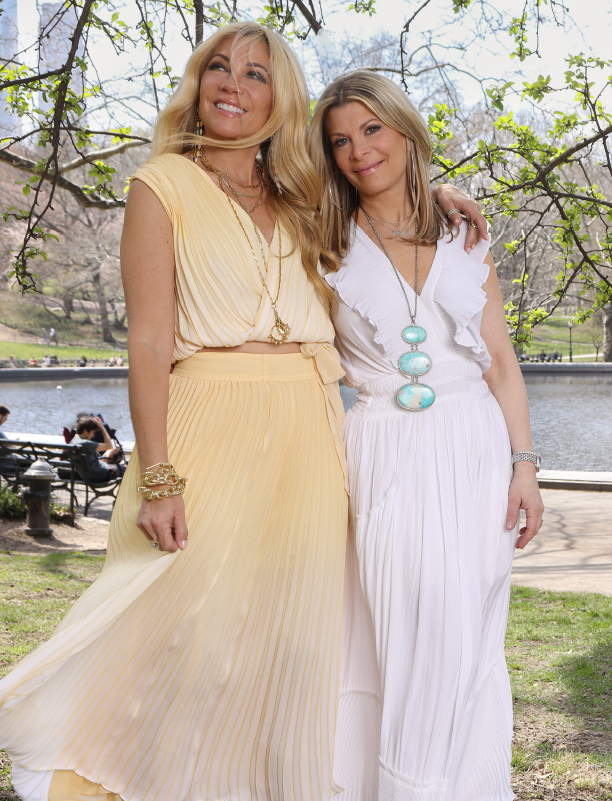 ROBI: LIGHTS, CAMERA, ACTION
TV was always in Robi's blood, even though becoming a therapist was the priority. So, shortly after school, while working at a hospital, she approached the CEO about representing them on TV. They took a chance on her and booked her on Good Day New York. It ignited her TV career, which snowballed delightfully over the years into repeat bookings on major networks as a psychological commentor. She also maintains her private practice in Manhattan as well as a bestselling author of Your Best Age Is Now (HarperCollins).
RAMY: DESIGNS ON FASHION
Ramy Brook Sharp had a similar drive but a different passion—one distinctively for fashion. At the time, she was a stay-at-home mom, having stepped down from a career in advertising to care for her family.
But it was her hidden creativity to design which catapulted Ramy to start her company, Ramy Brook. Her first design quickly landed her in Bergdorf Goodman. Today, Ramy Brook is in every upscale store in addition to her flagship boutique on Madison Avenue. 
IT RUNS IN THE FAMILY
It's inspiring to hear incredible success stories, but even more so to find out that these sisters were taught to embrace their power and femininity as a family. To take risks and not let anyone stop them. Of course, ask these successful siblings what advice they would give an aspiring entrepreneur, and they both agree, "Go with your gut, find mentors to help, and believe in yourself."
We recently met with Robi Ludwig and Ramy Brook Sharp, who told us more about being a sister, loving your family, and making dreams come true.
Tell our readers about growing up in suburban New Jersey.

Robi: I loved growing up in Chatham, New Jersey. So much of my childhood seemed so ideal. Being Jewish in a non-Jewish town allowed me to feel unique and memorable without having to do much of anything. LOL! I was different yet felt at home in a town where neighborly thoughtfulness was a goal and the norm. Chatham became a place where childhood schoolmates transformed into lifelong friends. And during my adult years, my hometown friends and neighbors have always shown genuine joy for the accomplishments of both my family and me.
My mother, Helene Shalotsky, loved being a homemaker when we were young. She embraced all that it entailed, including making our carefully matching clothes and perfecting our hairstyles with love and care. We often wore matching clothes, so it became a bit of our Shalotsky family branding. At one time, we were even mistaken for a singing group. That's when The Partridge Family was in vogue. Robi, Ramy, and our younger sister, Lori, were the girls who lived in the yellow house across from the high school, where our friends were included to be part of our family fun.
Ramy: Although our parents were New Yorkers through and through, when our Dad got a job at Mennen Company in Morristown, NJ as a senior chemist, they decided to buy their first home in the idyllic town of Chatham to raise their family. It was the type of place where everyone knew each other. Our parents made sure to celebrate our Judaism and joined a temple in the nearby town of Summit, where we were Bat Mitzvah'd. Our mother was a teacher, so academics were a priority. She taught us to be independent thinkers, led by example, and most of all, to be fair and kind. The family was and is a priority and the greatest gift they gave us. Our parents and younger sister Lori still live in NJ, so we are out there often. I'm proud to say I'm a Jersey Girl!
How did you become interested in your field? And when did you know you made it.
Robi: I was fortunate knowing what I wanted to do when I was very young. I remember this "A-ha" moment so vividly. I was walking home from elementary school when I made this personal pronouncement. I was in second grade when I told a friend that I would be a psychologist when I grew up. I was raised in a very insightful and psychologically savvy family. My mother, uncle Irv ("Mr. G" of WPIX), and grandmother were always psychologically on point. Later, in high school, I decided I wanted to be an author and on television. And the rest is history.
Ramy: Growing up in a household full of girls, shopping was a fun activity for us. Our mom always had a cool style. When we were very young, she made all our clothes by hand. We would go to dinner in matching outfits, and people would ask if we were in a band! While dressing up was a fun activity, it became a passion for me at a very young age. I remember I started to rebel. If my sister wore red on top and white on the bottom, I would wear the complete opposite! I mixed stripes, plaids, and paisleys when I wanted to be bad. Although I wasn't matching my sisters, my mother let me dress however I wanted and always encouraged my unique style.
When I started Ramy Brook in 2010, I hosted trunk shows out of my apartment for three years. A private shopper from Bergdorf Goodman sent her customers to me during that time. My designs filled a white space of silky, solid, sexy, and sophisticated tops at a contemporary price point. Unfortunately, BG didn't sell what I was making. That eventually led me to a meeting with the buying team who bought my first Collection! That was one of the moments I felt "I made it."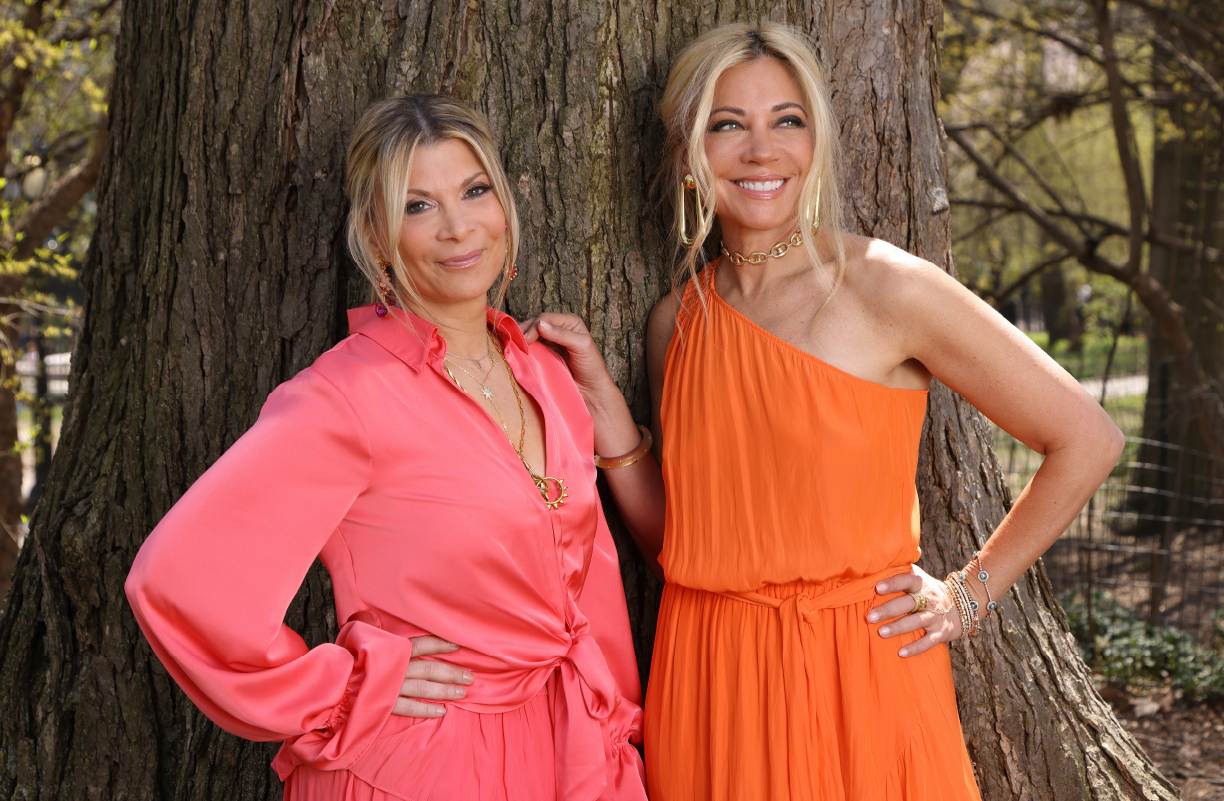 What makes your sister so special? 

Robi: Ramy has always been a straightforward voice of reason. She was very focused on what she wanted to achieve in life. Ramy is the type of person who makes her dreams a reality. She is the first to tell me if I need to make some tweaks in my life. As far as my fashion choices go, we have slightly different styles. Ramy will let me know when I need to get rid of my jeans and shoes or wear more makeup when out and about. I know she always has my back if things go sideways, with practical advice and the perfect recommendations. She also has this incredible knack for throwing parties and gorgeous family events. Our whole family looks forward to the holidays hosted by Ramy and her family.
Ramy: Starting a business at 42 has many advantages. One main advantage is the network of incredibly supportive friends. I'm extra lucky to have sisters who are friends too, so when I started Ramy Brook, I had the support of friends and the love and encouragement from my sisters. I started my business by doing trunk shows—my very first one was at my younger sister Lori's house in Short Hills, NJ. She made sure all her friends showed up! Robi showed her support by never missing a trunk show in NY and inviting her friends to attend. When she's on TV, she wears Ramy Brook and makes sure to post on social media. Everything is done with such pride; we love saying that's my sister! The support of my sisters is part of the secret to my success.
How has color helped you stay focused in everyday life and at home?

Robi: Color can influence our mood and create the desired tone. Color can also inspire a sense of whimsy and fun. Living in New York, I wear a lot of black. The New York City uniform is hard to get away from. But when I do TV, I'm very conscious how important color is. I learned early in my career it's all about the bright colors and jewel tones that make your presentation pop. As for my home, I tend to veer towards the more sophisticated, simple colors, which have lasting power. I use bright colors here and there, but in a way, that's hopefully not too overpowering.
Ramy: It's effortless to throw on black and neutrals, which I often do. However, when I put on a bright color, my mood (and the room's mood!) changes. Part of Ramy Brook's DNA is offering bright, happy colors in timeless silhouettes. It's essential to feel great in your clothes, and upbeat, bright colors help do just that. My sister can speak more about the psychology of colors, but I design to empower women. Throwing on something colorful is a great way to start.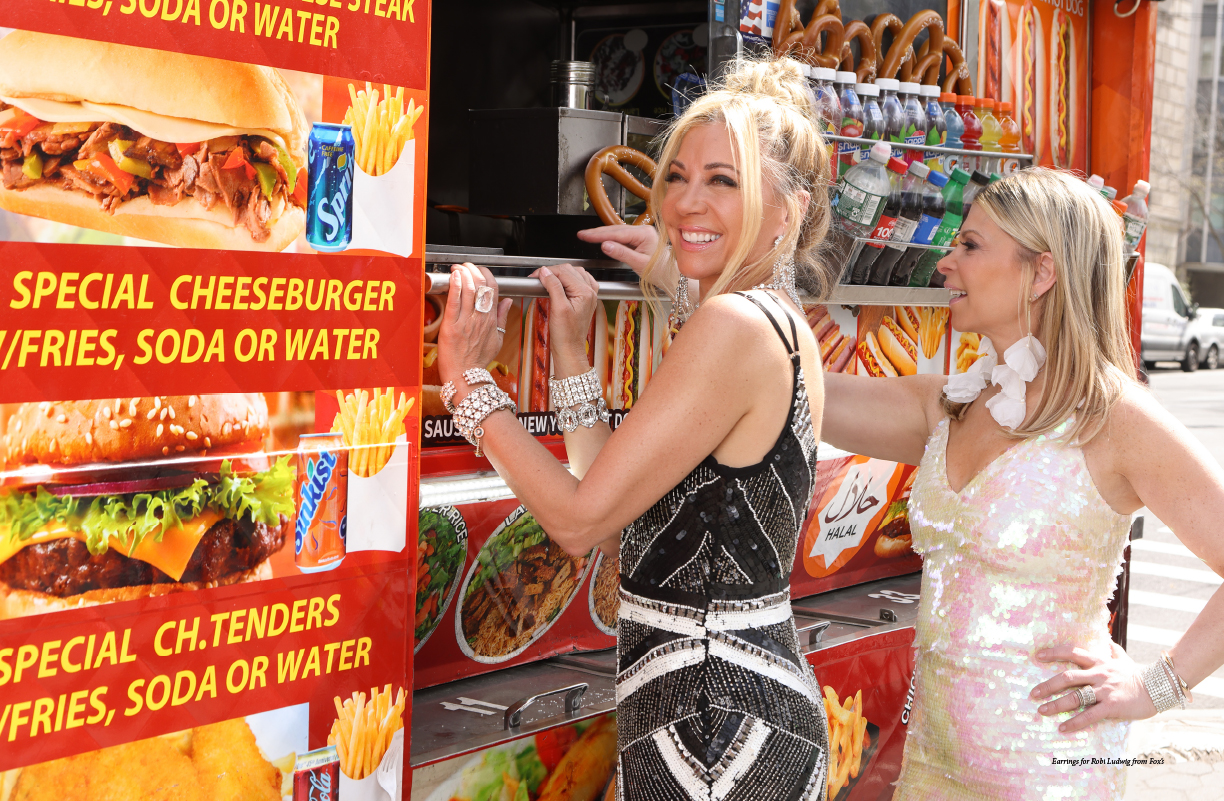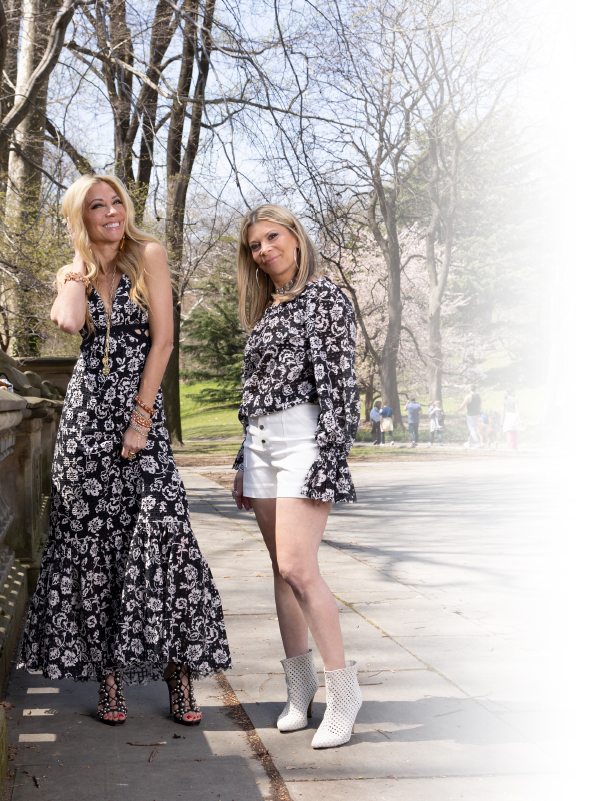 There is little doubt your parents helped to instill the ambition and drive to succeed. Tell our readers more about your mother and father.
Robi: My mother is a force of nature. We've always been very close. During my youth, she was a bit frustrated with me because I was a late bloomer scholastically. My mother, a straight-A student, expected me to be more like her. My mother always had very high expectations of me. She was supportive and nurturing but brutely honest when she needed to be. My mother never told her girls what to do or be, but education and being smart were very important to her. When I told her what I planned to do with my life, she was always very supportive. My mother, most of all, wanted me to live up to my potential and make good life choices that would lead to a fulfilling life. And my goal was to honor myself while pleasing my mother and making her proud of me.
My dad was the more laid back of my two parents. However, he was and still is such a great role model for being a great husband and father. My sisters and I have a great love and respect for men because of the dad we were lucky enough to have. He was the sturdy rock that helped ground our family. I knew he loved me and was proud of me in public. But he loved me even more when he didn't have to support me financially. My dad practically ran me down the aisle when I got married. I had to tell him it wasn't a marathon. It's okay to walk.
Ramy: We were raised to think positive; we never believed we could fail. Whether that was realistic or not, it instilled confidence to help us succeed. Everything seemed to be doable. Even if we got a bad grade or did something which got us in trouble, we didn't feel judged. Mistakes happen; it's how we handle the next move that matters. You can say our environment felt safe and loving, which helped drive us to be successful.
How can people remain positive in this upside-down world?
Robi: Being positive is a choice we all can make. It's being willing to see the beauty in the messiness of life, taking moments to feel grateful for the things we do have. And to allow for the dark life moments without giving up hope. It's an intention. A skill we can all learn by remaining faithful and surrounding ourselves with people who support us and celebrate us during the bittersweet moments in life.
What inspires you to design these gorgeous collections?
Ramy: Women—of all ages! I admire so many women. I love people watching and seeing how people around me dress. It gives me inspiration for the next Collection. When I get dressed and feel I'm missing something from my closet, I design that piece to fill that void. Traveling also serves as a great inspiration. I love learning about other cultures and adapting them into the Collection.