Behind the piercing eyes and chiseled visage is an entrepreneur who is sending more than himself down the runway. Garrett Neff, one of fashion's most successful male models, is also the brains behind Katama, a swimwear line he started five years ago that has evolved into a full-fledged lifestyle brand. From beachwear to hoodies and other essentials Katama brings a utilitarian easiness to Martha's Vineyard style. "Subtle and sophisticated," he says.
"Katama is a New England vintage athletic inspired swim and resort brand for today," says Neff. "We're using the latest fabrics and techniques for longer lasting comfort and color retention but always keep a close eye on what we originally set out to do which is aim for sophistication and a classic look."
ONE FOR ALL
Though it started as a menswear line, Katama has evolved into a unisex brand. "I like to think the line is for anyone," Neff says. "Lots of women are ordering and wearing the swim trunks. Especially our shorter options. T-shirts, tanks, polos, camp collar shirts and sweatshirts are fairly unisex other than the sizing."
New York Lifestyles met with Neff to find out more about the Katama brand and what the future holds for the model.
What was the inspiration?
It came from family photographs that my mother took of my grandfather, uncles and dad during the summer in Martha's Vineyard. There's an effortless yet attainable elegance to those times. I love the way these candid photos captured the men in my family between moments, going to or coming from tennis, a run, or informal golf outing.  The idea that you could change only one item out like a polo shirt or loafers and push your hair back and be ready for dinner on the back deck. I love that. And that's what we design for. Looking back at nostalgia to help us design for clothes that the next generation will feel nostalgic for. I feel this is most aspirational to me. Getting in touch with nature, and family without looking overdone and made up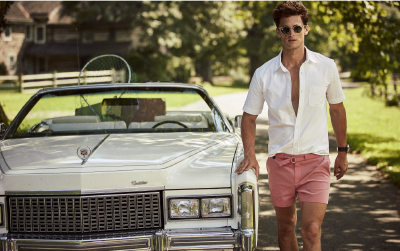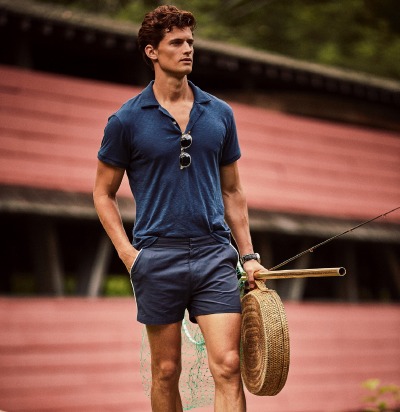 What is the best lesson you've learned in starting your own lifestyle brand?
Go at your own pace and focus on what you do best, and the rest will follow. And although it won't likely apply every year: Plan for a disaster and you'll be ready for anything
What has been your most popular design?
Our Jack and Braden trunks are what set us apart, and our Emerson sell really well because it's longer and more conservative for let's say, the Miami crowd, but shorter for the more traditional guy. When we're on our summer Airstream tour, we sell lots of sweatshirts and long sleeve shirts. They're comfortable and practical because people always underestimate how cool the evenings can be in coastal New England towns where we pop up like Kennebunkport, Newport, Ptown or Chatham for example.
What's next? Any road shows this summer?
We have some tour dates and collaborations which we'll do closer to summer. We will definitely be out there. Look for us.
For more information on Katama,
visit: katamaswim.com