ON THE SMALL SCREEN
BINGEWORTHY SUMMERTIME SERIES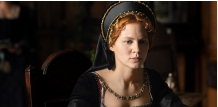 BECOMING ELIZABETH
Starz
The British royal family provides endless opportunities for a creative retelling of history; Queen Elizabeth I's life has always been particularly fascinating. This eight-part series explores her early life when her ascendence to the throne was fraught with instability and political maneuvering. Elizabeth's half-brother Edward and half-sister Mary each had their turns on the throne before she gained rule at age 25; this series explores those earlier years before she took her place of power and ruled Britain for 45 years. German actress Alicia von Rittberg takes on Elizabeth, while Brit Romola Garai plays Mary in this historical drama.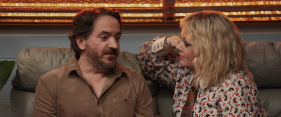 GOD'S FAVORITE IDIOT
Netflix
Ben Falcone created this comedy vehicle for him and his wife (Melissa McCarthy) to share; both star in this loopy tale of a mid-level office schlub who gets hit by lightning and discovers he's been tapped by God to save the world. There's a romance between the two stars as Satan (Leslie Bibb) turns up to keep the coming apocalypse on track; meanwhile,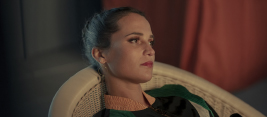 IRMA VEP
HBO
Who says you cannot go backward to go forward? French writer-director Olivier Assayas is doing just that with Irma Vep, returning to the story he created in 1996 as a film, now expanding into a series. But, of course, it certainly helps that Oscar winner Alicia Vikander signed on to play Irma, an American actress running off to Paris after a bad breakup to star in a new film. This time Assayas uses eight episodes to tell the saga of a woman who begins to lose herself in the character she's playing in the movie. Tom Sturridge and Byron Bowers co-star in this weirdly disturbing drama.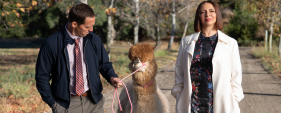 LOOT
Apple TV+
What's a woman to do with a failed marriage and only 87 billion bucks to show for it? If she's Molly (Maja Rudolph), the first up is to go on a scary skid into unhappiness. But since this is a comedy series, she bounces back and begins to learn exactly who she is and what she wants to do with all that freedom—and cash. Emmy winners Alan Yang (Master of None) and Matt Hubbard (30 Rock) are steering this ship, so it's the potential to be a real winner.

MS. MARVEL
Disney+
As Ms. Marvel joins the MCU, the new series marks a couple of firsts. The female character is the first Muslim protagonist/superhero in the Marvel Comics on-screen universe, and the 19-year-old actress playing her (Iman Vellani) is playing her first on-screen role. Starting with six episodes, it won't take long for Marvel's legion of fans of all ages to decide if this one flies into the stratosphere with all the other MCU hit shows and films.