For the past 100 years, Manhattan School of Music has upheld a tradition from its humble beginnings as a small settlement music school to its status today as an internationally renowned music conservatory.
The school's founder, Janet Daniels Schenck, studied piano in Paris and social work at Columbia University. Before WWI, she volunteered at the Union Settlement on East 104th Street, where she became interested in the struggles and needs of the area's immigrant population. By 1918, she had established an independent music school with 120 students and a faculty of 23. Dr. Schenck soon financed a new building and concert hall on East 105th Street. Cellist Pablo Casals and pianist Harold Bauer joined her effort as artist auxiliary board members of the Neighborhood Music School as it was known before a name change in 1938.
A FUTURE OF GROWTH
The school reputation grew over time, eventually becoming an accredited college offering a Bachelor of Music degree in 1943 and a master's degree in 1947. Dr. Schenck retired in 1956, and John Brownlee, a noted baritone and member of the MSM voice faculty, became the school's second president. President Brownlee oversaw an ambitious expansion program centered on purchasing the Juilliard School's Morningside Heights building, which was preparing to relocate to Lincoln Center.
MSM's college enrollment increased after relocating in 1969 from its long-time East Side home to the more extensive facilities on West 122nd Street and Claremont Avenue. The preparatory division expanded, and extension/evening classes were added. The school's already well-known Opera Theatre grew in popularity and critical acclaim, attracting exceptionally talented students. Metropolitan Opera conductor George Schick succeeded Brownlee as the school's third president, and the Santa Fe Opera's founder and general director, John O. Crosby, took over as president in 1976. Gideon W. Waldrop was appointed in 1986, followed by Peter C. Simon in 1989. During this period, significant curriculum additions included a Doctor of Musical Arts program in 1974, the introduction of a jazz degree in 1984, and the establishment of the Graduate Program in Orchestral Performance in 1991.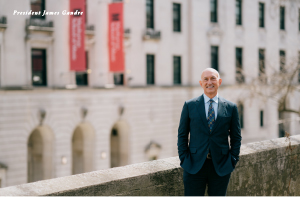 Marta Casals Istomin, a former Kennedy Center for the Performing Arts director, was appointed president of the school in 1992. During Marta Istomin's tenure, the G. Chris and SungEun Andersen Residence Hall, which opened in 2001, was built adjacent to the existing school. In addition to providing the school's first on-campus student housing, the 19-story structure allowed for two new performance spaces, a new library, and much-needed practice and rehearsal rooms. Following Dr. Robert Sirota's term as president (2005-13), the school's current president, James Gandre, was appointed. President Gandre has overseen significant campus improvements, including a sweeping renovation (tied to MSM's Centennial celebrations in 2018–19) of the school's main performance space, Neidorff-Karpati Hall, and the establishment of a grand new entrance on Claremont Avenue. President Gandre has also overseen establishing a degree program in Musical Theatre, the first of its kind at an independent New York City conservatory, and the Global Conservatoire, a unique virtual learning partnership with conservatories in Vienna, Copenhagen, and London.
The Manhattan School of Music recently held its 2022 Gala at The Rainbow Room. The gala honored Trustee Emerita Carla Bossi-Comelli (HonDMA' 20) and celebrated the school's prestigious Orchestral Performance Program's (OPP) 30th anniversary. The gala featured performances by faculty and distinguished OPP alumni from the Chicago Symphony Orchestra, Cincinnati Opera Orchestra, Harlem String Quartet, Metropolitan Opera Orchestra, Montreal Symphony Orchestra, and New York Philharmonic, and was hosted by Isabel Leonard (HonDMA' 21), an alumna of MSM's pre-college program and recently appointed member of the School's Vocal Arts College faculty.
For more information on the Manhattan School of Music, visit: msmnyc.edu