Is there such a thing as a press agent who could have their own press agent? For anyone familiar with Broadway Theatre, one name will immediately come to mind; Irene Gandy, press agent turned Tony Award-winning producer.
In an industry like theater, where careers are often fleeting and job stability is measured by months rather than years, Gandy became a rare African American female press agent and hung on for an incredible fifty-year journey. She earned respect and admiration every step of the way.
SUCCESS CONTINUED
Many others followed, including Your Arms are Too Short to Box with God, Me and my Girl, One Mo' Time, Spring Awakening, Gore Vidal's The Best Man, Glengarry Glen Ross, Hair, Speed-the-Plow, Bloody Bloody Andrew Jackson, and The Bridges of Madison County, among many other shows. For 36 years, she worked for the prolific producer Jeffrey Richards, a relationship she cherishes. Then, for her second act, Gandy took on the role of producer for the Gershwin's Porgy and Bess, which won her a Tony Award. She followed that up as a producer for Lady Day at Emerson's Bar and Grill.
Gandy's success, however, is much more than her credits. Her tenacity, ability to get things done, meet people and listen to what they have to say, and stand up for herself against racism and inequality create a more outstanding picture of this remarkable woman.
Gandy recalls being on the road working with the classic musical Purlie! and not being allowed to go into the box office because she was a Black woman. She called the producers and, rather than getting into the issue of race, took a business approach explaining that this would be bad for the bottom line. The producers called the box office and told them to let her in. "From that point on, I was let in, and word got around on who I was," explained Gandy in one of her numerous interviews.
GIVING BACK TO OTHERS
Inspired by names ranging from Nancy Drew to Lena Horne to civil rights activist Evelyn Cunningham, Gandy has soaked in a tremendous amount of knowledge from her many years in the industry. She is also known for her philanthropy and dedication to giving back to others. She is on several charitable boards and recently joined The Drama League. In addition, her dynamic personality, never say die attitude, and ability to forge lasting relationships have made her a living legend.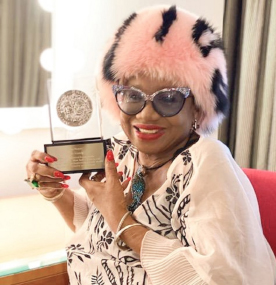 I recently had a chance to speak with Irene.

You won a Tony as a producer, but you also have Tony honors for excellence for extraordinary theater achievement. What advice can you give to people that want to get into the theater?
Just do it. Just say, "yes." Most people don't wake up wanting to go into the theater, and there is no step-by-step path to a career in theater. God gives you a dream and no budget, and that's how theater gets done. You just do it.
Your career spans over 50 years. Is your career easier now that you have more experience?
I don't want easy. I want to be challenged. It forces us to be more creative. What has been wonderful over my five-decade career is that I've been able to see change and know that more changes are coming. I create new relationships and work on new shows. Every day is a new canvas waiting for contemporary art to be created. I am happy that live theater still exists and that I can be a part of it.
Do you have a favorite show or project?
I know better than to state a favorite at my age. Every time I try to think of a choice, I see something fabulous or start work on something new, and the newness excites me, or the nostalgia grabs my heart. So, no favorite, I'm always open to suggestions!
Any more advice?
Let's put on some lipstick and enjoy the party.