Excuse My French is genuinely unique because it feels more like a classic dimly lit speakeasy set in a 1920s French countryside house. Marc Chagall-style art on the walls and a long wooden bar in the center of this former Lower East Side storefront is more dedicated to eating rather than drinking—although there are extensive exotic house cocktail offerings. The restaurant is the brainchild of co-owners Chef Giraud (former executive chef at the first Laduree in Soho) and restauranteur Ricardo Valdez who also serves as general manager.
You'll feel comfortable the minute you walk in the door and feel an overwhelming sense of déjà vu. There are only a few tables in different configurations, including a large community table in the very back. It looks like the type of old-school French restaurant that any diehard romantic would love to be proposed marriage via a ring placed in a glass of Champagne.
We recently visited Giraud, who told New York Lifestyles about the unique concept of French Tapas and how it became the theme of his future eatery. "When I was visiting Copenhagen with a friend, we stopped at a lovely place where their menu was small combinations of food on a baguette. So, my business partner Ricardo Valdez and I thought about this concept since our space in New York City was small, and a regular kitchen was out of the question. So we started thinking of small portions of French food--how to create them so it will become a full-on menu."
Giraud went on to say, "Most people understand the concept of what tapas is, and in our case, we decided to be French tapas. I adapted all the French recipes to a small to medium size. Also, it was important to consider the type of equipment we were going to acquire. We did not want to use gas, so all our kitchen is electric."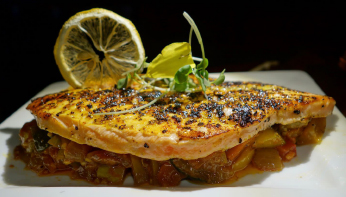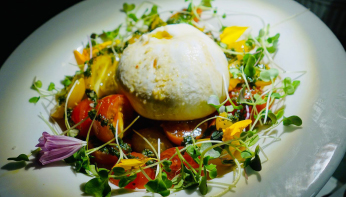 FRENCH FOOD WITH A TWIST
He adds his take on the evolution of EMF's menu: "In 2015, our cuisine started very French forward when we opened. Over the years, we have added dishes from other cuisines (Tacos, Sliders, Poke Bowl, etc.), but each French dish is made with the traditional recipe with a small personal twist. Our most popular dishes would be the Steak Tartare, Brussels Sprouts with Merguez and Espelette Piment, Escargot Persillade, and Frog Legs with garlic butter and parsley."
Even though Excuse My French is dubbed a "tapas restaurant," during our recent visit, we found that the portions were quite generous than many entrees that we have been served in trendy downtown eateries. Of course, you might end up with a doggie bag at the end of the night if you order two tapas per guest, but that is fine because undoubtedly, you'll love what you order and are happy that you have some leftovers for the next day.
Our personal favorites during our visit were the Foie Gras served with an exciting coating of sesame and other dried seeds; Burrata served in a delicious mixture of heirloom cherry tomatoes, basil, balsamic vinegar, olive oil, and seeds; Sauteed Brussels Sprouts served in a mix of balsamic vinegar, almonds, cranberries, and spicy lamb sausage; and Roasted Beet Salad served with arugula, goat cheese walnuts and balsamic.
Don't be too surprised to see Crispy Tacos on the menu given the French twist— small homemade French tart shells filled with ground beef, tomatoes, onions, and cheddar cheese--then topped with crème Fraiche. For dessert, the Crepes Suzette blew us away with the tinges of semi-sweet French orange liqueur, but there are many authentic crepe fillings options available. In addition, there are warm Nutella Crepes and a Molten Lava Cake that are musts for chocolate lovers.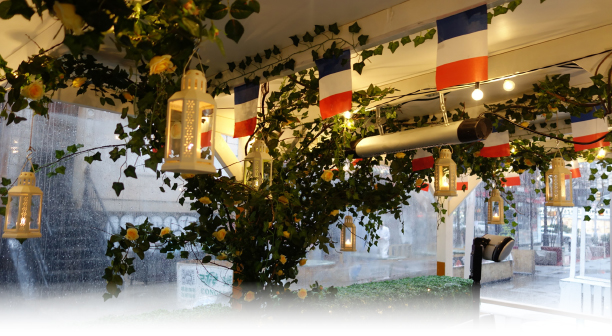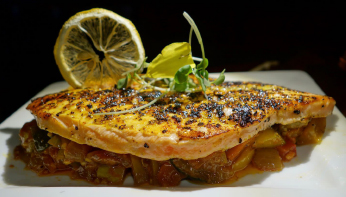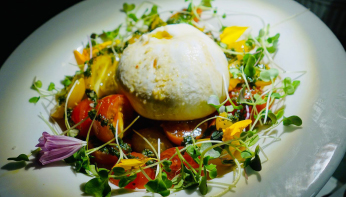 SUMMER ADDITIONS
Some new savory and sensational additions are coming up for Summer 2022. Comments Chef Giraud, "Our menu is mostly steady throughout the year, but we change three or four dishes seasonally depending on what is available. This summer, we are adding three new dishes: classic Watermelon and Goat Cheese Salad on a bed of baby arugula and roasted pine nuts in a lemon/lime olive oil, then drizzled with balsamic reduction. Also, look for Boneless Organic Chicken Breast marinated in balsamic and grilled 'a la paillard' with Israeli Couscous Salad and Pan Seared Diver Sea Scallops Saffron sauce served with smoked Texan paprika.
Don't ignore the colorful cocktail list at Excuse My French. Royales, Champagne-based drinks infused with organic herbs like lavender and hibiscus, are ultra-popular. Giraud tells us, "Our glasses for the summer menu starting on June 21st will include ten new cocktails, many of which are vodka-based, including the Café España (Summer Espresso Martini), which is Chopin Vodka, Liquor 43, French Press.
A SOLID BASE OF REGULARS
Excuse My French has created a solid base of regulars. Giraud remarks on the simple reasons he thinks that the seven-year-old Excuse My French is so well-regarded amongst foodies. "We think it is due to the 1920s-style décor, our cocktails are full of flavor and made with different varieties of alcohol that are uncommon and, of course, our food."
Excuse My French is a romantic, cozy place that you must experience firsthand with or without a date. Its railroad-flat layout with patterned tin ceilings, retro brass wall sconces, an extra-long bar in the middle of the dining room, classic French art celebrating the female form, and friendly service make it the kind of place you will want to return to repeatedly.
For more info on Excuse My French, go to excusemyfrench-nyc.com