Old Stove Pub, the iconic Hamptons dining staple, is ready to make its mark in New York City, opening its doors at 1076 First Avenue in Midtown Manhattan. The restaurant, a fantastic dining destination in the Hamptons for over 50 years, will establish itself as a new hotspot destination in the neighborhood. Owner Joseph DeCristofaro is excited to bring Old Stove Pub to New York City, just as the city is re-establishing itself as the world's dining capital.
Yes, just like that, it becomes a romantic hot spot, complete with low lighting, exposed brick walls, and soaring ceilings with unique art deco detailing. There's also a long bar with a shabby chic look that serves artisanal drinks in pineapple-shaped stemware. The frozen Vodka Mint Lemonade served in a 16-ounce pineapple glass is one of the most satisfying frozen drinks we have ever had and highly recommend it for the upcoming warm weather!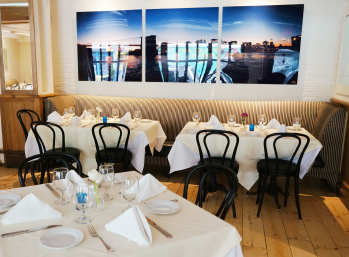 Originally opened in 1967, the Hamptons restaurant formerly known as Flynn's Inn changed hands several times before becoming Old Stove Pub in 1969. Old Stove Pub was originally a Greek Restaurant, which DeCristofaro reopened in 2020 after it had closed for two years. Unfortunately, after years of changing hands and neglect, the structure was aesthetically worn-down and out of business.
A TOTAL TRANSFORMATION
DeCristofaro recognized the restaurant's prestige and potential and breathed new life. While much of the original character was preserved, the kitchen, hardwood floors, bar, fireplace, plumbing, electric, and dining areas were updated. The menu received the most extensive update of all. The original menu was heavily Greek, and DeCristofaro kept many of the items but added more Mediterranean dishes and separate sushi and dessert menus.
DeCristofaro's welcoming atmosphere meets the foodie's needs while appreciating the value of an incredible atmosphere. The new Manhattan location features quality steaks and entrees that rival the city's best steakhouses and an ideal setting with a comfortable dining room and outdoor seating.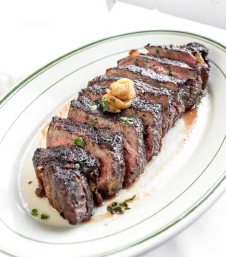 The menu boasts quite a medley of delectable dishes, including entrees such as their succulent rack of lamb, savory Australian lamb chops, and juicy roasted chicken; the freshest seafood plates such as branzino (sauteed with lemon, capers, and baby cherry tomatoes), salmon, scallops, jumbo shrimp, and the steamed mussels; a raw bar featuring fresh, plump oysters and crisp crab legs. Delicious sides include their creamed spinach and roasted cauliflower. Of course, a visit to Old Stove Pub would be incomplete without their world-famous steaks: Prime Filet Mignon, Rib-Eye Boneless Black with Blue Cheese Butter, and the famous and noteworthy Sagaponack Steak for Two are all available here.
DeCristofaro, a Southampton native and part-time Upper East Side resident, is a restaurateur and a notable real estate developer. With a talent for home renovation and design, he quickly assembled a team to revitalize the iconic Hamptons eatery, and it was soon better than the original.
The restaurateur has brought that same focus and determination to Midtown Manhattan, where Old Stove Pub will be a destination for foodies and locals. From delectable dinner entrees to fun and family-oriented brunches with live music, the new venue on First Avenue is sure to stand out from the crowd.
For more information on Old Stove Pub, visit: oldstovepub.com