WHY I LOVE WESTERN
NORTH CAROLINA
Let Me Count The Ways
By Bob Kappstatter
It's those Western North Carolina mountains that make you want to stay forever. But those are just the beginning of a natural wonderland, with outdoor adventures and more to make it a four-season vacation getaway. That includes breathtaking spring and summer displays of mountain laurel, flame azaleas, rhododendrons, and an alphabet of wildflowers; autumn foliage from the dogwoods, red maples, hickory, sweet gums, and other local trees; to the winter excitement or solitude of ski slopes and forest trails galore for skis, snowshoes or snowmobiles.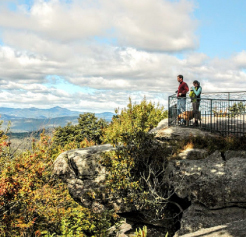 All this, along with mountain ranges, lakes, streams, dramatic waterfalls, hiking trails, pastoral rolling valleys, golf courses galore, and small, welcoming historic towns.
Most destinations are easily reachable in an hour or two. However, we recommend occasionally getting "lost" on backcountry roads, driving by old, weathered barns and abandoned one-gas-pump general stores, or seeing kids jumping into a swimming creek on a summer's day. There is also no shortage of accommodations, from elegant resorts to mountain and lakeside cabins, welcoming bed and breakfasts, and historic hotels in quaint towns. 
"It's just plain beautiful. That's why people come here all the time. That's why they're moving here," Mark Hiatt, co-owner of the Marked Tree Winery outside of Flat Rock, tells me as we sit at an outside table overlooking the rolling vineyards, enjoying a glass of his 2019 Cabernet Franc ("My best year!"). "It's beautiful. Gorgeous throughout the year, with a wonderful climate and wonderfully warm and friendly people."
A quick note about food and drink: Barbecue is king. Expect sausage and gravy for breakfast, and grits with shrimp for dinner. Sourwood honey is the only honey. And sweet iced tea is addictive. Moonshine is commercially made—unless you are lucky to know someone.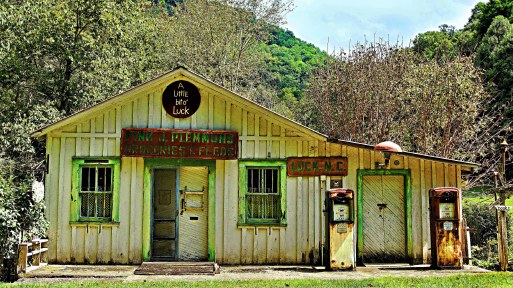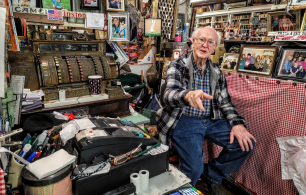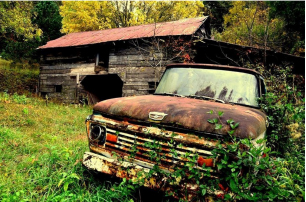 IN MY HEART
For me, those mountains and their people, descendants of the early Appalachian settlers, hold a special place in my heart. That's since I first found myself, a New York City teenager, living in a small town of 5,000 souls amid those imposing Blue Ridge Mountains.
Thanks to a New York uncle with the smarts to marry a local mountain gal, I am still drawn back, to visit kin and once again feel the embrace of those lumbering mountains, with their towering beauty and enduring permanence, restoring my care-worn city soul. I firmly believe their steadfastness helped shape me, as it did the character of the descendants of the Scots and Irish settlers in the 1700s. Their isolation also helped preserve their language, dating back to Shakespearean and even Chaucerian times, with traces of it still surviving to this day. 
FRIENDLY ENCOUNTERS
Expect to meet a unique breed of people, courteous as expected of a Southerner and usually with an interesting tale or two to tell, like our encounter with Leon Morgan, 77, at his 122-year-old stocked-to-the-rafters general store in Saluda (Pop. 703), where I asked him where I could buy liquor. "Yuh cain't bah likker in Saluda. But if yuh ask fer scorpion juice [moonshine], they'll fix yuh right up," he told me and then happily proceeded to tell me the town history.
Or meeting up on a back mountain road with a "bar" hunter and his "dawgs," telling me, "We got radios, cell phones, and GPS on the dawgs."
"What'd you do in the old days?" we asked.
"Got lost a lot".
ON THE ROAD
 You'll likely fly into the Asheville-Hendersonville Airport, with either town a great place to begin your meanderings. Asheville (Pop. 360,000) is the region's main city, worth a day or two for such attractions as the palatial 250-room Biltmore Estate and the restored 29-room Old Kentucky Home boarding house run by author Thomas Wolfe's mother called "Dixieland" in his gargantuan novel Look Homeward, Angel.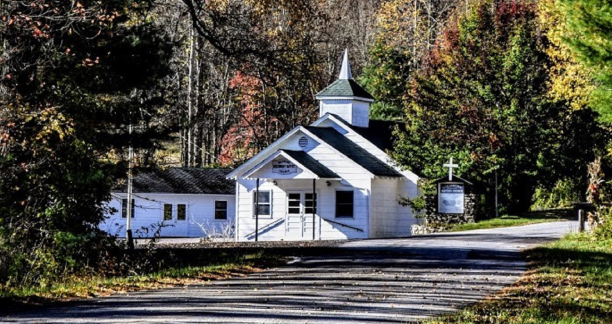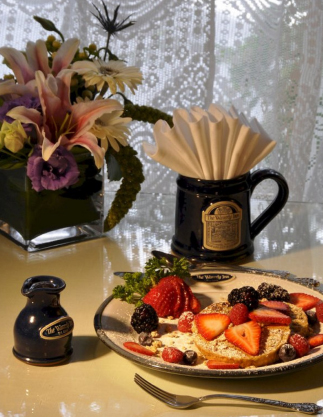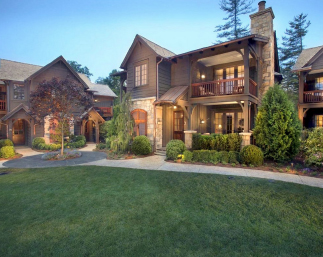 We recommend heading over to my old stomping ground, nearby Hendersonville, checking into a great white gingerbread-style bed and breakfast, the 1898 Waverly Inn, and exploring the eclectic shops and restaurants of nearby historic Main Street. Then head up just north of town to Jump Off Rock for great scenic views of the Pisgah Mountain Range. Also check out the nationally known nearby Flat Rock Playhouse which offers top-rated summer stock shows and concerts.
Next is Brevard, another great small mountain town to enjoy lunch and stroll around the local shops, including the O.P. Taylor toy store, a two-story emporium stocked with everything from tin kazoos and clown noses to mega-Lego sets and trains.
Continue about 18 miles up to the Blue Ridge Parkway, heading west on the two-lane road and stopping at overlooks to enjoy the mountain and valley views. Our favorite overlooks: Looking Glass Rock, the Devils Courthouse, and for catching a jaw-dropping sunset over the spread of distant mountains, the Cowee Mountain Overlook at 5,950 feet high.
Exit at the Balsam exit and head down to Franklin, where you want to head for dinner at Caffé Rel. What deceptively looks like a gas station restaurant is one of the region's top-rated restaurants, with a mostly French menu that matches New York City's French restaurants and at half the price. No reservations, and cash only.
We also recommend staying at the historic Old Edwards Inn in nearby Highlands, or at least for lunch there, with the drive along Route 64 between Highlands and Franklin to take in the scenic Cullasaja River, with stops at Bridal Veil Falls and the roaring obviously mis-named Dry Falls.
If you head east out of Asheville, your first stop is Chimney Rock, a 315-foot high, half-billion-year-old spire jutting out from the Blue Ridge Mountains, 1,200 feet above the valley floor, with 75-mile panoramic views and reachable by either a 26-story elevator or 500-stair path to the top.
Nearby Lake Lure is just the place for spring and summer water recreation, including boat rentals and fishing. Maybe just for the name alone, we love the small town of Little Switzerland at the turnoff on the Blue Ridge Parkway. Then head up to nearby Bakersville in Mitchell County for some breathtaking panoramic views from Roan Mountain, which straddles over into Tennessee. It's also home to a spectacular carpet of blooming rhododendron in mid-June, with a local festival in Bakersville.
With so much more left to see and enjoy in Western North Carolina, we say to potential visitors, in our best adopted 'Carolina drawl: Y'all come on down, yuh heah!
For more information on Western North Carolina, go to visitnc.com