OPPORTUNITY KNOX
The Ultimate Getaway To Knoxville
By Melanie Carden
It's time to spill the tea—the Prohibition Tea. I owe the city of Knoxville a debt of gratitude because, on a recent three-day excursion, I found myself thoroughly infatuated with the city's cultural and culinary depth.
I embraced the local hospitality, throwing myself headlong into everything the city offers—fine dining, shopping, adventure—not to mention the elevated tea service at The Tennessean Hotel. But this is more than just tea-time hearsay; the Prohibition Tea Service at The Tennessean is the only reason you need to travel to Knoxville. Am I going to give you a slew of other reasons? Most definitely, but this tea service—and its historically accurate cocktails—serve as an elegant anchor to the perfect three-day southern excursion.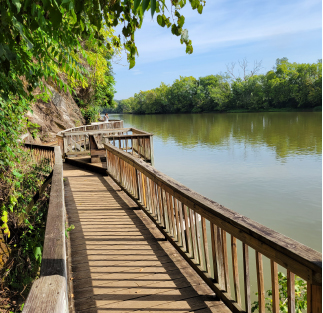 STAY
In the heart of Knoxville, alongside the golden gleam of the Sunsphere at World's Fair Park, The Tennessean Hotel is an impeccable example of southern hospitality at its finest. Visually stunning by all accounts, the décor in the well-appointed rooms echoes the teal hues and rippled currents of the nearby Tennessee River and includes locally crafted accents. Touches of richly colored velvet and handsome woodwork offer aesthetic reassurance that your time here will feel special. 
Combined with their Black Care Service, Tesla charging station, and the genuine warmth of their staff, it's an all-around sure thing. And, yes, they even offer dog-friendly rooms, so plan and bring your furry companion.
Adjacent to the Tennessean Hotel is its sister property, The Marriott Knoxville Downtown, and the new Maker Exchange, a dynamic community hub with plush seating, fireplace, coffee shop, restaurant, meeting space, and local art displays. Of course, guests of The Tennessean can always grab a coffee in the lobby or meander over to Maker Exchange to while away in the late afternoon after a busy day of exploring.
EAT
The Drawing Room—the hotel's mahogany hideaway—is steeped in the casual elegance that seems to satiate one's intangible need to indulge and linger. The menu highlights include blackened tenderloin tips, cider-braised chicken, and elevated sandwich options. The ambiance itself is equally inviting and captivating. It should be appropriately noted that they offer one of the most comprehensive bourbon offerings and whiskeys within the city. The craft of cocktails is embraced in earnest, and it shows. Along these lines, their ruby-hued Tennessee Whiskey Smash and Smoked Old Fashioned are not to be missed.
The Drawing Room is also where the hotel offers its tea service. Check the hotel's website for availability and their signature events – such as The Prohibition Tea. What an elegant way to sip my way through the storied history of the era of prohibition! We toggled between the hotel's signature peach tea and historically significant cocktails, like the French 87, The Bee's Knees, and the Mary Pickford. Every detail of The Tennessean's tea service imbues a sense of tradition and sophistication, and the towers of beautiful bites lovingly linger among my most treasured food memories.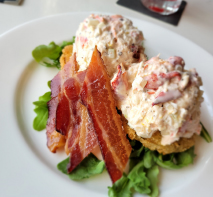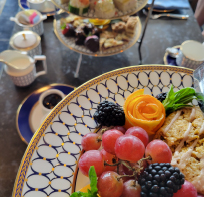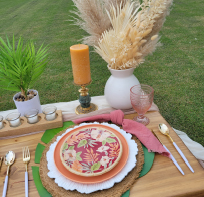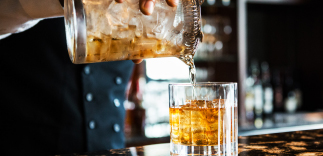 When exploring Knoxville, the dining options are plentiful and run the gamut from tasty to sublime. Within a five-minute walk of the hotel, there are over 90 restaurants clustered together within a mile. In Market Square – an eclectic mix of shops and dining—I was fortunate to discover Emelia and its Italian goodness. I chatted with some locals, and they confirmed that everything was delicious. But the most memorable part of the meal was the Butterscotch Budino that I devoured for dessert. Am I alone in believing that there are not enough adult butterscotch choices? This elegant pudding was layered with salted caramel and topped with whipped cream and a pine nut crumble – and it was heavenly.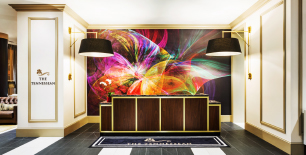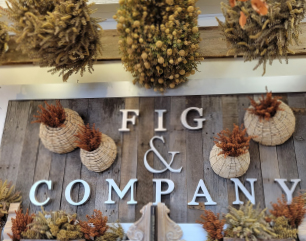 Among the near-endless stellar dining options, Chef Love's Lonesome Dove Bistro is also a standout with its rabbit-rattlesnake sausage, elk-foie gras sliders, and just about anything on the menu. However, all this decadence aside, I'd be no friend to you if I did not share the ultimate ice cream recommendation with you—Cruze Farm Ice Cream—made with milk from a local family farm.
PLAY
Pack accordingly; Knoxville is so much more than its sparkly Sunsphere and southern charm. Step outside The Tennessean, and there awaits a city brimming with top-notch meandering, shopping, and art galleries—from Market Square and beyond. If you're looking to trade the sidewalks for boardwalks and green spaces, Knoxville Urban Wilderness offers 1,000 wooded acres along the waterfront.
The Ijams Nature Center is less than four miles from the hotel and has over 10 miles of trails, even boasting a family-friendly treetop zipline course. Ijams Nature Center is also the perfect place to arrange a professionally-curated picnic with the help of Poppin' Picnics. They elevate picnics the way glamping transforms camping; I'll never forget my picnic on World's Fair Park lawn. It was a lovely way to end a day of Knoxville's great outdoors, including a kayaking excursion. 
Again, just 5-minutes from the hotel, I found the folks at Knoxville Adventure Collective. They set me up with a kayak and life vest, handed me a hard cider, and I got to fall in love with Knoxville all over again. Of course, don't forget to leave time driving to the Bearden Street area, famed for its cornucopia of galleries, luxe-leaning storefronts, and artsy endeavors. Be sure to visit Cachepot, Elle Boutique, G&G Interiors, Fig & Co., and Bennett Galleries. And lastly, if you adore the finery of eclectic, vintage treasures, allow plenty of time to visit Nostalgia – a unique vintage market experience.
For more information on Knoxville, go to visitknoxville.com