IT'S A WONDER
Sailing The World's Largest Cruise Ship
By Nava & Michael Raviv
Wonder of the Seas, the biggest ship in the world, is almost four football fields long and accommodates up to 6,988 passengers and 2,300 crewmembers. Yet, despite its staggering size, this new Royal Caribbean mega-ship is well-planned and seamlessly operated. During its recent Caribbean first voyage, which was at about 80 percent capacity, we never encountered large crowds nor had to wait in any line for more than a minute.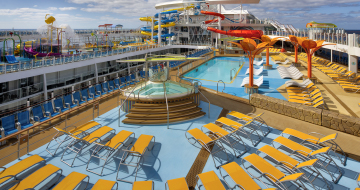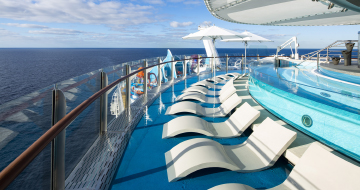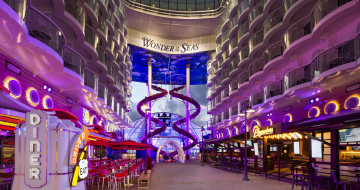 The ship features several "neighborhoods" located throughout its eighteen decks. However, its central hub is the Royal Promenade, a sprawling space lined with shops, lounges, and restaurants. Here guests enjoy strolls, live performances, sip robot-prepared cocktails in the Bionic Bar, or unwind with their favorite Starbucks coffee.
The boardwalk is a large open-air neighborhood reminiscent of America's seaside towns at the ship's stern. Anchored by a colorful carousel, it is home to slides, climbing walls, an old-fashioned diner, a lively sports bar, a hot dog stand, and a sweets shop.
Another popular area is Central Park, a green oasis with outdoor cafés and restaurants. It is the perfect place to start the day with a freshly baked croissant and a cup of Lavazza coffee and, after dark, to unwind with a nightcap under the stars.
The ship's most exclusive area is the Suite Neighborhood, a private space with its restaurant, lounge, large sun deck, and splash pool.
KEEPING BUSY
The ship offers a myriad of activities. One can powerwalk on the covered track around the ship, work-out in the supersized fitness center, take yoga and exercise classes, try rock climbing, ziplining, ice-skating, surfing, and laser-tag. Additional activities include casino gambling, art auctions, trivia games, and bingo, to name just a few.
The ship also offers plenty of fun areas for kids, such as a considerable splash zone, colorful playground, mini-golf course, giant slides, and arcades.
For some "me time," guests get pampered at the serene Vitality Spa or even have a plastic surgeon rejuvenate them with a few "nips and tucks."
Another favorite pastime is chilling out by one of the three pools, unwinding in the Solarium, or relaxing on one's balcony. There's no need to worry about clocking a daily 10,000 steps. The Wonder of the Seas is so big that it's easy to reach this goal by just walking from place to place.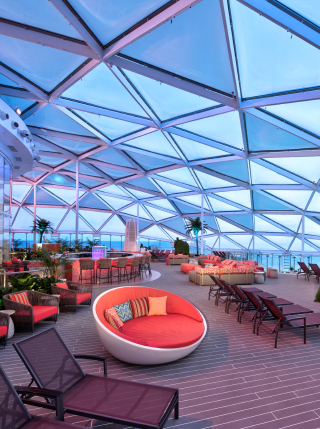 LET US ENTERTAIN YOU
At dusk, the ship comes alive with music and performances: A jazz orchestra in the Royal Promenade, a Latin band at Boleros, a piano player at the Schooner Bar, a guitarist in Central Park, and comedians, singers, and dancers at the Royal Theater. The unique shows onboard are the thrilling ice spectacle with Olympic caliber skaters at Studio B and the inTENse show in the Aqua Theater. This mesmerizing production features an edge-of-your-seat highline act, platform diving, aquatic numbers, and synchronized swimming, all accompanied by blazing lasers, projections, and dancing fountains. 
DINING PLEASURE
One of cruising's main attractions is dining, and the Wonder of the Seas delivers a culinary experience to satisfy everyone's palate. The ship's elegant main dining room straddles three levels around a soaring atrium and can accommodate up to 3,500 guests in one sitting. The a la carte menu features daily specialties such as Duck a l'Orange, Chicken Cordon Bleu, Rack of Lamb, and seafood and pasta dishes. It also offers classics such as Caesar Salad, Herb-Crusted Salmon, and NY Strip Steak. Sinful Chocolate Cakes, Grand Marnier Souffles, and Creme Brulé complete the menu.
The Windjammer Market is the largest buffet restaurant afloat, spanning the entire width of the ship. Appointed with numerous food stations and 1,048 seats, it easily accommodates many guests. The cuisine is classic American and Asian, vegetarian, and gluten-free fare.
Additional dining venues include the buffet-style Solarium Bistro, Sorrento's pizzeria, cafés, etc. For a different culinary experience, guests can also dine in several specialty restaurants (for a fee), such as Izumi for Sushi and Teppanyaki, Giovanny's for Italian cuisine, Chops Grille for steakhouse staples, 150 Central Park for continental fare, Hooked for seafood, and Mason Jar for Southern cuisine. Another popular dining venue is Wonderland, an elegant and whimsical restaurant inspired by "Alice in Wonderland" and serving creative cuisine in a magical setting.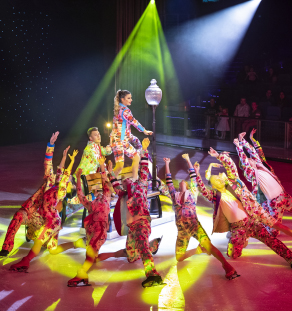 PRIVATE DESTINATIONS
The Wonder of the Seas will be based in Port Canaveral and sail the Caribbean Sea. These itineraries always include one or both of Royal Caribbean's picturesque private enclaves, Labadee in Tahiti and Coco Cay in the Bahamas.
Labadee is a tropical retreat and a playground where guests can enjoy pristine beaches, water sports, a zipline, and waterslides. A delicious barbecue lunch, local dancers, and an artisan market complete the experience.
Coco Cay is Royal Caribbean's Island paradise for the entire family. It offers a water park with thirteen waterslides, including the tallest in North America, the largest wave pool in the Caribbean, and a giant freshwater lagoon. In addition, the island has picture-perfect beaches and an exclusive Coco Beach Club, where visitors can book cabanas on the water.
Cruising is always enjoyable but sailing on the world's biggest ship is in a class by itself!
For more information on Royal Caribbean, visit royalcaribbean.com