ON THE BIG SCREEN
MOVIES FOR GROWNUPS—AND KIDS, TOO!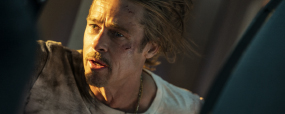 BULLET TRAIN
Not yet rated
Action, comedy and a Japanese Bullet Train with Brad Pitt aboard as a slightly inept assassin make for perfect summer moviegoing, especially when Deadpool 2 director David Leitch is at the helm. Look for tons of violence, swearing and silly byplay between Pitt (as Ladybug, the assassin) and Sandra Bullock, who plays his handler Maria Beetle, as well as crazy action sequences that will have you gasping and laughing at the same time. Joey King, Michael Shannon, Zazie Beetz and even singer Bad Bunny are along for this wacky train ride that is not for the kids.

THE GRAY MAN
PG-13
This deadly serious thriller stars two of Hollywood's most sought after leading men—Ryan Gosling and Chris Evans—as two CIA agents on opposite sides of a manhunt. Which one is the good guy? That's the mystery at the heart of this cat-and-mouse adventure that also stars Ana de Armas, Rege-Jean Page, Billy Bob Thornton and Alfre Woodard. Directed by brothers Anthony and Joe Russo, best known for their Avengers and Captain America Marvel flicks.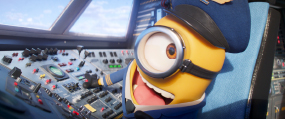 MINIONS: THE RISE OF GRU
PG
Who doesn't love the Minions? We know we do, and so do kids of all ages, so it's a cinch that this fifth animated flick starring those goofy heroes will be a hit with everyone. This time we're in for the back story of Gru, the Minions' evil (yet lovable) boss, as he sets out at age 12 to become the world's greatest supervillain. Many of the regular voice actors are along for the ride, including Steve Carell as Gru, Julie Andrews as his mom and Russell Brand as Dr. Nefario, along with newcomers like Taraji P. Henson, Michelle Yeoh and Lucy Lawless.

PAWS OF FURY: THE LEGEND OF HANK
PG
Another animated movie with kids in mind, Paws of Fury: The Legend of Hank is a martial-arts comedy set in the world of dogs (Hank, voiced by Michael Cera) and lots of cats (voiced by Michelle Yeoh, George Takei, Samuel L. Jackson and Ricky Gervais). Even Mel Brooks lends his voice to the fun, and slightly strangely, also the plot of Blazing Saddles, which the story is based upon. How that works as a kids' movie is a good reason to go to the theater to check this one out!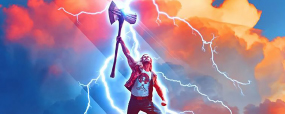 THOR: LOVE AND THUNDER
PG-13
Chris Hemsworth as Thor returns to the MCU for his fourth outing in this adventure comedy that keeps the Norse god's legend going. This time he and his mighty hammer must take on a new threat, Gorr the God Butcher (Christian Bale), a supervillain making his cinematic debut. Will Thor win out? He will if his ex-girlfriend Jane Foster (Natalie Portman) and pals Star-Lord (Chris Pratt), Drax (Dave Bautista) and Groot (Vin Diesel) have anything to say about it. Matt Damon, Russell Crowe, Melissa McCarthy and Taika Waititi also star in this latest Marvel blockbuster.