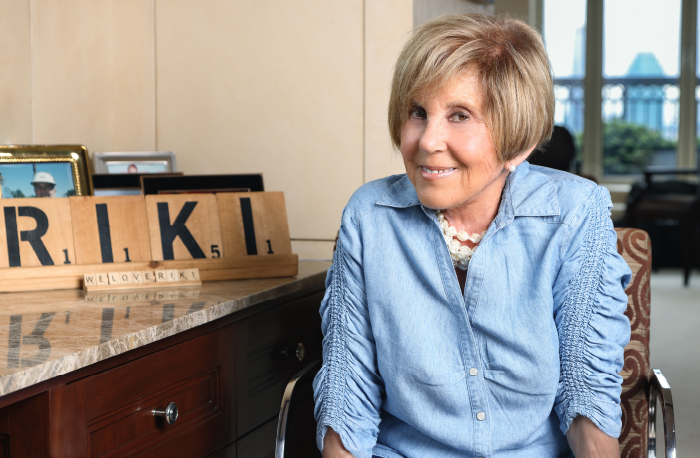 THEATER PRODUCER
RIKI KANE LARIMER
On Top Of The World
By Patricia Canole | Photography by Neil J. Tandy
When one thinks of New York theater, usually it's the sold-out productions and celebrity names that come to mind. But ask anyone on the Great White Way who the real heroes are, and they'll tell you the women who have become influential producers. Most have taken considerable risks to steer little-known productions to appreciative audiences.
Women today can be found as lead producers in sensations like Hadestown (Mara Isaacs and Dale Franzen) and significant producers in hits like Come from Away (Sue Frost).
Like their male counterparts, female producers have faced challenges, the most significant of which is merging commerce and the creative; namely, bringing together that all-important creative team and raising the necessary funds from investors to make this dream come true.
One such dynamic producer is Riki Kane Larimer, who hails from the houseware's world where her company, Metrokane, made the Rabbit Corkscrew and other successful household products.
After selling Metrokane, she began a career in theater, where she co-produced the London production of Memphis, followed by On the Town and Gigi on Broadway, the Off-Broadway shows of Georgie, Tappin' Thru Life, Bright Colors Bold Patterns, and The York Theatre productions of Cagney and Enter Laughing.
However, it is Cagney which shines as her major theatrical accomplishment in the widely acclaimed production. It starred Robert Creighton, who first appeared at The York Theatre, followed by a sold-out run at the Westside Theater. Cagney was a stunning 15-month success. Currently, Riki is reimagining this incredible show now directed by Tony Award-winner John Rando and choreographed by the award-winning Josh Bergasse scheduled to open in London in May 2023 with the intent of a transfer to The Great White Way.
The London production has been renamed Top of The World…The James Cagney Musical and portrays an American icon who was forever loyal to his family. He started first as a vaudeville song-and-dance man and became a star for his famous gangster roles. Cagney was also a fighter who stood up to the Hollywood bigwigs and fought for rights of actors which resulted in the founding of the actor's union known as SAG.
Riki is Vice President of the Board of Directors at The York Theatre Company in Manhattan and is a Trustee on the Board of Bay Street Theater in The Hamptons. In addition to her passion for theater, Riki is an avid tennis player, a devoted New York Yankee fan, an addicted Scrabble player, and longtime member of The Friars Club.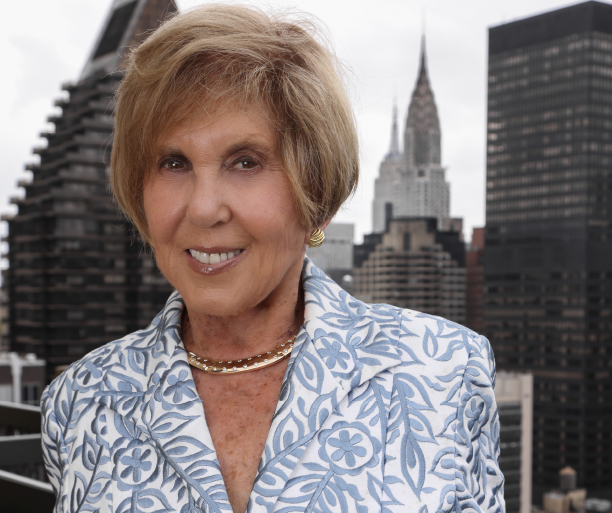 We recently met with Riki Kane Larimer, who shared her story with New York Lifestyles.
Please give us a brief backstory, Riki.
I grew up in Great Neck, NY, and received a degree in journalism from the University of Florida, Gainesville. Shortly after, I enjoyed a budding career as an advertising copywriter before landing as a syndicated newspaper columnist with United Features. My column was called Wordy Gurdy by Tricky Ricky and at its peak was syndicated in 150 newspapers including Newsday, the New York Daily News, the Chicago Tribune and The Dallas Morning News. But I needed a greater challenge and that's when I started my company, Metrokane.
Tell our readers more about Metrokane and how it started?
Metrokane specialized in home kitchen items like juicers, pepper mills and tea kettles. I started with the Mighty OJ Juicer which I discovered when traveling in Mexico. Working from my apartment, I was quickly selling to retailers like Crate & Barrel, Bloomingdale's, Macy's, Neiman Marcus and others. In 1999 Metrokane launched The Rabbit Corkscrew which took off like gangbusters becoming an instant hit across the U.S. We sold to every major retailer large and small. It was my timing that was so right, because back then people were just starting to appreciate wine.
During those years I traveled to our factories in Asia frequently with my husband, Bob Larimer. He had sold his business in advertising to join me at Metrokane and together we built the company. We had a spectacular 31-year run.
What made you think of becoming a theater producer?
My husband passed away soon after Metrokane was sold in 2014. At that point, I decided to get involved in theater through my friend Barbara Freitag, who was co-producer of Memphis in London. The London production of Memphis kicked off my career in theater.
Memphis in London provided a great learning experience for me. It was at the opening night party where I met Steven Levy, proprietor of the Charing Cross Theatre. I held on to his card and called him eight years later to ask if he would consider my show Cagney for his theater. His response was positive, and the opening is now scheduled for May 2023 at his theater.
My investment choices are often based on relationships with people who have supported my projects or with people I've worked with. For example, I recently invested in the Billy Crystal show, Mr. Saturday Night. Why? It's partly because my director for Cagney is also the director of the Billy Crystal show. I also happen to be a big fan of Billy and believe the show will be successful.
Another example is Funny Girl. Adam Blanchay (one of the co-producers) attended my Cagney workshop in London and is interested in getting involved. Hopefully he will help us to get investors.
The decision to choose a project is based upon a combination of how much the material appeals to me and the level of my relationship with the people involved.
Now tell us more about your latest, Top of The World: The James Cagney Musical.
It was a big hit Off Broadway at the Westside Theater: it ran to a sold-out audience for 15 months. It's the story of the legendary James Cagney and his love-hate relationship with Jack Warner. Warner wanted to him to be a gangster and a thug. Cagney wanted to be a song-and-dance man.
My show is the story of how he grew up on the Lower East Side. He loved people and cared passionately about the little guy. His father died when he was young forcing him to find work to help support the family. Cagney always loved to perform, and his mother knew it. She encouraged him. He landed a job on Broadway to great reviews and when Hollywood film producer Jack Warner needed a new actor, he asked who happened to be the hottest on Broadway.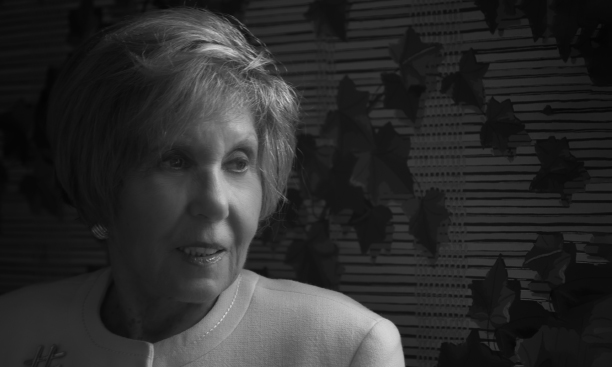 Jimmy Cagney, of course. From then on it was Hollywood and stardom. But it was Jack Warner who presented the real tension in this volatile relationship. The actor portraying Cagney is Bobby Creighton who amazingly looks so much like him. He studied the legendary actor and song-and-dance man with extensive research into capturing his essence.
I love this show because it is a compelling story of a great American icon. The music is a combination of original as well as famous George M. Cohan songs. The choreography by Josh Bergasse is incredible featuring amazing ensemble tap dancing.
An influential force in my show about Jimmy Cagney is my co-producer, Kate Edelman Johnson. Kate's father, the late Lew Edelman, wrote and produced 14 Jimmy Cagney movies including White Heat which is very much part of our story. Kate has become a great teammate and a vital part of our show.
We hear there are some other new projects in the offing. Can you share them with us? 
There are a several reading presentations I've seen recently that may interest me for the future. One is a new revival of Pal Joey produced by Jeffrey Richards. The other is The Ed Sullivan Show—Toast of the Town I recently saw at a workshop. I may be interested in getting involved because it tells the remarkable story of his career in television; his bumps in the road and how he overcame them. He was a TV pioneer. It reminds me of Cagney because it combines a compelling story of an American legend with great familiar music.
There's also my Irving Berlin show, Cheek to Cheek, which focuses on Berlin's career in the movies. Directed by Randy Skinner, Cheek to Cheek is a song-and-dance show with a terrific book by Barry Kleinbort. We ran in December 2021, but thanks to COVID, we lost several performances. Now because of great reviews and amazing audience response, I feel compelled to bring it back. We are opening September 5th and running for six weeks at the Theatre at St. Jean's on Lexington Avenue (between 75th and 76th). Tickets will be available starting in August at The York Theatre Company (yorktheatrecompany.org; 212-935-5820).
In addition, I'm looking forward to the opening of a new revival of 42nd Street (only 20 in the cast) directed and choreographed by Randy Skinner. Opening in the Fall at the Goodspeed Opera House in Connecticut (goodspeed.org; 860-873-8668). The lead producer is my pal Richard Winkler and I'm co-producer of this show.

Tell us about your association with The York Theatre in Manhattan and Bay Street in The Hamptons. 
I'm Vice President of the Board of Directors of The York Theatre in Manhattan and a trustee at Bay Street Theater in The Hamptons. At The York we focus on original musicals and revivals of musicals that are less known. We have a great creative team with Jim Morgan as Artistic Director at the helm and Evans Haile as Executive Director.
We are in the process of searching for a permanent home for our theater in Manhattan. Our home for 30 years has been on the Upper East Side but now it may be time to relocate to the West Side. Wherever we are, I feel The York truly appreciates my contribution on both the creative and financial levels
As for Bay Street in Sag Harbor, it has also been an important part of my theatrical life. Our Artistic Director, Scott Schwartz, focuses on unique plays during the season and one classical musical at summers end. Tracy Mitchell, our Executive Director, recently raised a substantial sum to purchase property and construct a new theater diagonally across from our current location. We anticipate a 299-seat main theater. In addition, the plan is to construct an adjoining 99-seat developmental theater, The Larimer Theater. The comprehensive new design is magnificent, and I am thrilled to be part of it with my husband's name as a legacy.
Finally, how do you see Broadway in the next five years?
It will take some time before Broadway is back 100 percent to where it was. But it will happen.
We're on our way.