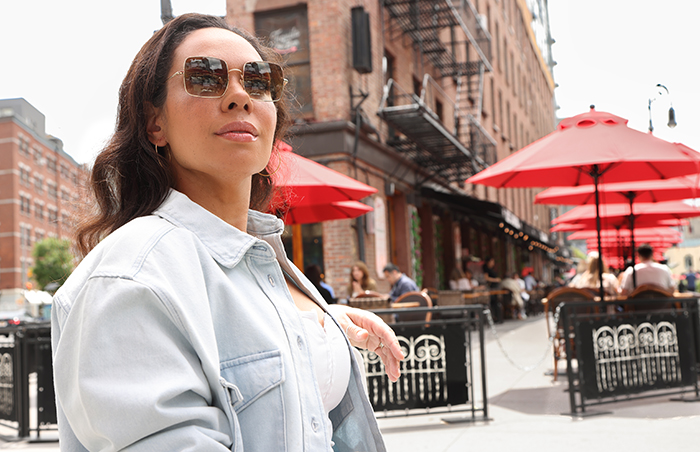 A VISIT WITH EXECUTIVE CHEF ARIEL FOX
Celebrating A Fabulous, Beautiful, Vibrant Life
By Patricia Canole | Photography by Neil J. Tandy | Hair & Makeup by Jane Rodriguez
It wasn't long ago that award-winning chef and winner of Hell's Kitchen All Stars Ariel Fox made a life-changing decision to begin embracing a healthier lifestyle. Her determination to combine her talents as a chef and her passion for fresh, seasonal ingredients accented with the recipes of her childhood. The result: Her first cookbook, Spice Kitchen: Healthy Latin & Caribbean Cuisine (Kingston Imperial) to be launched on August 23rd.
The lovely Vice President of Culinary for Landry's, the parent company of Dos Caminos and Del Friscos, where she is Concept Executive Chef emphasized her passion for changing the culinary culture. She wants to provide a healthier approach for those who want to integrate the recipes of their youth into our fitness-obsessed world. It's also a way to expose children to rich familial history and other cultural heritages. 
With a foreword by Gordon Ramsay, Spice Kitchen: Healthy Latin & Caribbean Cuisine is filled with pages of creative new recipes that are easy to follow. So, if you've not experienced her recipes at Dos Caminos and
Del Friscos, this is undoubtedly a great way to bring it home. The chef shares her decades of knowledge and experience throughout the cookbook, providing helpful suggestions on how the dishes can be adapted to any diet. She even recommends the best ingredients to keep on hand when making Latin and Caribbean cuisine a staple of your kitchen.
"I try to buy the cleanest foods possible, and when in doubt, fresh is usually the best. I stay away from poorly processed foods, and most of these ingredients can be found in the grocery store," she said. She believes it's essential to eat foods high in nutritional value that can be your first defense in avoiding heart disease, high blood pressure, diabetes, and other chronic ailments. Ariel suggests some items are easier to find online or in your local ethnic markets. And today, nothing is more than a click away. Good cooking harnesses the ability to maximize flavor with balance, delivering compatible flavors that awaken the taste buds. What I love most about the cuisines of my heritage is the combinations of ingredients almost always harmonize the four basic tastes: sweet, salty, sour, and bitter. 
Most importantly, the recipes have been written using versions that combine the authenticity of the flavors and traditions that may open a whole new world for you. So it's a great time to experiment with these healthier variations—making Latin and Caribbean cuisine finally become a staple of your kitchen.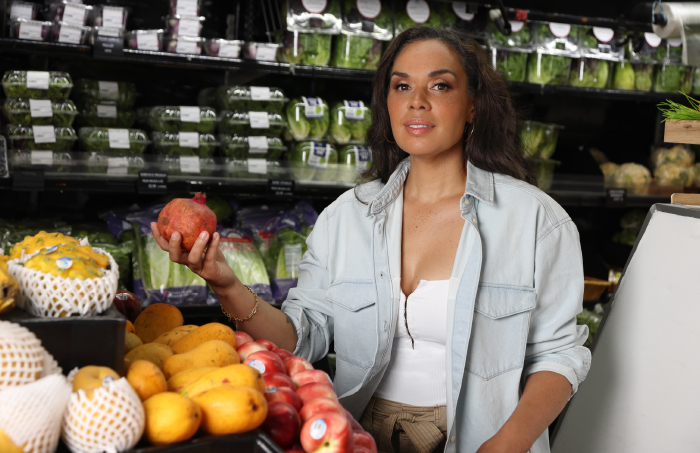 IN THE BEGINNING
Ariel's culinary philosophy stems back to her teenage years in Northern California, where she spent some time working for the small, family-run Mariquita Farm in Watsonville. Here, the teenager was introduced to sustainable food movement pioneer Alice Waters, a local restaurateur and frequent customer of the San Francisco Farmers Market.
Waters sparked Ariel's profound appreciation for organic agriculture and seasonal food. And this inspired Ariel to enter the California School of Culinary Arts Le Cordon Bleu Le Grand Diplôme Program—the institute's most comprehensive program in French culinary education. As a result, she's never lost that passion for fresh, seasonal ingredients—which remains the cornerstone of her celebrated cuisine.
Years later, Ariel's talents landed her in front of world-renowned chef Gordon Ramsey as a contestant on the sixth season of the hit FOX series, Hell's Kitchen. After coming in a heartbreaking third place that season, she took that drive with her back into the kitchen, and it paid off ever since! Ariel returned to the competition show—and won!
We wanted to know more about the gifted chef who has carved a place in the New York restaurant scene.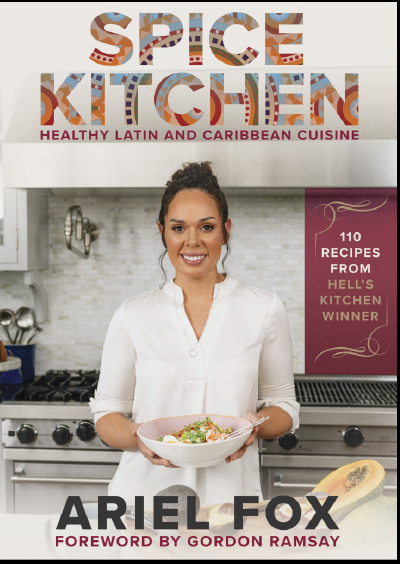 What inspired you to turn to a career in cooking?
I grew up in Santa Cruz, California, in the Monterey Bay, where California farming was all around me. My family also loved to travel, thus experiencing different foods very young. Since my parents both worked late, we often ate dinner at restaurants.
I didn't realize this at the time, but that was not the norm for most families. So, I had a respect for restaurants that most children didn't have. But it wasn't until I started working on an organic farm in high school that I truly fell in love with food. While working there at the source, digging and picking, and eventually selling the produce at the Farmers Market, I understood the magic of food. And of course, my grandmother and mother were both excellent home cooks!
Tell us about your first experience in a professional kitchen.
My first experience in a real professional kitchen was just out of culinary school, where I landed my first gig at Globe, Venice Beach. It was here that I learned to shuck oysters. This was my very first task, and I did it every day, all day. It was painful, and it was endless. But it taught me so much. I got faster and faster and could do it without breaking the shells. Eventually, I became a master at it! Then I moved on to making pasta daily, bread, and so on.
Competing in Hell's Kitchen must have been challenging.
What was the hardest part of being a contestant chef?
The hardest part for me was trying to outdo myself while trying to do something I'd never done before. I didn't play it safe and didn't second guess myself—especially with other competitors around me. I just tuned them out and stayed on track to focus. My motto: Commit to something and don't change your mind.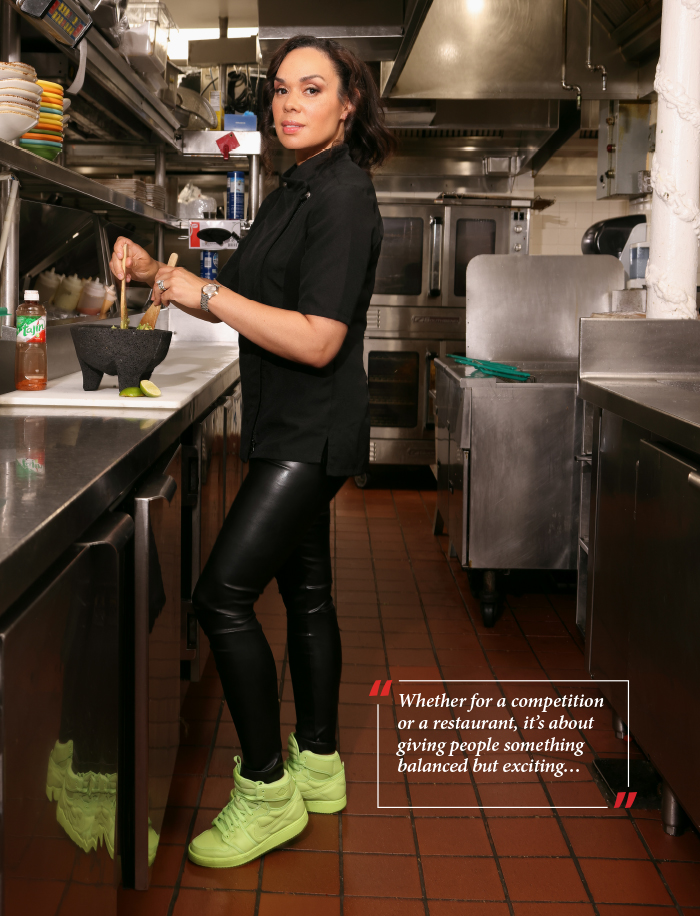 Now that you continue to amaze New Yorkers and visitors with your fabulous dishes at Dos Caminos and Del Friscos tell us what it takes to pull together a winning menu? 
Whether for a competition or a restaurant, it's about giving people something balanced but exciting. There must be something comfortable and familiar to keep them grounded. But there also must be something new and different that keeps them intrigued. If you can live on that edge of what people know and what they may have never seen or thought of, you will keep your guests happy and coming back. Eating should feel wild and comfortable all at once!
Which recipe in your cookbook do you make the most?
It would be breakfast; it's a meal I enjoy. I enjoy it even more on the weekends when I have enough time to eat with the kids.
What's the one ingredient you would not live without?
It's such a toss-up, but a grain of good flaky sea salt is paramount for me. I can take anything—whether it's half of an avocado, a slice of Sashimi, anything—I can eat anything with a little bit of flake salt on it and be happy.
What is your favorite traditional dish to prepare at home?
Pozole's my favorite. Friends and family come to my house when they hear I'm making my pozole and turn it into pozole parties. I make it in this massive pot—I started making it on the grill in this big, hot pot. You've got all these toppings and shredded vegetables—you can put anything you want on it. I love the messiness of it. Everyone grabs a bowl and starts throwing stuff in there, and I like that its family-style.
Your first cookbook, Spice Kitchen: Healthy Latin and Caribbean Cuisine, took years to imagine. How does it feel?
I've been creating all my life from my heritage. I've been given some healthier options for enjoying them and still feeling good, clean, and healthy. I want people to understand that this is a celebration of ethnicity, heritage, and women through generations. This is my mom. This is my grandmother. This is my great-grandmother.
This book is a triumph. You can feel fabulous. You can feel beautiful. You can feel healthy, vibrant, and alive, but you can also embrace who you are where you are from. 
I call it a celebration!