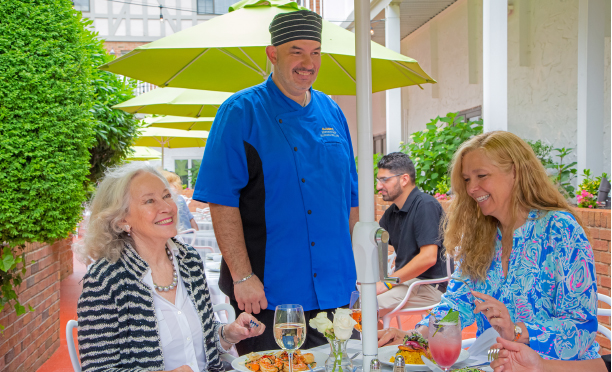 Claude's Restaurant
What's Old is New Again
By Michael Alpiner | Photography by Marsin Mogielski
As travelers are taking to the roads again in near pre-pandemic numbers, one of the most popular destinations is Southampton, Long Island, and one of the most popular places to stay there is Southampton Inn. The Inn rests on five acres at the heart of Southampton, a convenient two hours from New York City.
With ninety guest rooms of which sixteen are pet friendly, the Southampton Inn can welcome an ample number of eager travelers yet still maintain a homespun, cozy atmosphere. The Inn boasts European styling and décor, classic comfort, cleanliness via UVC sanitizing lights in each guest room as well as for restaurant disinfection, mindful guest room amenities and, of course, a pool and tennis. Owner Dede Gotthelf, who has provided a sense of continuity for the Inn for twenty-four years, seeing the Inn as an icon and beacon within a community renowned for its quaint beauty, is enthusiastic to elevate Claude's Restaurant from a breakfast and lunch establishment into an expanded culinary experience.
Because of a resurgence of demand for weddings, meetings, corporate events and fundraisers, Dede made the decision to bring in the superb chef with phenomenal experience in high-end dining. Giancarlo Delanzzo, the new Executive Chef, who studied his craft in Italy, has elevated the cuisine and dining experience through inspiration from some of the most iconic New York City eateries. The menu selections include mostly locally sourced ingredients. Dede explains, "The fish comes from the docks of Montauk, the meat from western Long Island, many items from local farms, including the heirloom tomatoes." One of the many new items on the menu is the Jumbo shrimp in aged cognac with pearl vegetable couscous, fried leeks, and creamy shrimp sauce. Another favorite is the pan seared filet mignon pink peppercorn, served with potato and garlic broccolini.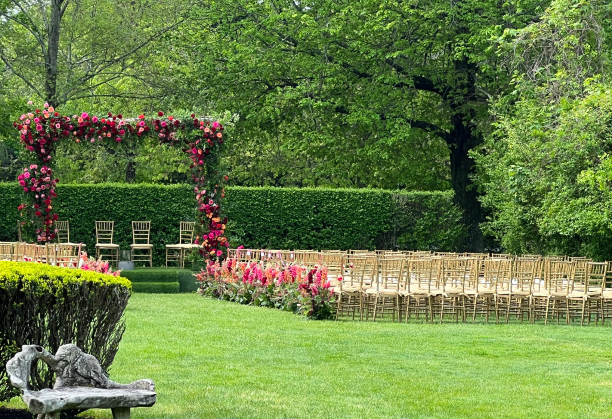 The numerous vegetarian offerings include the Athena and local beet salads, daily risottos and pastas. Finish the meal with Chef Giancarlo's own ricotta doughnuts in his caramel, chocolate, and cream dipping sauces for true gustatory indulgence. Along with the attractive menu selections, comes the concept of offering high end cuisine with reasonable price points.
A WELCOMING AMBIANCE
In addition to a staff and kitchen update, Claude's aesthetics, both inside and out, with new décor, flora, picnic tables, lighting, and the total look of the grounds, combine to create a warm and welcoming ambiance. Heaters and fire pits are available for outdoor dining, leaving ample room for well-spaced table seating for appropriate social distancing. Chef Giancarlo not only brings culinary aplomb to Claude's, but he also brings vendors he has known, and in collaboration with Dede, he is able to curate the menu based upon the collected preferences of the guests to Southampton Inn over the years.
Claude's is open daily for breakfast 7:00 am to 11:00 am; lunch 12:00 pm to 4:00 pm; weekend brunch 11:00 am to 4:00 pm; and dinner Thursday to Monday 5:00 pm to 9:00 pm. Claude's will offer not only their award-winning menu items, but also some live music, and a Pianofest for the Fourth of July featuring music performances and a revised menu with classical music-themed dishes aptly named Beethoven Beef, Porky and Bass, and Debussy desserts. "In its 50-year history," Dede explains, "Over 75 percent of our leisure guests and corporate groups return annually.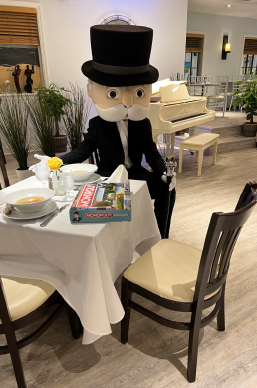 The recent food and beverage changes are still evolving to fine tune the expectations of hotel guests and community."
The property offers a plethora of backgrounds for wedding album as well as Instagram photos. In keeping with the 24-year history of the Inn, the events can be tailored to any budget. Menus and other arrangements can be custom made for the individual needs of the guests, be it the food and beverages, table accessories, or even having a bride and groom's dog escort them down the aisle—which has been arranged.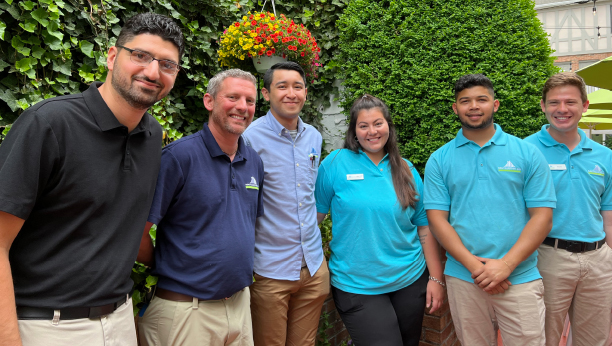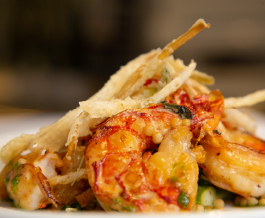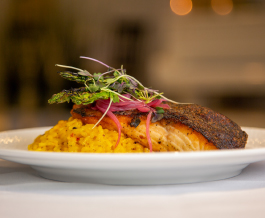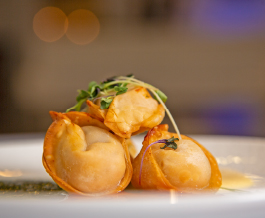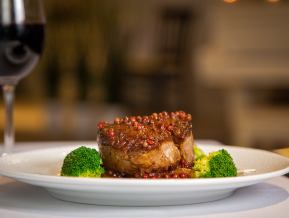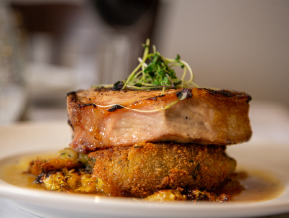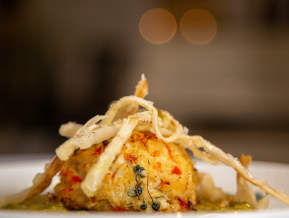 INDOOR/OUTDOOR Activities
The on- and off-site activities are well-suited to keep visitor's itineraries robust. A manicured and expansive lawn is the perfect spot for catching up with one's reading, especially if it is a book by John Steinbeck or James Fennimore Cooper, both of whom resided for a time in nearby Sag Harbor. An art gallery and library are on-site to augment the erudite aesthetic with openings, book launchings and poetry readings. Tennis court, bicycles, easy beach access and a pool are available as well for those guests who prefer the luxury of physical leisure.
In addition, the new Monolopy the Hamptons Edition features Southampton Inn (pivoting from Park Place in the original game). Keeping with the retro vibe, the Inn provides tabletop board games for those rainy days or winter chills. When weather allows, guests can enjoy lawn games, such as giant Connect Four, horseshoes, relay races, shuffleboard, hopscotch and croquet. A favorite corporate guest team-building activity is a scavenger hunt which begins at the Inn and culminates at the Southampton History Museum, emphasizing Dede's belief, that "what is old is new again."
From writers to designers to bankers to entertainment celebrities, the historic village of Southampton has attracted the elite as both visitors and lifelong residents. The East End of Long Island is an all-season destination for families seeking a nautical themed vacation, couples immersed in romance with a salty sea landscape, businesspeople with a taste for leisure and anyone who appreciates the serene symphonies of the Atlantic Ocean waves.
For more information on Southampton Inn,
visit southamptoninn.com