Like "jumbo shrimp," two words that seem out of place next to each other are conservative and conservationist. Yet they're the exact terms to describe Andy Sabin who may be changing the modern definition of what it means to be a Republican.
Sabin is a highly visible and outspoken East End Republican kingmaker whose Sabin Metal Corporation, the world's largest, privately-owned precious metal refining company, has earned him a fortune. His Rolodex is a who's who of America's most influential leaders. But Sabin reserves his support for climate-minded leaders. For Sabin, the only responsible leaders are those that protect the earth for future generations. Says Sabin, "the climate crisis supersedes everything because without our planet, what else is there?"
Sabin is the chairman of Conserve America, a conservative conservation group as well as the Roosevelt Conservation Caucus, a group of 11 Republican senators and 11 Democratic senators who share his values on environmental responsibility.
Sabin has hosted countless GOP luminaries in The Hamptons, and observes, "When they come to the East End, they're amazed at the amount of protected open space. In East Hampton, we've been able to designate 38 percent of the town's open land as permanent conservation. It's an accomplishment I'm very proud of," Sabin says. "They're also impressed to learn what we are doing for the ocean with initiatives like sustainable fishing."
CONSERVE TO PRESERVE
Sabin resides in Amagansett year-round with his family. He's helped fund and develop the East Hampton YMCA and is a co-founder and president of the South Fork Natural History Museum, which funds conservation education.
The SOFO Natural History Museum will hold its 33rd Annual Summer Gala Benefit on Saturday, August 6th. The museum has grown from a small nature clubhouse to an acclaimed state-of-the-art museum boasting outstanding nature exhibits and over 270 annual educational programs ranging from environmental stewardship and community outreach to climate change, sustainable energy and marine science.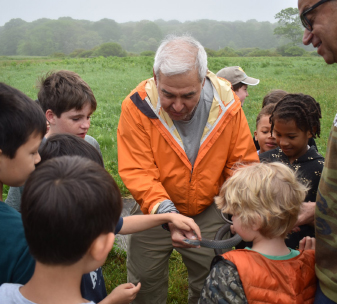 "One of my favorite things in life is to take young people into the field, to hike in the woods and see the smile on their face when they see the beauty of nature. I've been fortunate enough to take over 100 underprivileged kids and their families into the forest and can think of nothing better than inspiring the next generation to save the planet," Sabin says.
Sabin's environmental expeditions have taken him to hundreds of countries around the globe. Along the way, he's been involved in the discovery of numerous new species. He has more than 14 bearing his name and Sabin admits to having a particular affinity for reptiles and amphibians, including the Peruvian frog (aka the Sabin Glass Frog), the 7000th identified amphibian species. Most recently, Sabin's name has also been attached to a dwarf lemur and a new shark species found in Madagascar.
All in all, this billionaire who recently celebrated his 75th birthday at New York's Museum of Natural History says, "I don't want to be the richest man in the cemetery. I'm on Earth to save lives and the planet." He adds that if he could choose a single word to define him, it would be compassionate. He explains his philosophy: My favorite saying is every day above ground is a good day. "I give out thousands of bracelets for people to wear as a reminder that when they wake up in the morning, they're blessed. Just be thankful that you woke up and you're healthy,"
Sabin has put his money where his mouth is, with his philanthropy extending beyond the natural world. Sabin has funded cancer research at Sloan Kettering and underwritten the development of the M.D. Anderson Care Center at the University of Texas. He recently completed a cardiac research center and men's wellness center at Columbia-Presbyterian. He has also contributed to efforts to provide countless women access to essential healthcare in Kenya and Tanzania.
And Sabin says he's far from finished, "I don't care if I die poor, just so long as I have done something to save lives and protect the planet."