CINDY ALTER
There Is No Substitute For This Talented Musician
By Patricia Canole | Photography by Neil J. Tandy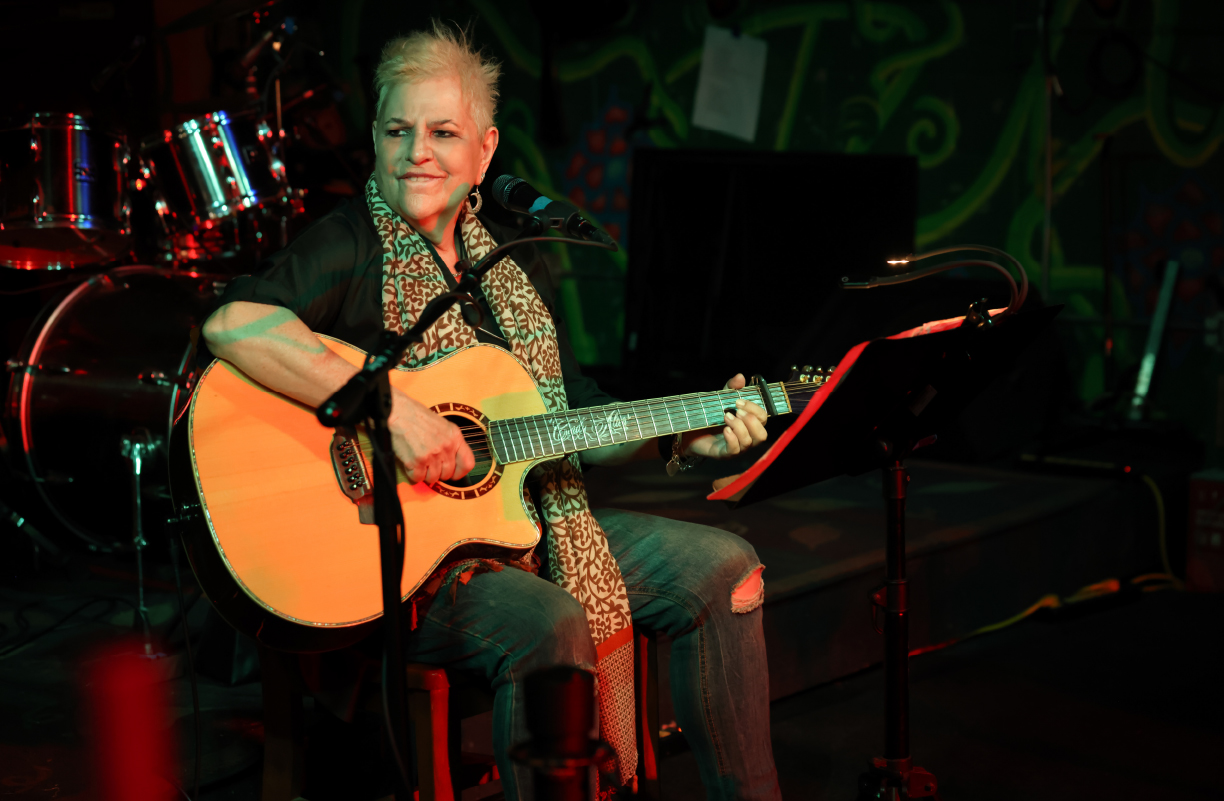 For Cindy Alter, the legendary South African musician who shot to global fame in the '80s and '90s, she'll always tell you that it was "music that chose her." Born into a musical family, it was only natural for this 10-year-old to pick up a guitar and start writing songs. Eventually, she joined a local band playing everything from Grand Funk to Led Zeppelin. 
The following years were spent touring South Africa, opening for various acts, until 1977. Then, Cindy found herself auditioning for an all-girl band and was suddenly catapulted into the world of pop stardom, constant touring and recording, playing huge concert arenas in South Africa and Europe. This was the beginning of her band, Clout.
APPLAUSE & AWARDS
The band she spearheaded sold over ten million albums worldwide and garnered gold records and SARIE Awards (South Africa's equivalent to the Grammy). It also paved the way for Clout to become number one across Europe and South Africa, number two in the UK, and even made inroads into the hot US market, making Billboard's Top 100 with their signature "Substitute."
For the next four years, Clout toured Europe sharing the stage with top recording artists of the time: The Police, Supertramp, Dire Straits, Blondie, and Gloria Gaynor, to name a few. Cindy continued writing songs, two of which were successfully recorded by Clout. However, her desire and effort to contribute more were met with an indifference which marked the start of the band's painful struggle to secure royalties from their management and record companies. This and personal struggles took a toll, and after four incredible years on the road, Clout disbanded.
It didn't stop Cindy. She joined forces with local musicians and formed another band, Cyndicate. Her mission was to write and record original material. And although she was in the driver's seat and traveled to the US to record, she knew it was time to take a personal break to reassess her life and goals.
With music in her DNA, it didn't take long for this singer to start up yet another band, which evolved into Zia, during the politically-charged time in South Africa. The band was multi-racial playing pop/rock songs. Zia had a few radio hits (most written by Cindy) and toured the country, then broke into France opening for The Bee Gees. They were offered the opening act on The Bee Gees US tour.
TIME TO MOVE ON
It seemed like this band too was doomed to fail due to bad management and no record company support. Cindy decided to move on, fueled by a life-long desire of living in LA. There, she found fulfillment stretching her musical abilities beyond her wildest dreams, co-producing, writing, and independently releasing two solo CDs, Silver Moon and Dark Heart. In addition, Cindy became active in the local songwriter community, playing the famous clubs.
In 2002, Cindy was approached by a South African agent who suggested she reunite with Clout. She thought that after 20 years apart, it would be good karma for the band to play together in a relaxed atmosphere. Two months before her departure to South Africa, Cindy did a short tour in Nashville and was even inspired to move to Music City. But life threw her a curveball with a diagnosis of Acute Myelogenous Leukemia. She was admitted to hospital immediately for intense chemotherapy treatments. It was just the beginning of the long road back to health, and after undergoing a stem cell bone marrow transplant in California, Cindy felt strong enough to make new plans.
For most of this time, Cindy spent time in and out of hospital. However, it never crushed her spirit or her passion for music; it only enhanced her desire to continue with music. Her guitar was always with her, and the songs flowed. A few shows here and there during treatment kept her soul alive and strong, and when she felt renewed and revitalized, Cindy decided to move back to South Africa, reunite with Clout, and do the shows she was meant to do a year before. Also, returning to her roots felt like an integral part of the healing process. Leaving LA was heartbreaking for Cindy. She left a marriage, her sister, niece, and many friends. Then, in 2005 Clout recorded a new CD and toured South Africa. This was a more meaningful experience, and the band played purely and simply because they loved music.
IN HER OWN WORDS
We recently caught up with Cindy in Nashville, who gave us a more insightful look into her life. Here's what we discovered.
Who/what inspired you to be a part of the music industry?
I grew up with music around me. My mother was a piano teacher, and my dad played the ukulele and harmonica. We had tons of 78 records. Music was always playing in the house and in our housekeeper's room, where I discovered a love for African music. So, music became my muse when I was a young child.
What is the story behind your band's name, Clout?
The word "clout" has a few meanings: "She's got clout" means she's got power. In South Africa, people would often say, "I'll give you a clout," which meant I would slap you.
Do you have favorite musicians you most admire?
I have admired many musicians in my years of loving music, and I swear, I could not choose just one. I look at people like Bonnie Raitt, her longevity in the industry; Patti Smith, her quirky style; Sting, a consummate musician; songwriter. Then there are Jackson Brown, Vince Gill, and Ann Wilson from Heart. The list goes on.
How do you manage working gigs into the early hours?
I think it's just years of doing something over and over; it gets to be a ritual, a usual way of life. I always keep fit, I try to sleep at least 9 or 10 hours a day when I'm on tour, and as I say, it's my body clock, which is used to this way of life. I struggle to sleep when I'm not working.
What is the biggest problem you have encountered in this journey?
I have definitely "suffered for my art," I've always just had enough money to go round, never more. So, I guess giving yourself over so completely to your love of something means giving up some things in life. If you measure success in monetary value, has Cindy been successful? No. But if you measure it in other ways, I say she has been remarkably successful. She has sustained a career for over 45 years, still singing, writing, producing, doing what she loves, and following her passion. I guess to me, that is a success.
If you could change one thing in the music industry, what would it be?
I would get rid of auto-tune! Of course, if you can't sing in tune, you shouldn't be faking it, but things have changed. Today, some singers get the proper marketing, and boom—they're a star. But, unfortunately, there's a lot of "fixing it in the mix." I value true talent, honesty, and purity of voice and instrument. I will be shot for saying this.
Tell us about any new recordings.
I recently wrote new songs with a fabulous songwriter here in Nashville. I will record one in the next few weeks. I'm feeling different here. I am keen to hear what comes out of my writing now that I'm finally in Nashville.
What are your plans for the remainder of 2022?
I want to get into my new life in Nashville. I hope it leads me to where I want to be, writing and publishing my music and having other artists record it. I hope to mentor some young artists. I love that.