DOWN MEXICO WAY
Dip Your Toes Into Luxury
By Erica Williams
Mexico's Los Cabos—a magical beach-meets-desert-meets-mountains destination- comprises two towns, Cabo San Lucas and San José Del Cabo. The area is hotter than ever, and for once, it has nothing to do with global warming. Instead, this peninsular paradise, long beloved by Hollywood A-listers, is finding new fans thanks to an influx of a flourishing food scene, great weather, an increasing number of direct flights from the U.S., and plenty of exciting ways to create memories.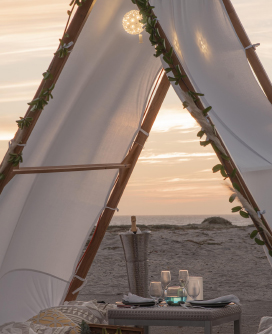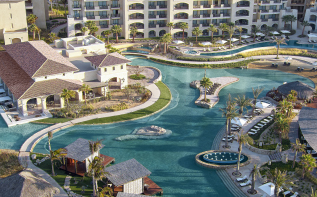 HEAVENLY HAVEN
So, if you've decided on a Mexican getaway, book your dream trip at the Grand Solmar at Rancho San Lucas in Cabo San Lucas. Perched at the southernmost tip of the Baja Peninsula, a mere 15 minutes from downtown Cabo, the resort is the ideal way to get back in the traveling waters.
You can do this quite literally at the Grand Solmar. Each suite has impressive ocean views. There are four pools (including an adult-only), six Jacuzzis, and a mini waterpark with two waterslides and a rope swing—a saltwater lagoon with paddle boarding and kayaking that winds throughout the property. Private Balinese-style cabanas are available for sunbathing and dining surrounding the lagoon area. In addition, guests can book the Luxury Balinese Dinner, which includes a private server and a gourmet candlelit, four-course meal accompanied by a bottle of wine selected by the resident sommelier. The new Glam Picnic by the Sea experience is complete with a lantern-lit walkway, decorated arch, throw pillows and blankets, hors d'oeuvres, and wine or Champagne (live music is additional).
DINING DELIGHTS
The hotel boasts several bars and restaurants, including Anica, the signature restaurant with an international menu highlighting freshly caught seafood, homemade bread, and contemporary Mexican flavors. IIn addition, Bacari is a theme-night restaurant offering different menus on certain nights. Picaro, the farm-to-table style Italian restaurant, serves dishes with organic produce from locally sourced farms; and Aqua Grill & Bar offers alfresco dining with salads, wraps, sushi creations, a unique hamburger menu and low-fat smoothies made with locally sourced fruit and vegetables. In addition, the Lagoon Bar is a casual, outdoor option with a decent-size menu and hand-crafted tropical cocktails. Finally, if you feel like eating lighter, Deli Café, located by the lobby, serves freshly made coffee, crisp salads, sandwiches, and wraps.
THE SPORTING LIFE
Test your mettle on the greens at the Greg Norman-designed golf course. The versatile 7,210 yard par-72 layout parallels the sea and will give players fine views of breaching whales during the winter months.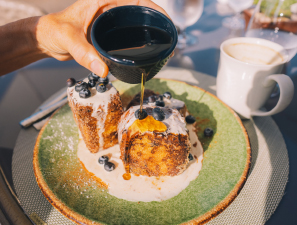 SPA SENSATION
If swimming, golfing, and eating prove a little exhausting, Grand Solmar has a fantastic luxury seaside spa with private beachfront cabanas just steps from the Pacific. The menu includes treatments that pay tribute to the Cochimies, a tribe native to Baja California Sur. In addition, the hotel just launched a new Wellness Retreat package that includes luxury bath salts, vegan appetizers, a vegan cooking class; an outdoor yoga class overlooking the ocean, a prerecorded yoga class to practice in-room as well as the massage of your choice at 20 percent off.

SPA SENSATION
If swimming, golfing, and eating prove a little exhausting, Grand Solmar has a fantastic luxury seaside spa with private beachfront cabanas just steps from the Pacific. The menu includes treatments that pay tribute to the Cochimies, a tribe native to Baja California Sur. In addition, the hotel just launched a new Wellness Retreat package that includes luxury bath salts, vegan appetizers, a vegan cooking class; an outdoor yoga class overlooking the ocean, a prerecorded yoga class to practice in-room as well as the massage of your choice at 20 percent off.
 
HOME, SWEET HOME
Some guests love the area so much that they want to stay. Luckily, there are The Residences at Rancho San Lucas, just up the hill from the hotel. The property, designed in a contemporary style reminiscent of old Midwestern farms with a ranch-feel, includes 35 one-, two- and three-bedroom homes. Each unit has ceramic and marble tile, natural wood finishes and beams, wrought iron lighting, and antique and bronze coatings on doors and cabinets.  
 
If you're craving a little nightlife, there's a complimentary shuttle service to the sister property, Grand Solmar Land's End Resort and Spa, in downtown Cabo. So, stay for dinner and a stroll around town, and grab the shuttle back.
 
For more information on Grand Solmar Resort,  visit: grandsolmarresort.com