WEEKEND GETAWAY TO CLEARWATER
Something For Everyone
By Darren Paltrowitz | Photos By Scott Cuollo
Situated on the Gulf of Mexico, Clearwater is widely viewed as the crown jewel of the greater Tampa Bay area. From its sugar-white sands spread over dozens of miles of beach to local festivals and sporting events to the exact sorts of things one would expect from a city with more than 100,000 people, Clearwater is a year-round destination for many. So close to Tampa International and St. Petersburg/Clearwater International Airport alike, Clearwater itself is 20-something miles from Tampa, around 100 miles from Orlando and Kissimmee, and a little over 150 miles from Daytona and Gainesville. It is the sort of destination you can easily pair with a family trip to Disney while still being more than sufficient for a stand-alone journey.
STAY
One of the more dynamic places in Clearwater is the Hyatt Regency Clearwater Beach Resort And Spa. Located just steps from Pier 60 and the Gulf Of Mexico, the Hyatt Regency Clearwater has 287 guest rooms—256 suites—all of which have a kitchenette or full kitchen. Located off Clearwater Beach, the view from the hotel's 8th-floor pool deck is hard to top. In addition, its 24-hour Hyatt StayFit Gym, located one level below the pool, has a view that will make exercising seem like less of a chore.
The resort's SHOR serves three meals daily and has a casual dress code. Other dining options on-site at the hotel include the sandwich and appetizer-heavy Swim Bar & Grill, the Tropico Rooftop Cantina, and Off SHOR. As a bonus, the hotel has put out snacks by the pool each afternoon.
PLAY
If museums and cultural destinations are your scenes, you will start with the Clearwater Marine Aquarium. It is near to the Clearwater Historical Society's headquarters, which also houses the Plumb House Museum.
Centrally located within the Downtown Clearwater area is The Capitol Theatre, as managed by the team behind Ruth Eckerd Hall. Beyond hosting national tours of top Broadway plays, its 2022 calendar has included Travis Tritt, Van Morrison, Alice Cooper, George Benson, and Diana Krall. The intimate venue initially operated as a vaudeville theater in the 1920s.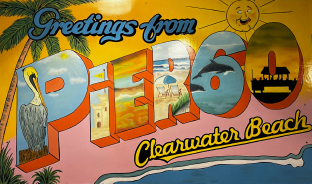 Coachman Park, located along the waterfront of downtown Clearwater, is regularly the site of concerts and some of those earlier-mentioned festivals. It is also home to the Clearwater Harbor Marina. Biking and walking trails—also accessible for joggers, runners, skaters, and cyclists—can also be found elsewhere in the city, including the Ream Wilson Clearwater Trail, the Courtney Campbell Trail, the Pinellas Trail, and the Duke Energy Trail.
Clearwater's further unique and breathtaking is how much of the city is on or around the beach. Separated from the mainland of Downtown Clearwater is Caladesi Island State Park. Caladesi Island is primarily accessible by boat or ferry, a pristine barrier island, yet it is also accessible by foot, as it can be walked to via Clearwater Beach Island. The beach of Caladesi Island—which permits boating, kayaking, fishing, snorkeling, and all sorts of other outdoor recreational activities—has regularly been ranked as one of the nation's top beaches by Stephen Parker Leatherman, "Dr. Beach" himself.
EAT Off-property from the Hyatt Regency, Frenchy's has multiple locations in Clearwater, each serving its world-famous grouper nuggets. Crabby's is another open-air local chain famous for its "laid-back seafood." Jimmy's Crow's Nest is a popular spot for cocktails, thanks to its 360-degree rooftop bar, with several sister locations. Caddy's On The Beach is a beachfront cafe where you can look out at natural beauty while enjoying comforting pub fare. Finally, the Island Way Grill is a popular waterfront spot for the Clearwater Memorial Causeway brunch.
Back on the mainland of Clearwater, the Big Storm Brewing Co. is a popular spot for craft beer, house-made coffee, and ice cream alike. Bob Heilman's Beachcomber is a family-owned spot with over 70 years of local history and is known for its classic, Mad Men-esque vibe. Cleveland Street is an ideal destination for wining, dining, and walking around Downtown Clearwater in the evening. For more information on Clearwater, Florida,
Visit: visitclearwaterflorida.com