THE HAMPTONS
Your Guide To East End Adventures
By Irvina Lew
It's high season in The Hamptons, the alluring series of coastal communities that dot Long Island's South Fork; the fun starts about 85 miles east of Manhattan and continues eastward to Montauk, forty miles further. If you share a passion for the area's natural beauty and seaside splendor, the area's simple pleasures—like walking on a sandy beach, biking on a country road, buying fruit at a farmer's market or reading under a tree--satisfy.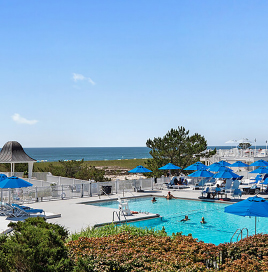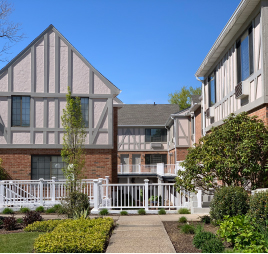 If glamourous summertime events are what lure you, attending a foundation lunch, an art opening, or a philanthropic soirée; gathering at a pool party or beach barbecue, a polo match or performance, certainly add pizazz to your visit. Fans of boating, fishing, golfing, playing tennis are in their glory, here; so are art lovers in a region that offers an extraordinary colonial heritage and a cultural legacy replete with artists, collectors and museums.
WESTHAMPTON
Westhampton Beach has a beachy, small-town, feel; the town center offers a collection of shops and restaurants, plus the extremely popular Westhampton Performing Arts Center, where you'll find amazing performances. Drive or bike the stretch along oceanfront Dune Road to Quogue, which is lined with condominium complexes and mansions on the beach, all the way to the 296-acre Cupsogue Beach County Park at the Moriches Inlet.
Best Stay: Ocean Resort at Bath & Tennis
The hotel at the Ocean Resort at Bath & Tennis is part of a condominium complex, with across-the-road access to the oceanfront beach. Some hotel rooms face the heated pool; some upper rooms view the bay. The resort offers a restaurant, fitness center and spa, with indoor and outdoor massage, a marina with jet boat & ski rental and tennis courts, and lessons.
Info: bathandtennis.com
SOUTHAMPTON
This very sophisticated walkable destination has lured artists since William Merritt Chase founded the Shinnecock Hills Summer School of Art, in 1891. The New School artists arrived mid-20th century, including Freilicher, Lichtenstein, Pollock and Rivers. Visit the Parrish Museum, in adjacent Water Mill, to see work by these and other fine artists. For local historic collections, visit the Southampton Art Center, Cultural Center, History Museum and Rogers mansion. Town folks gather at Coopers Beach—a 500-foot slice of sand and dunes—which has been lauded among America's top 10 Beaches. And, if you time it right, you can attend the annual Shinnecock Indian Powwow which continues the region's original Native American legacy with ceremonial dancing, competitive drumming, artisanal arts and crafts, sunset fire lighting, entertainment and food.
Best Stay: Southampton Inn
The 90-room retreat feels like a private club with a large, high-ceilinged library, with a piano and a game table; the lounge opens out to a large wrap-around deck, a poolside patio, swimming pool, tennis court and verdant lawns. Lovely accommodations include family and pet-friendly options all located in an estate area, within a stroll from the town's cinema, boutiques, restaurants and galleries.
Info: southamptoninn.com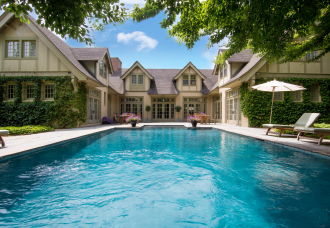 EAST HAMPTON
This pristine village—with the village pond, where cattle once grazed—retains its beauty, history and colonial character. English settlers arrived in East Hampton in 1648 and The East Hampton Historical Society maintains a range of historic properties for you to enjoy: Mulford Farm, c. 1680, Pantigo (or Home Sweet Home Mill, c. 1771) and several 18th- century windmills. Considered among America's most beautiful village, with mansions that hide behind high hedges and line the long, silky-sand oceanfront, it offers chic boutiques, art and antiques galleries, celebrated restaurants and a cinema.


Best Stay: The Baker House 1650
Nestled behind ivy-draped walls, The Baker House B&B is a 13-room masterpiece of Cotswold-inspired architecture, with hand-hewn beams and wood-paneled walls—that gentrified from its humble, mid-17th century saltbox tavern history. The interior décor is enhanced by William Morris patterns, whose Arts and Crafts spirit gives color and life. The Baker Spa features a sauna, steam shower, a Jacuzzi and an indoor pool flanked by two massage tables. Beyond the outdoor pool and gardens, the six-bedroom Baker Carriage House, offers its own outdoor pool. Info: bakerhouse1650.com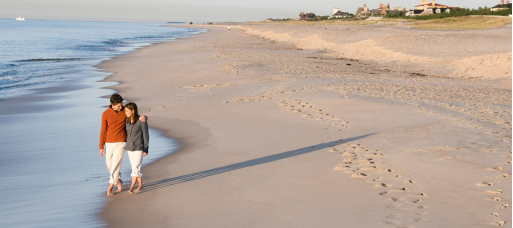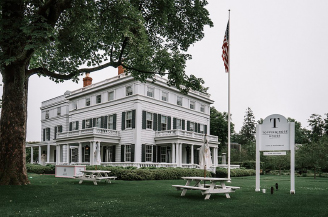 BRIDGEHAMPTON
Along with shops and restaurants on Main Street, this gracious old community with tree-line streets heading south towards the ocean, features three sites as part of the Bridgehampton Museum, including the Bridgehampton Historical Society, within Corwith House, which dates from the early 1800s. You'll appreciate the prime collection of colonial American furnishings. If you're traveling with children, take them to The Children's Museum of the East End, which provides drop-in classes, interactive exhibits and an array of events.
Best Stay: Topping Rose House
This elegant 19th-century former mansion graces the one-acre working Topping Rose Farm on a Main Street corner. Renovations and upgrades have transformed it into a luxe country inn, with chic studio, cottage and suite accommodations, fine dining, a swimming pool, the Farmaesthetics Treatments Studio that offers wellbeing treatments and a fitness program by Mivana Move. Info: toppingrosehouse.com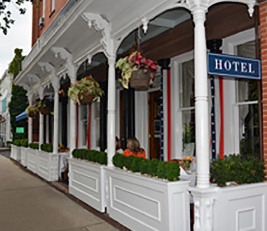 SAG HARBOR
Whaling ships once plied the deep harbor, where mega-yachts moor today and, for a brief time, Sag Harbor was the port of entry for New York. You may remember this mariner's destination as the non-Hamptony Hampton; now, shops are more gentrified; yet it retains that harbor front, small-town ambiance where narrow, homes on deep lots date back centuries. Newer homes on wooded estates overlook the harbor or a multitude of ponds. When the iconic Sag Harbor cinema—complete with its 1930s red neon sign—was destroyed by fire in 2016, the entire community—including Billy Joel, Julie Andrews and Martin Scorsese—came together to restore it.
Best Stay: American Hotel
This posh, eight-room colonial "inn" on Main Street dates to 1846 and was reborn by Ted Conklin in 1972. Visitors can watch weekenders stepping off the jitney, parents pushing strollers and old-timers chatting from the narrow front porch, enjoy Happy Hour at the bar. From here, Bay Street Theater and the Sag Harbor Cinema, are footsteps away, as are the best restaurants (downstairs, up the block and around the corner).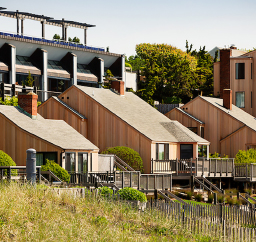 MONTAUK
Before you arrive at the must-visit, 137-step Montauk Point Lighthouse (George Washington commissioned it)—about 120 miles east of Manhattan—you will pass some of the 5,000-acres of parklands. In Montauk, you can attend performances at the Montauk Playhouse Community Center, go horseback riding at Deep Hollow Ranch, charter fishing and whale watching, golf at Montauk Downs State Park, walk miles of oceanfront beaches on the Atlantic or party at late night clubs. If you book early enough, you can even camp out at Hither Hills State Park. Carl Fisher invested in Montauk, before the 1929 crash: it's thriving, now.
Best Stay: Gurney's Resorts
Gurney's Montauk boasts a 2,000-foot, lounge-studded oceanfront beach with thirty recently revamped oceanfront guestrooms and four beachfront cottages and Gurney's Seawater Spa, an authentic Thalasso Center—with an indoor heated, Olympic-sized, ocean-fed saltwater swimming pool….Gurney's Star Island Resort & Marina purchased the 35-acre, lakefront property that was formerly the Montauk Yacht Club Resort & Marina, in 2018, and entirely renovated it into a sleek, marine-inspired retreat where some rooms have terraces located just footsteps from a small, sandy lakefront beach and views of yachts docked in the 230-slip marina. Info: gurneysresorts.com