ON THE BIG SCREEN
LAUGHIING IT UP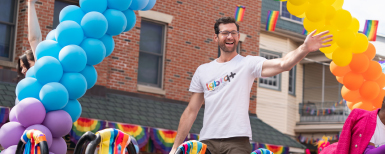 BROS
R
Put comic icons Judd Apatow (The 40-Year-Old Virgin) and Nicolas Stoller (Forgetting Sarah Marshall) together as producer and writer-director and then throw in Bill Eichner as the lead (and co-writer) and the result is Bros, a raucous gay comedy about a man who just really wants to be single. That goal is working out fine until he meets a hunk (Luke Macfarlane) who steals his heart and helps him embrace his inner reality—that he actually wants to be part of a couple.

HONK FOR JESUS. SAVE YOUR SOUL.
R
Sterling K. Brown leads the dysfunctional congregation in this sendup of Southern Baptist megachurches and their (often) criminally venal leaders. He's the guy that built the cash-cow church, but when it all falls apart, it takes his entrepreneurial wife (Regina King) to get things back on track, with lots of satirical moments along the way. Nicole Beharie and Conphidance co-star in this distinctly irreverent comedy written and directed by Adamma Ebo.

SEE HOW THEY RUN
PG-13
It's a noir time in London during the 1950s, when a hit West End play is rocked by murder most foul. As Sam Rockwell turns up as the inspector assigned to the case along with his sergeant (Saoirse Ronan), it's clear there are going to be laughs along with the mystery as this tongue-in-cheek comedy drama plays out. Adrien Brody, Ruth Wilson and David Oyelowo join gleefully in the mayhem.
MYSTERY AND ACTION WITH A FEMALE BENT

DON'T WORRY DARLING
R
Harry Styles joins Florence Pugh to star in this stylish, mysterious thriller centered around a 1950s "perfect" community that begins to show its cracks as the plot thickens. Set in a Palm Springs-like mid-century modern cool community that's just a bit off, despite its charismatic (Chris Pine) leader's attempts to control the lives of everyone who finds themselves there – especially the females. Directed by Olivia Wilde (who also stars), this chilling adventure evokes earlier films like The Stepford Wives.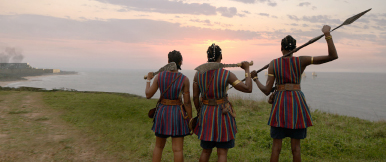 THE WOMAN KING
Not yet rated
Oscar-Emmy-Tony award winner Viola Davis leads this based-on-fact historical action thriller set in the kingdom of Dahomey, which existed in West Africa for 300 years, from the 1600s to the early 1900s. Woman warriors played key roles during the reign, especially during the 1800s, in this adventure flick that also stars John Boyega, Angelique Kidjo and Hero Fiennes Tiffin (whose uncles Ralph and Joseph give him quite a Hollywood pedigree).