Jane incorporates the highest level of expertise, which she undertakes to keep her skills fresh and relevant. We met with Jane on a recent photo shoot and learned more about this incredible artist and her brushes.
How did you find your passion for makeup and hair styling?
Makeup has been part of my life for the past 20 years. Hair, on the other hand, has been in my life for six years. I didn't realize I had a passion for makeup until I started working for MAC in 2003. Until then, I was doing makeup for my friends and family as a hobby. I loved it that much and learned from makeup artists. At the time, I didn't know being a makeup artist could be a full-time profession.
What was your first big opportunity?
 My first big opportunity was when a hairstylist hired me to execute full glam makeup for a ballroom competition in Massachusetts. I started at 4 am and ended at 7 pm. I had 15 minutes per dancer. It was a makeup application at full speed—for a total of 18 dancers. It was such a fun experience. I would do it again. 
What is a day in the life of a freelance makeup artist/hairstylist like? 
It all starts the day before going to set. First, I sort out my makeup kit and hair kit. Then, I ensure the gear is clean, sanitized, and organized. Some gigs require that I stay throughout the day whether it's a TV studio, a restaurant or hotel, or a client's home. Being a freelance artist always entails travel.
What five items do you always carry in your makeup bag? What are your tools of the trade? 
Primarily a lighted travel mirror. I've learned most locations, such as hotels, do not have great lighting. Then a cape to protect a client's clothing from makeup residue. Disposable lip applicators and lash wands are necessary. And then 90 percent isopropyl alcohol to sanitize all other products and tools on the go. Lastly, a palette pan and spatula to allow me to custom blend cream formulas. All this along with my makeup brushes to help execute looks.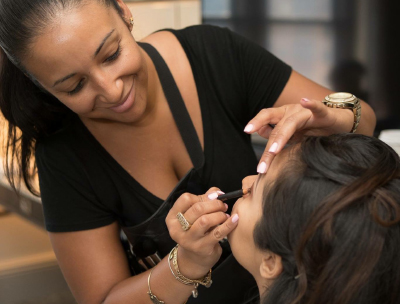 Favorite makeup trends of the moment? 
My favorite makeup trends are bronze glow, pop of color on the eyes, and glossy lips. They are effortless and look natural for anyone.
Any makeup tips you're willing to share?
My makeup tips for eyes, lips, and face are quite easy for anyone.
Eyes: Go for neutral brown and golden eyeshadows for simple eye looks. It goes with everything. 
Lips: Always pair a lip pencil with lipstick and gloss. Lip lining adds symmetry, sculpts, and definition to the lips. 
Face: When looking for the perfect foundation match, visit a department store where beauty advisors can assist you.
Solid piece of advice for the young aspiring celebrity makeup/hair stylist? 
Be kind to everyone you meet. In a crowd of ten, one of them could be your future client. And remember to learn, learn, learn. Knowing how to work with all complexions and hair textures is so essential. Arduous work always pays off!
What is next for you, Jane?
I will launch my online course, The Simple Way To Apply Makeup. It is a basic step-by-step that gives tips and tricks on makeup application. The subscription service will include tutorials for collaborating with clients and achieving different looks for day and evening.
For more information on Jane Rodriguez, visit her on Instagram @janerodbeauty