There's no argument here: New York City is the number one capital of steakhouses. Where else can you sit and be served a juicy porterhouse charred to perfection? We recently visited classic steakhouses to see how simplicity can often mean complete satisfaction. Here's our bite on the best.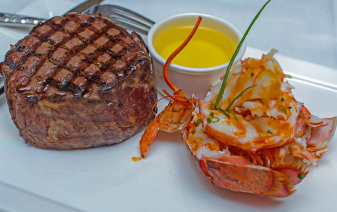 BENJAMIN STEAKHOUSE
This chophouse may be considered "the new kid" on the block—but it feels like it's been a long-time favorite. Helmed by executive chef Arturo McLeod, he knows beef having spent two decades learning the craft in Peter Luger's. The Beaux Arts-style spot takes up residence in the Dylan Hotel, just a block from Grand Central Station. The soaring two-story vaulted ceilings, leather seating, and oak paneling make the enormous dining room seem comfortable. All meats are chef-selected and dry-aged on-site. Perfect options include the Porterhouse, Prime Ribeye, and Filet Mignon—perfectly presented. Also popular on the menu is a wide selection of fresh seafood for non-meat eaters. Our choice every time: The Steak for Two. Look for Benjamin Prime (Manhattan) and Benjamin Steakhouse (Westchester). Info: benjaminsteahouse.com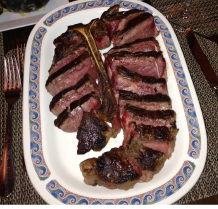 OLD HOMESTEAD STEAKHOUSE
For those craving a carnivore's dream, head downtown to (where else?) the Meatpacking District. Over the years, Old Homestead has continued to serve up its legendary USDA prime dry-aged slabs of beef—including the signature Prime Rib, Filet Mignon, and Gotham Rib Steak on the long bone.

Equally famous is the restaurant's facade, which features the celebrated Annabelle the Cow, the life-size bovine sculpture perched on the two-story marquee above the entrance. Old Homestead also has outposts in Atlantic City and Las Vegas. Info: theoldhomesteadsteakhouse.com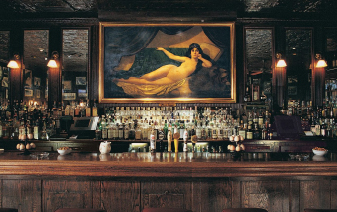 KEENS STEAKHOUSE
When Alber Keen opened his restaurant in 1885, he figured it would be just another chophouse serving the old Herald Square theater district. And with past regulars, including Babe Ruth and Teddy Roosevelt and other luminaries who have dined here, it's little wonder it's become a favorite for locals and visitors. Look up! You can't miss the collection of more than 50,000 clay pipes on the ceiling from those regulars who wined and dined here. However, the natural spectacle comes in the form of charred steaks and chops, including a substantial bone-in Prime Rib. Fresh Oysters, Prime New York Sirloin, and Two Double Lamb Chops are also a hit. Info: keens.com