Amidst the many dining venues on the North Fork look no further than Demarchelier Bistro for the perfect escape. French-inspired tranquility and elegance can be found at the renowned Greenport restaurant. The bistro has also been recently recognized with an Editor's Choice Award for the Best Place to Grab a Drink from Northforker.com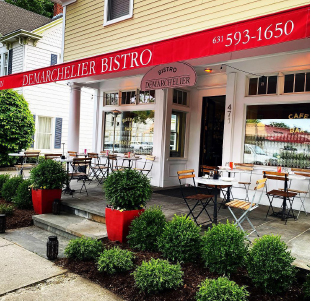 In the heart of the village, exquisite offerings of French cuisine are served up at the Family owned and operated establishment that showcases a menu of rich cultural expressions.

Demarchelier Bistro highlights a casual environment balanced with artistic Parisian design from marble top tables and an antique bar top to the outdoor seating and colorful paintings by the owner's father—famed artist Eric Demarchelier—on the wall, the atmosphere of Demarchelier makes it the perfect sojourn in the East End for a quick bite to eat, a romantic rendezvous or a nice meal with your family and friends.
Owner Emily Demarchelier takes great pride in the restaurant that every summer is a top choice for dining in the waterfront neighborhood. The authenticity of divine dishes mixed with friendly and above and beyond service keeps locals and tourists alike flocking to the restaurant.
Demarchelier Bistro offers French café classics such as Steak Tartare, Duck Confit, Salad Nicoise Classic, and Pomme Dauphine. Additionally, there is currently a daily three course pre-fix menu available seven days a week late afternoon.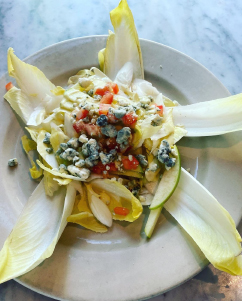 There is also a superb selection of fromage to highlight a Cheese Fondue or chef selections; as well as charcuteries with delights of Jambon de Bayonne, Chorizo, Garlic Sausage, Saussion, Pate de Campagne, Duck Rilette and Foie Gras. And to further create the sense of the ultimate foodie journey, Demarchelier Bistro captivates with a dessert menu of lovely sweets like the Chocolate Fondant or Crème Brulée. In addition, wine selections bring the country's vineyards to the forefront.

Additionally, the restaurant is hosting an art exhibit where Eric Demarchelier is displaying his latest work. The exciting show is a tribute to his late brother and photographer, Patrick Demarchelier. Eric's recent collection of paintings are based on Patrick's photographs which are displayed side by side.

With all this and more, it is exciting to note that a seasonal ferry service directly from Sag Harbor is due to launch soon, providing an easy way to beat to the hotspot dining destination from the South Fork.
For more information on Demarchelier Bistro,