Mezze On The River is breathtaking on so many levels. Patrons love it mainly because of the fantastic array of modernized Mediterranean fare and the stunning views of the Hudson. There are pink flower-covered trellises in the outdoor dining area, and the interior is light and airy with floor-to-ceiling windows—but at the same time, giving off a little bit of a traditional pub feel because of its no-rush atmosphere, friendly service, generous portions, and artisanal cocktails.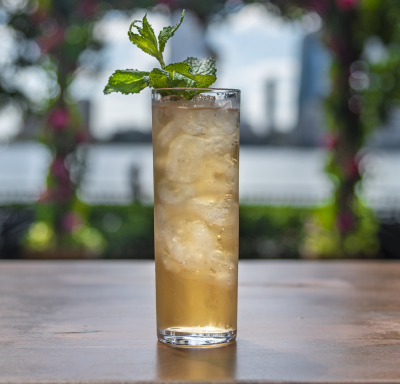 We met with Abraham Merchant, chief operating officer of Merchants Hospitality, how he decided to open a waterfront restaurant on the West Side.

(There are no waterfront restaurants on the Hudson now.) However, he admits he had no trepidations because he is a waterfront restaurant "veteran." Merchant has created and owned over thirty-two successful New York City restaurants with all different cuisines and vibes, including Art Bar & Lounge, Chicago Blues, Merchants NY, Industry Kitchen, Treadwell Park, and Philippe Chow NY.
PREMIERE DINING
He told New York Lifestyles, "Merchants Hospitality has had incredible success establishing itself as one of the premier waterfront dining restaurant groups in Lower Manhattan since opening Industry Kitchen and Watermark located along the East River. So, adding a new restaurant concept to the Hudson River dining scene made sense, as we wanted to provide local downtown residents the option to enjoy beautiful waterfront views while having a delicious meal."
Everything at Mezze is "farm to table" and acquired as close to home as possible. The attention to detail is immaculate, and the waitstaff ensures that absolutely everything is "done your way." It's those little touches that make Mezze On The River a place you'll want to return to.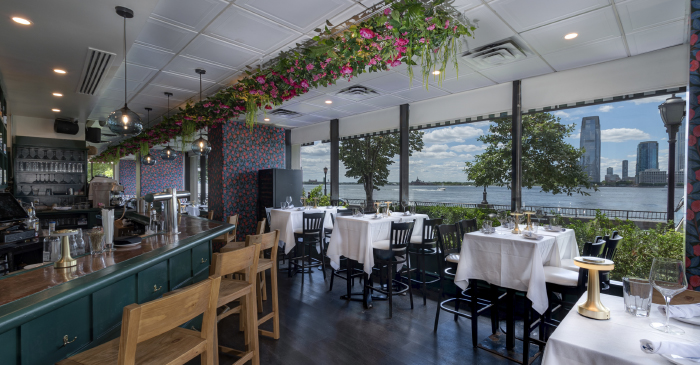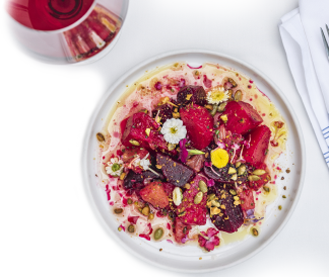 A DIVERSE MENU
"Mezze is our contemporary take on traditional Mediterranean cuisine, which will inevitably include the influence of Modern American ingredients and flavor profiles based on the nature of our NYC location," he continued. "We pull influences from traditional recipes and techniques and apply them to each of our dishes, including Whole Roasted Branzino, a Mediterranean-sourced fish served with fennel, cherry tomato, and dill. Or the side dish Feta Fries, garnished with Greek feta cheese. This fusion of regional fares makes for an even more diverse menu, appeasing those who crave traditional Greek mezze and those who want more (experimental) options."
On our visit we also ordere the mouthwatering 40-ounce Tomahawk Steak to share and sampled two excellent sides: Crispy Zucchini topped with fresh feta cheese, black pepper, and lemon aioli, and Lemon Potatoes sautéed in lemon aioli and fresh herbs. Simply perfect!
After our shared main course and sides, we sampled all three mainstay desserts: New York Cheesecake, Warm Chocolate Molten Cake, and Mixed Berry Crisp with a side of vanilla ice cream.
HIGHLY CREATIVE PASTA
Mezze excels at highly creative pasta dishes as well. "The Black Squid Ink Truffle Lobster Pasta with summer zucchini, tomato, roasted garlic, basil, and chili flakes is a popular dish combined a refreshing dish to enjoy while overlooking the river views," says Merchant.
Mezze's Executive Chef Antelmo Ambrosio, a native of Mexico, has been with the Merchants Hospitality Group for over four years. He helms the kitchens of Ophelia and Watermark as well. The award-winning chef is always ready to create bold new flavors and mix cuisines.
CASUAL BUT CHIC
With all this high-end fare, you would expect Mezze to be formal, but it is not. This light and airy restaurant is classy yet has a casual vibe. Why was it determined that Mezze would be a casual eatery we wondered? "The restaurant wanted to integrate elegant dishes amid a vibrant and energetic atmosphere to balance the best of both worlds—a refined menu, beautiful views, and a lively experience," says Merchant.
Merchant concludes that his restaurant attracts New York's elite tastemakers, those who love to dine with a view, and guests interested in having a new experience in the heart of Battery Park City.
Mezze On The River is one of the few Manhattan restaurants within Battery Park, giving you the feeling of being in the country. There is even a cute old-fashioned wooden swing for photo ops. It might just be your next great getaway within the city. Just be sure to bring a big appetite and a friend or two!
For more information on Mezze On The River, visit mezzeontheriver.com