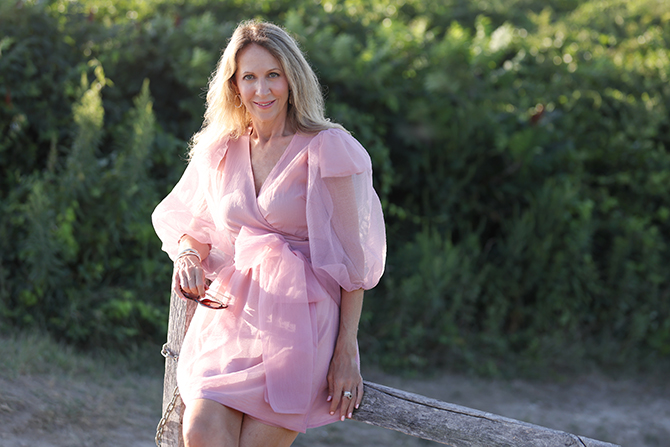 SARA JOHNSON KAPLAN
Authentic And Still Evolving
By Patricia Canole | Photography by Neil J. Tandy | Makeup by Sarah Maass
Producer. Champion of Charities. Model and Fashion Enthusiast. Activist. Advocate. Most important of all, Mother. Sara Johnson Kaplan is no stranger to expertly mastering career-and-life balance. Yet, she continues to break life's boundaries and encourages all women to face their fears and insecurities to live the life they've always wanted.
We reached out to Sara recently who possesses a contagious energy for life. We discovered this dynamic woman has some words of wisdom to share as she's faced in her journey. For Sara, she's faced the challenges head on as she's evolved into the woman she is today.
In this world, where life is fast, furious, and sometimes challenging, there's nothing more important than authentic connections with a loving community. Sara's approach has embraced a nod to wellness that includes mind, body, and spirit, emphasizing that we all show up with unique individual needs and should approach our wellness practice from this flexible perspective.
Sara's dream is to take experience, passion, and evolving wisdom, touch the lives and hearts of the many people in her life, and continue to inspire positive change and transformation so that others can live more fully and open-heartedly.
Today, for most women, modern life continuously pulls us away from the most important gifts we have inside ourselves. Yet, each moment is beautiful and all part of this incredible and unique journey of life. So, enjoy it here and now.
Every incredible journey has a story. Tell us about your journey towards holistic living.
 I was about 29 and going through a rough time. Then one day, I realized I had to give up alcohol and everything that was taking me down the wrong path. It was destroying my life and wasn't working for me. I realized it affected every aspect of my life and how I wanted to live.
So, I quit. It opened my life to a new way of thinking and living. I lost weight. I felt better about myself. I gained confidence. And I was meeting the right people.
By my early '30s, I felt good about myself. Shortly after, I met my future husband who was a gift from God I thought. Yes, I had everything going for me. We bought a house, and I was still young enough to start a family. During that time, I found new interests to include in my life—the world of juices which I continue to love today.
I lost all the years of baggage and gained all these healthy rituals: I was working out again. I got back into my dance which I loved from childhood. And because I was always aware of proper posture, I started yoga.
Today, I'm feeling wonderful about myself. What's so astounding is that I don't even miss the alcohol. I'm a firm believer in the holistic way of living—better food equals a better diet which consists of fish, fresh greens, and juicing.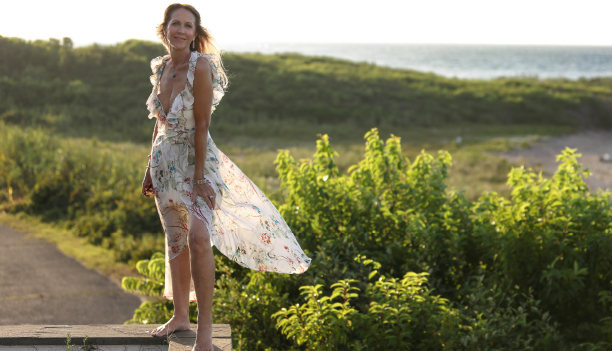 You're involved with many philanthropic efforts as well as an activist. Tell us more.
One of the most important charity events I'm associated with is the Breast Cancer Research Foundation's Paddle & Party for Pink fundraiser in Sag Harbor, Long Island. It is one of the most noted events and raises millions of dollars annually to benefit BCRF.
I've also been benefit chair of the Broadway Dance Awards. The proceeds benefit children with hearing loss. In addition, we have found that dance and movement help children mainstream back into the world with many attending classes at local public schools. These are blessings that I will always cherish.
Tell us about your Mae West theater success. Are there more productions in the future?
My production of Come Up And See Me was so successful and told the story of Mae West's life. Held at the Triad Theater, the musical comedy recounts her life in Harlem and reaching out to the community living there. She was a pioneer of her time.
She'll always be a hero to me. Mae West was one of the first women to break the color barrier and who championed many struggling during those days. It is a beautiful tribute to a fantastic woman written by Bonnie Lee Sanders.
Where does modeling fit in? Tell us more about how you enjoy the fashion world.
I love fashion, and it all started with my mother, and grandmother Isabell Fulton who was selected as a Ziegfeld Follies model. I have always admired her beauty and sense of style. Mother was also a tall, blue-eyed beauty who made all her fashions and designs from Vogue and Butterick patterns. This was my first initiation into the world of fashion. It made me appreciate the creative skills and thought that went into each piece. From there, I entered modeling at David's Bridals where I began my career and continued to climb the ladder—or should I say runways!
Today, I'm modeling again. In fact, during New York Fashion Week this Spring. I've also modeled for Regina Kravitz, who brought back her retrospective styles—including the iconic red jumpsuit made famous in the '80s.
When not modeling couture, I will always enjoy wearing fashions that make me feel confident, sexy, and alive!
How would you embrace your approach to wellness?
 My approach to wellness is relatively straightforward: I am drawn to the water. Being close to the water brings me back to feeling 100 percent well and centered. I like to absorb and feel that energy. Once I get on my paddleboard, I immediately feel one with nature. For me, saltwater is healing. Perhaps having the astrological sign of Cancer has inspired me with my love of water, be it ocean, lake, or river.
If you could name three women who shaped your life and work, who would they be?
Indeed, my mother, Linda Johnson who shaped my life. She taught me so much. As an artist, she influenced me. I remember going on jobs when she was an antique dealer collecting vintage items and learning the history of each. She possessed an incredible wealth of intellect. My mother's sister, Valerie, also influenced my life but most significantly, I felt unconditionally loved by her. Lastly is my cousin Jenny, who always had a heart of gold wrapped up with love and support.
How do you balance your work-personal life?
I'm a mother first and foremost, so I put my son and family first. My son's needs come before my work. I coordinate when I do charity work or modeling and always ensure that nothing interferes with my family. It works! Above all, I'm truly grateful for the journey I've had so far.
In what ways do you nourish yourself daily?
Mornings are an essential part of my day. I try to stretch every day and do a little jogging as well. I make an affirmation to be in touch with my higher power always.
I also tried to drink vitamin C in the morning to reboot my system. I believe in that, along with a shot of my green booster of celery, cucumber, green apple, and banana. I like berries, too, for energy. Then, of course, I drink plenty of water with the added vitamin C during the day. My favorite go-to lunch is a yellowfin tuna fish sandwich with avocado.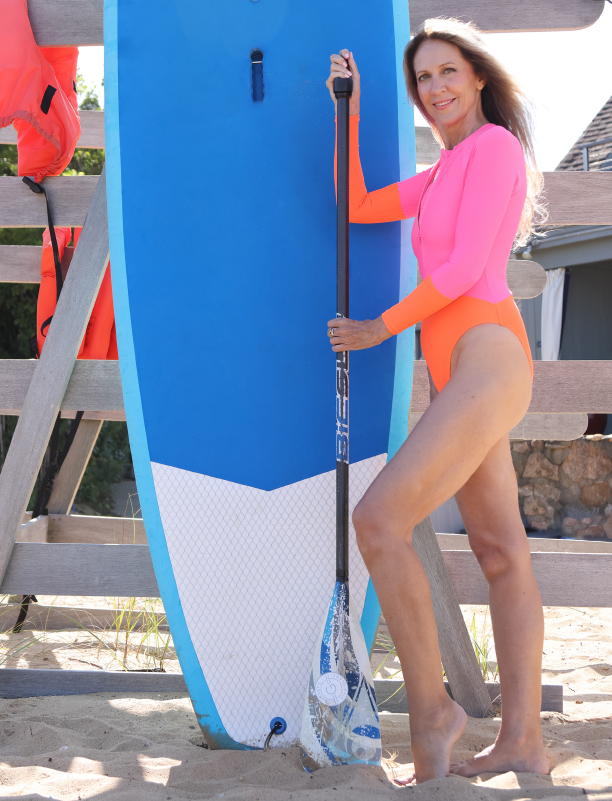 How do you handle negativity or competition in your life? 
I steer myself away from the toxic emotions entirely. It is not healthy for me—or anyone—to be drawn in by these individuals and negative emotions. Instead, surround yourself with supportive friends and colleagues with positive attitudes
What's on the horizon for you?
My dream project is the upcoming Brooklyn Fashion Incubator with Maria Barraza. The event showcases fabrics and textiles, all incredibly beautiful. I have been asked to be on the board of SIA-Africa by Nene Wayo, who gathers these fabrics and textiles as he collaborates with African talent to showcase them worldwide.
What is your parting wisdom and the most transformational piece of advice you've received?
The best piece of advice I've ever been given was to believe in myself. Continue putting one foot in front of the other. No matter what, remember to keep moving forward and always look for new opportunities. One person who has practiced this is Iris Apfel, a fashion designer and businesswoman. At the young age of 101, she is courageous and a definite mentor of mine.
SARA OFF THE CUFF
Escape
Snow Skiing

Weakness
Chocolate

Cherished Accessory
A jade necklace

You Can Never Have Enough
Love 

Style Icons
Diane von Furstenberg and Cynthia Rowley

Mantra
Be grateful for each day

Obsessed With
Natural juice drinks

Theme Song To Your Life
"Miss You" by The Rolling Stones