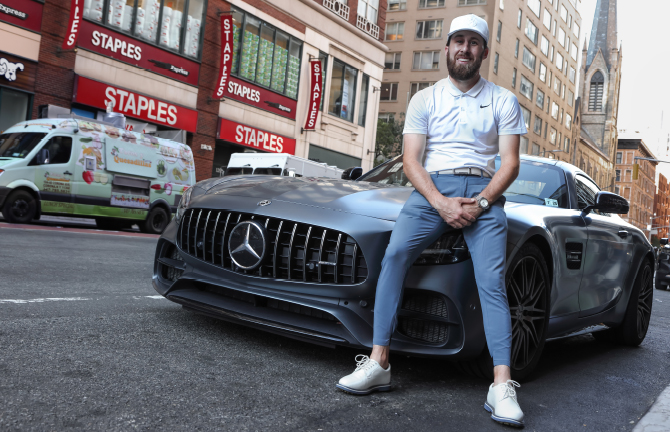 SEAN GREVY
Making Dreams Into Reality
By Patricia Canole | Photography by Neil J. Tandy
Photographed on location at 1289 Lexington, NYC

Upon meeting Sean Grevy, you're immediately taken with his boundless energy and vigor. The CEO of 43 OAK, an advertising agency based in Manhattan, is an innovator that maximizes opportunities in traditional and cutting-edge digital marketing platforms. It is this knowledge and expertise that his many clients value so highly. His expertly tailored and strategic campaigns are designed to ignite immediate consumer response. He believes his direct commitment to premium quality and innovation throughout all agency disciplines, strategy, creativity, and production to media and analytics definitely sets him apart.
The mission at 43 Oak is to translate dreams into reality. Sean's intention has always been to revolutionize the advertising market by going the extra mile. In other words, by viewing itself as media-related and planning strategic buying for clients. 43 OAK solves problems for brands not addressed elsewhere. The company's platform provides a deep level of media data transparency, visibility, clarity, and accountability, allowing brands to successfully execute their media buying strategies and keep track of what has been delivered on time.
Along with being a husband and father to a young daughter, this powerhouse also finds time to focus on a charitable foundation he has created as he juggles his busy schedule. Close to his heart is 43 OAK Foundation, a 501(c) organization focused on breaking the barriers of inclusion and furthering education for minorities and the underprivileged in the greater New York City area, specifically those interested in playing ice hockey. Paragraph/last sentence to read: As is the case with his agency, the mission is the same…Translate Dreams Into Reality.
All told, Sean has made a difference with both his advertising business and foundation. This young entrepreneur wants to share that, in his words, 'Success does not mean losing one's soul.' Instead, people should pursue endeavors to succeed and feel alive. He believes there is more to business than generating income and growing profit.
New York Lifestyles met with Sean Grevy, who was delighted to share his life and work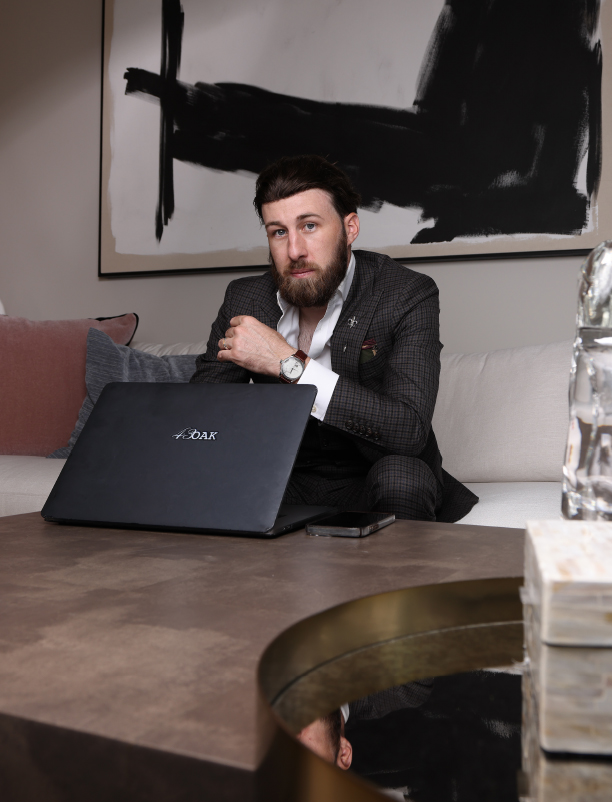 What's your backstory, Sean? Where did you grow up, and how did you first become interested in advertising?
I grew up in uptown north Philadelphia, in a neighborhood called East Oak Lane. As a kid, I moved around and lived everywhere from Atlantic City to Philly and everywhere in between. I took a job in advertising when I was 16 years old. I had an offer to do cold calling for an advertising agency. While everyone else was bored and having trouble with rejection, I quickly fell in love with the product and loved the challenge. Finally, I knew I had something good!
Tell us more about the brands you now work with.
At 43 OAK, we work with a variety of brands. Once we settle on a vertical, we become brand exclusive with those clients in the markets they occupy. We believe there is genuine quality in focusing our efforts on one brand within a category so that they get our absolute best. We do this in fields such as Law, Healthcare, Food/Beverage, Entertainment, Real Estate, and others. We develop strong relationships with our clients and are focused on loyalty. We want our clients to know we are here to stay and consider them family.
With the current socio-economic circumstances, how is this affecting brands and agencies?
Times are changing, plain and simple. So many brands and agencies alike are too focused on the past and what used to work. The world we live in changes occasionally, and if you're not on top of the trends, you can get lost awfully quickly. We always focus on knowing what's hot and working best for our clients. New opportunities present ways for development. Often the sooner we get on a trend, the better off we are when we pitch the plan and rates to clients. We are not married to the media, but to growing the business of the clients we serve..
Also, clients can't afford to be wasteful in today's world. Now more than ever, every penny counts, so it's important not to play the guessing game as an agency. We have every reason to run successful campaigns with real attribution. There are no more excuses as to why an advertising campaign falls flat. We want to hit home runs every time we step to the plate. Lastly, media outlets are looking to capitalize on clients in today's economy. This is why clients need us; when I say us, I mean 43 OAK specifically. We fight for every penny and ensure our clients get the very best placement on all forms of media.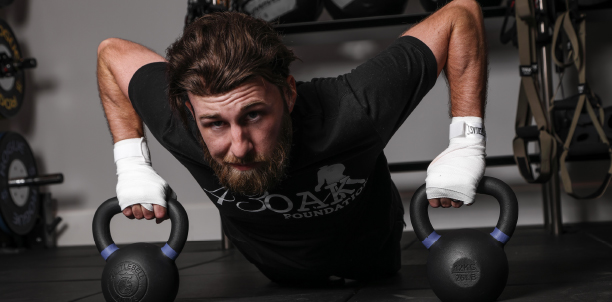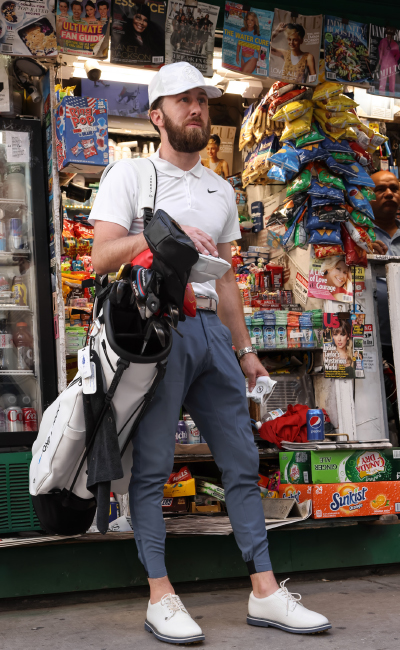 What is marketing's fundamental role, and how does it fit into the company's vision?
Marketing's fundamental role is always to build. Building brands is the goal of any campaign. Clients want to succeed in their campaigns because they will gain more customers or clientele. This fits our vision because our number one rule is never to play the guessing game.
Our agency aims to protect clients from the hundreds of media companies and outlets that want to pitch their business. They will find a way to influence you that their media fits your demo. Every company deserves its tailored marketing plan, and nothing is cookie cutter. We advise and consult clients to help them understand their needs and the places and forms of media that will work best for their goals, whether brand recognition or direct response for sales.
How do you measure the effectiveness of marketing?
Five years ago, this would have been a completely different answer. Then, the traditional and digital advertising worlds were completely separate. Unfortunately, that separation still exists in today's world, but we now have more reason to work hand in hand and integrate the two. With tracking as it is today, we can attribute direct success to advertising campaigns. It's incredible what can be accomplished through a marketing campaign appropriately done. We focus on working with all agencies to maximize returns for the client.
What about social media? Does it pay off?
Social media is highly effective. There is so much you can do on social media, and so many platforms can utilize it. Paid or not, you can make a huge splash and get your brands recognized. Content on social media is king, and being consistent is everything.
What makes 43 OAK stand out and secure its position at the forefront of the advertising and marketing industry?
Our Fight. At 43 OAK, we fight for our clients. Day in, day out, we run through brick walls to get our clients the absolute best. The reason for this is that we view our clients as family. It is our job and our duty to always serve our clients. Therefore, it is imperative always to keep our media partners honest to benefit our clientele.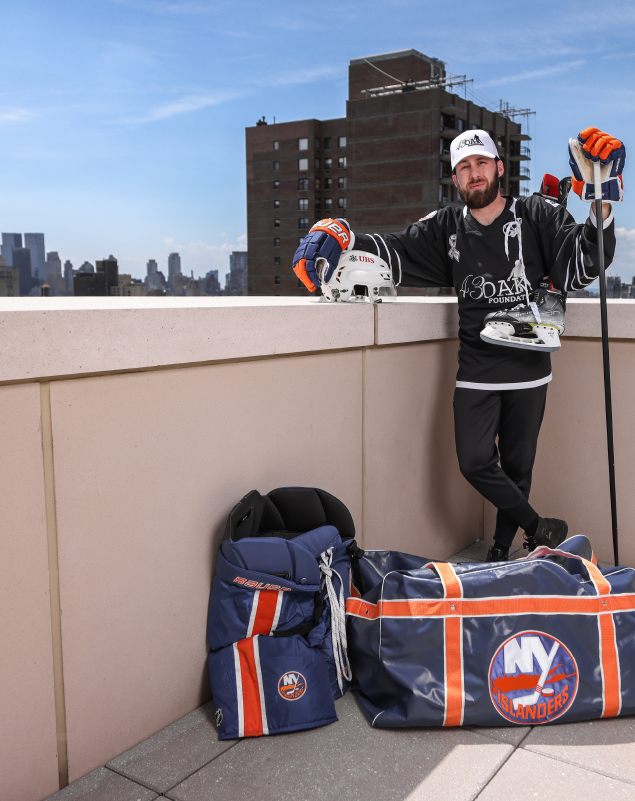 Tell us the history of the 43 OAK Foundation. What inspired you?
I grew up underprivileged, and as a hockey player, I found it incredibly challenging. I wasn't accepted into the hockey culture that surrounded me, and it kept me from contention for the higher-level teams until I was older. As an adult, I realized more than ever that underprivileged kids couldn't play the sport I knew and loved in NYC. At 10k per player per year, it was not feasible for a family from the outer boroughs to afford. Add to that the challenging environments most of our players come from, and there is also a striking need for minorities to have a safe place. As a coach, I watched as my players experienced discrimination and racism. I wanted to do whatever I could to ensure that no one had to go through that while pursuing their passion and that no player should ever feel left out for financial or racial reasons.
As time went on, we were able to identify the needs of these players and their families, and we formed the 43 OAK Foundation with the mission of furthering education through the sport of ice hockey for underprivileged and minority athletes by providing mentorship, connections, and financial assistance.
Our goal is not to introduce hockey to our student-athletes but to help them further their goals to reach the highest levels of the sport so that they have a fair opportunity to get an education and play at the same level as everyone else.
Have you found it challenging to raise funds? How do you go about it?
In the beginning, it was extremely challenging. Aside from the help of some clients and friends, the bulk of the money injected into the program came out of my own pocket. We were fortunate enough to form an incredible partnership with the New York Islanders and UBS for five years, offering the program one million dollars to help further improve our mission.
What do you see for the foundation in five years?
There is so much opportunity and no shortage of players who could use our help. As time goes on with our partnership, we hope to continue to develop innovative ideas and ways to help our student-athletes and their families. I want our program to continue to support one player at a time to achieve their dreams and change their lives for the better.
For more information on 43 OAK and 43 OAK Foundation, visit 43oak.com