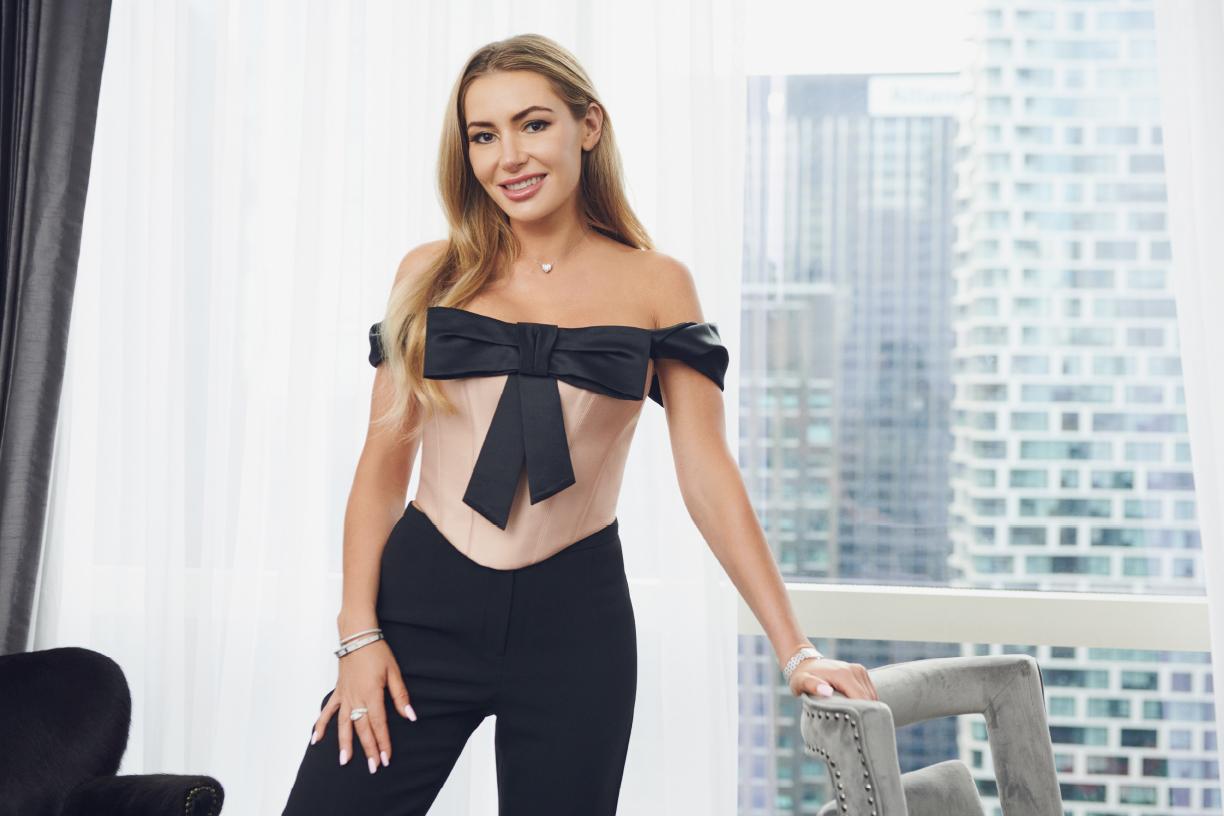 ANNA CHERNITSKAYA
A New Ritual To Follow
By Bailey Beckett | Photography by Mark Grgurich
The healing properties of teas have been an essential component of Eastern medicine for centuries yet have only recently begun to be explored by Americans seeking an alternative to pharmaceuticals. Four years ago, when New York entrepreneur Anna Chernitskaya discovered that she was chronically ill, she turned to the tradition she knew from her youth to treat herself successfully and naturally through tea and lifestyle changes. Anna founded @the.ritual.tea, bringing exceptional quality and healing potential teas into the marketplace, beginning with her recently launched Buckwheat Tea.
Anna moved to the U.S. from Eastern Europe at the end of 2017. Within a few months, she was becoming ill more frequently than ever before, and for multiple reasons, sharing, "Here there is constant air conditioning, which I was not used to, and my body reacted. Finally, I was diagnosed with chronic tonsilitis after months of suffering."
Anna was treated with antibiotics and other medications, which led to fatigue, but the symptoms persisted. She also began to see how her body was adversely reacting to American food. "I was not feeling like myself because so much of the food here is processed, and, as a result, I gained more than twenty pounds because processed food is not metabolized as quickly as natural foods. The portions here are also too much. If you eat quality, healthy foods, you will fill up faster without all the calories."
One such dynamic producer is Riki Kane Larimer, who hails from the houseware's world where her company, Metrokane, made the Rabbit Corkscrew and other successful household products.
After selling Metrokane, she began a career in theater, where she co-produced the London production of Memphis, followed by On the Town and Gigi on Broadway, the Off-Broadway shows of Georgie, Tappin' Thru Life, Bright Colors Bold Patterns, and The York Theatre productions of Cagney and Enter Laughing.
A NEW LEAF
Seeing the changes in her body, Anna explored ways to treat herself through natural methods. She remembered how buckwheat tea had been utilized in her home country for its many benefits. She also adopted the practice of intermittent fasting, which forces the body to metabolize more efficiently and burn calories faster.
Anna has found that what works best for her is to only eat in an eight-hour window of the day and fast for 36 hours on Mondays. By making simple changes to her habits, she found that her health conditions were soon resolved, and the tea offered appetite suppression benefits, leading to weight loss. "Illness is attributed to sugar intake, which leads to inflammation, and creates many complications in the body, including cancer. So, I cut out refined sugar, embraced intermittent fasting, worked out with a personal trainer, and added a buckwheat tea to my daily habits." This sparked the idea to develop her brand. 
THE MANY BENEFITS OF TEA
In many cultures around the world, buckwheat tea is regarded as a dietetic essential that serves several purposes: lowering blood pressure, reducing blood glucose, minimizing ovulatory symptoms, as well as improving immunity and renal functions. In the coffee-driven American culture, tea plays a secondary role mainly as a caffeine alternative or a British affectation. Tea has yet to transition into a preventative ritual for a population with well-documented pharmaceutical proclivities. Seeing this opportunity, Anna is poised to educate and bring high-quality teas to the marketplace, beginning with buckwheat because of its multi-dimensional benefits and simply because she has found a void in the market, lacking a superior buckwheat one.
What makes Anna's Buckwheat Tea unique is the taste and the process through which it is produced. Originating in China, where much of the world's highest quality teas are grown, its benefits are abundant. "I am obsessed with this tea because it's filling and tasty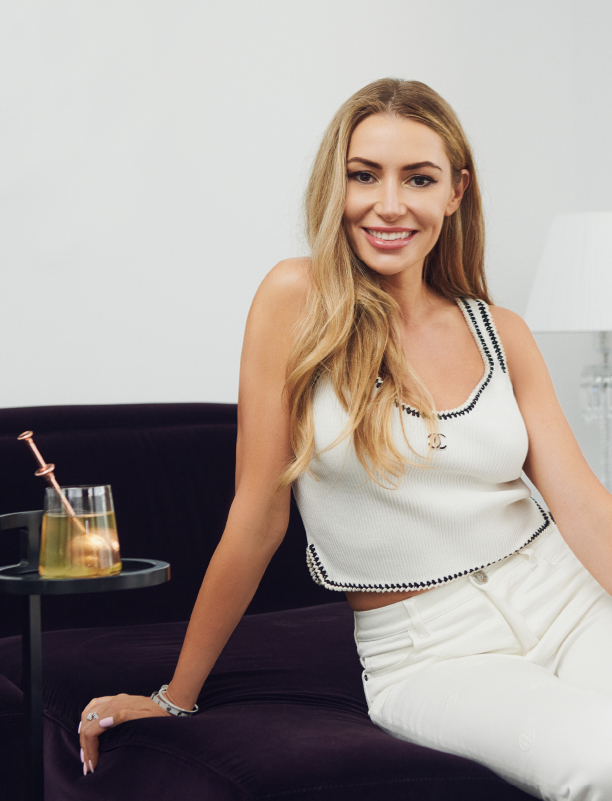 It tastes like a cookie that is a little bit sweet, it is FDA-approved, and it has no caffeine," she says. In addition, the tea is pressed and baked to alter buckwheat's bitterness into a more palatable and softly sweeter flavor. As a result, it has a relaxing quality, reducing stress, and the body feels more comfortable and curbing appetite.
TEAS FOR ALL REASONS
Developed during the pandemic, @the.ritual.tea is launching with Buckwheat Tea. Anna has more in the works, including a sleep-inducing tea driven by valerian root extract and a blueberry tea high in antioxidants. She is also exploring the possibility of developing a line of candles, cosmetics, and herbal supplements. "I love the idea of helping yourself with supplements as part of a broader healthy routine and healthy rituals. That's why I named my brand @the.ritual.tea: it is a ritual you can add to your daily life for improved health."
The prospect of nurturing @the.ritual.tea is exciting for Anna, who is realizing her American dream. With the political climate in Eastern Europe escalating over the last decade, moving to the U.S. made sense on so many levels, especially as there are better opportunities here for those blessed with an entrepreneurial spirit. She speaks with great enthusiasm when discussing her business plan, and as a former textile sales executive with an M.B.A., she has the understanding and drive to see her mission through.
PREVENTION IS ESSENTIAL
A proponent of healing the body naturally, Anna sees a tremendous market in the United States for the full vision of her products. "I want to give everyone a quality alternative to the existing quick fixes.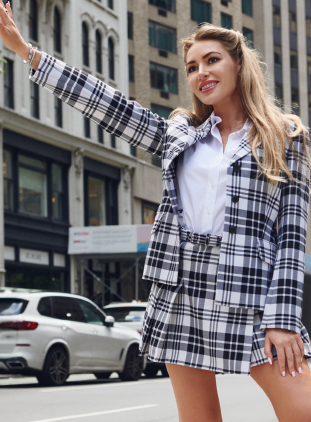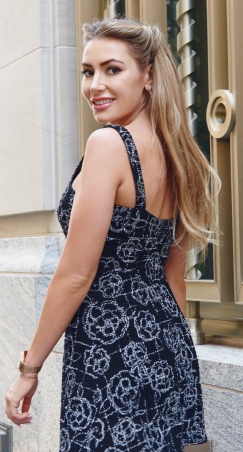 The body recognizes natural products and responds accordingly to the properties that induce healing. Pharmaceuticals contain many chemicals that the body does not recognize, but they produce a reaction, and the results are not always positive. Also, the concept of prevention is so important. If the body is regulated and balanced, the conditions may not exist for diseases to arise and flourish. Prevention is essential to maintaining good health, but not everyone is of that mindset yet." 
Now living in New York City with her husband, Anna says, "I love the outdoors; there is so much to do here, and the city is beautiful. This is an amazing place to build my business and focus on making people healthier without reliance on pharmaceuticals and helping people develop healthy rituals. We just came through the pandemic, which was incredibly stressful for everyone, and we see the benefits of self-care and taking the time to invest in one's health. @the.ritual.tea is my contribution to encourage healthy lifestyles and to get people to slow down and enjoy the moment."
For more information on Anna Cherniskaya and The Ritual Company,
visit theritualteacompany.myshopify.com